One of the Best Treadmill Desks on the Planet with Many Options!
*LIMITED TIME: Sign up for LifeSpan's newsletter and get an additional 10% off your purchase!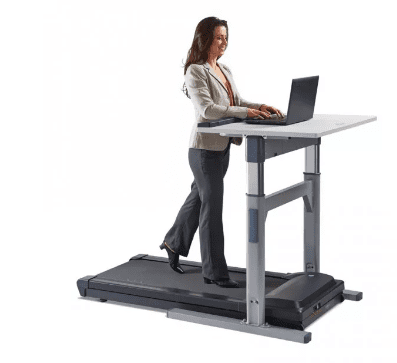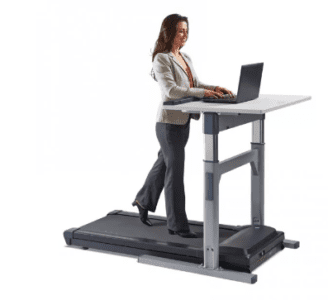 LifeSpan offers a surprisingly wide selection of treadmill desks. This is a rapidly growing market and it is clear they are working to be at the very top. The TR5000 series features 3 different models, the TR5000-DT3, TR5000-DT5, and the TR5000-DT7. We really like LifeSpan's dedication to the durability of their products. While they don't go the extra mile for extra add-ons, the quality of their products is some of the best that you can find out there.
Treadmill desks have been gaining popularity because people are becoming more concerned about the health problems associated with hours sitting in one place. It is much healthier to keep your body moving throughout the day and a treadmill desk seems to be the perfect solution for many to prioritize their overall wellness while getting their work done. A treadmill desk is an affordable and efficient way to add extra movement into your day and increase your physical fitness—even while at the office.
Note: When purchasing from LifeSpan, you do not have to purchase both the treadmill and the desk. If you already have your own desk and simply want to buy one of their treadmill decks without a desk, that is an option they offer. 
LifeSpan TR5000-DT3 Treadmill Desk: Under Desk Treadmill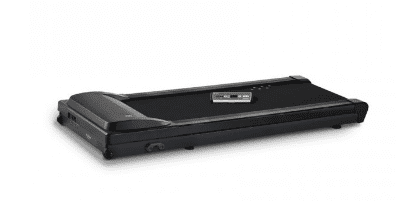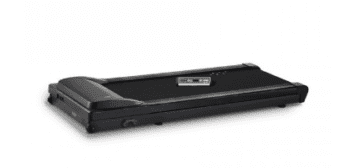 The LifeSpan TR5000 DT3 is perfect for anyone looking to quickly convert their stand-up desk into a walking desk with this under desk model. The 5000 DT3 is a step up from the LifeSpan TR1200-DT3, with upgraded features like a 3.0 HP motor walking belt and black aluminum side rails. The TR5000-DT3 is designed for all day use.
TR5000-DT3 Features
3.0 HP Continuous Duty Motor – This is a beast of a motor, but it will operate at a whisper quiet volume so your neighbors and/or co-workers will be happy. This motor is considered commercial grade and is capable of accommodating very heavy users. LifeSpan uses some of the best treadmill motors on the market and the chances of the motor failing are slim to less than none. That is why they offer a lifetime guarantee.
Intelli-Step Technology – LifeSpan's Onboard Intelli-Step technology will detect and track each step taken so you can keep up with your daily step count.
Built for Continual Use – The TR5000 DT3 is designed for long stretches of use. The treadmill base comes equipped with a high mileage walking belt and a 1" thick reversible walking deck.
Heavier Weight Limit – One of our favorite things about the TR5000 series is the weight limit. This series in particular can hold a max user weight of 400 lbs. so you can incorporate movement at any stage in your fitness journey.
Fully Assembled Out of The Box – No Assembly Required. Enough said.
LifeSpan TR5000-DT5 Treadmill Desk: Manual-Height Desk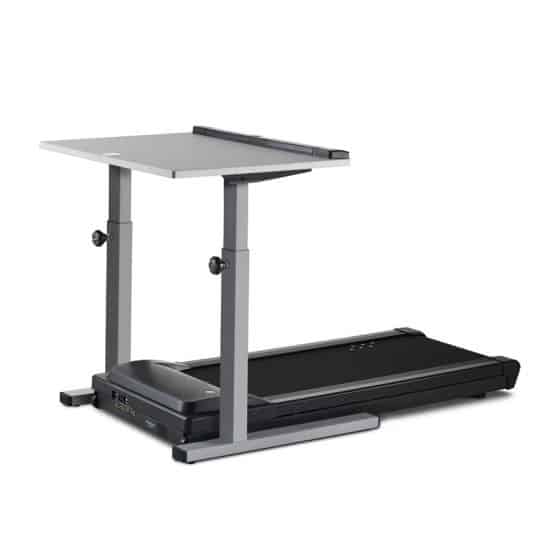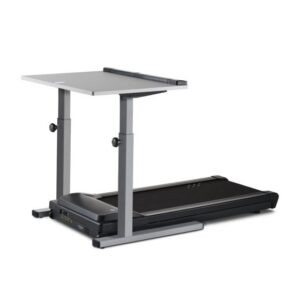 Unlike the DT3, the TR5000-DT5 model is adjustable. This machine has a height range of 33.5-52.5" so you can adjust it to the proper economic positioning to fit your height. It comes with a standard 38" wide desktop but there is a 48" wide option available if you need extra desk top space. The integrated armrest and console design on this machine are ideal for comfort and efficiency. The armrest will help you balance, and the console is integrated into the armrest so that you can fully control the desk without taking up desktop space.
TR5000-DT5 Features
Productive, Not Disruptive – 6 Impact-Absorbing Shocks will protect your joints while minimalizing walking noise to be respectful of those working around you.
Wear Resistant Side Rails —Black Anodized-Aluminum side rails will provide a sleek appearance while withstanding wear and tear.
Patent-Pending Internal Cable Routing – Gone are the days of wires all over your office. Lifespan's patent-pending internal cable routing management system will channel the power cord down to the floor through the frame. This innovative system will enhance safety and provide a cleaner appearance to your office.
Compact, Light-Weight Design — The TR5000-DT5 is 68.5" x 38" / 48" W when assembled. The treadmill weights a light 119 lbs. and the desk weighs 60 lbs.
Tracking Console Readouts – The console will display steps, walking time, distance, calories, and speed.
LifeSpan TR5000-DT7 Treadmill Desk: Electric-Height Desk
With the TR5000-DT7, you can adjust everything at the touch of a button. The DT7 model offers more customization choices than the DT5 or DT7.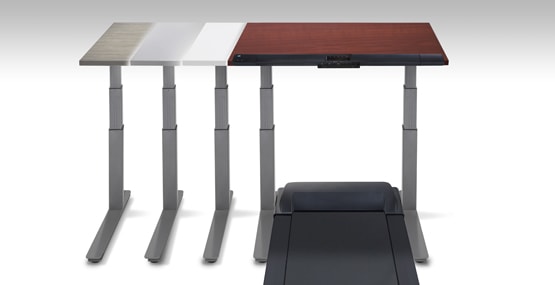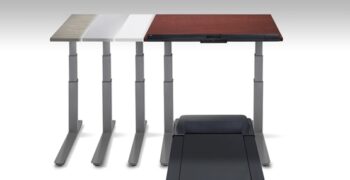 You can choose from 4 different desktop widths ranging from 38"-72". You can also choose from a few different desktop and frame color choices to incorporate into any office theme.
TR5000-DT7 Features
3.0 HP Commercial Motor – The 3.0 HP motor is commercial grade, ensuring durability while maintaining quiet function.
Electric Adjustable Height – This desk adjusts at the touch of a button with a height range of 27.5"-50.5".
High Quality Construction— This treadmill is design for thousands of hours of use with features like a high mileage Hasabit belt, wear resistant side rails, and a 1" thick extended-life deck.
Intelli-Guard Technology— Intelli-Guard automatically pauses the walking belt when you step off to enhance safety.
Preset Speed— Set and save your preferred walking speed so your machine is ready to go each time you step on.
Warranty – All models in the TR5000 series have a Lifetime Frame, 3 Year Motor, 2 Year Parts, and 1 Year Labor Warranty.
Our Review: LifeSpan TR5000 Series Treadmill Desks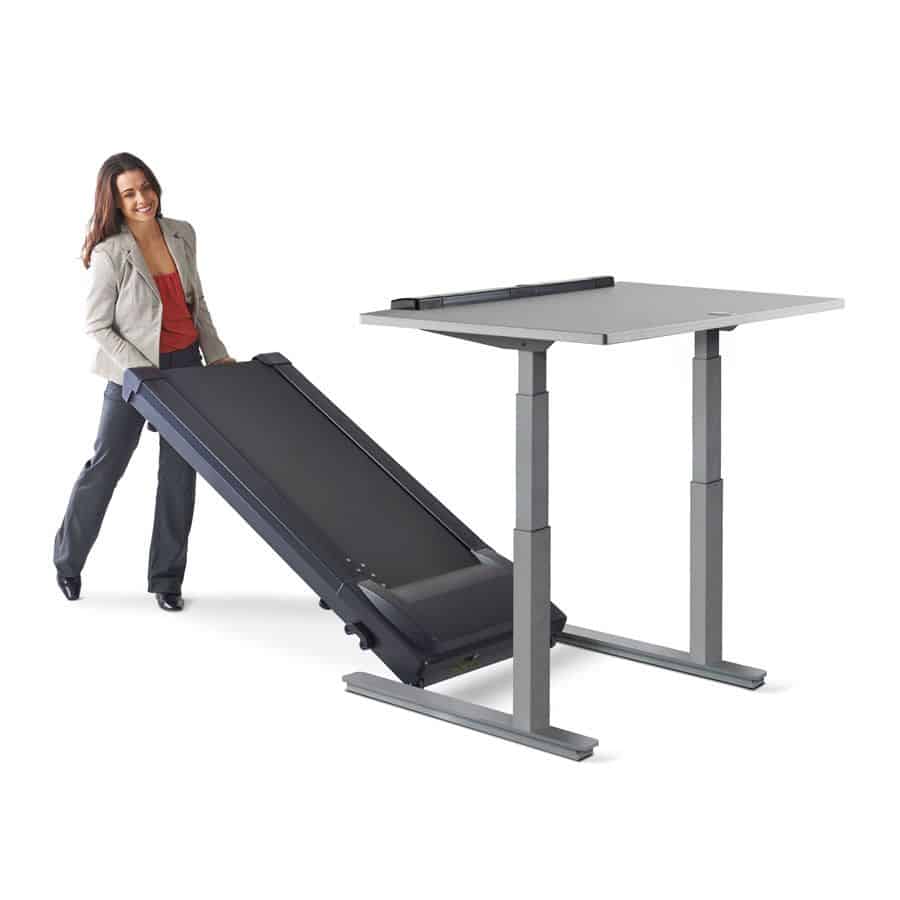 The LifeSpan TR5000 Series is an all around really solid line of treadmill desks. We really like that this series has a heavier weight limit than most treadmill desks on the market, so it caters to a wider audience. The speed on the TR5000 series ranges from 0.4 – 4.0 MPH, and you can customize it to save to your preferred walking speed. These desks offer commercial grade features and although they are a little bit pricier than other series from this brand, you are paying for the higher quality features.
Visit LifeSpanFitness.com to learn more.