The Top Treadmill Desk from LifeSpan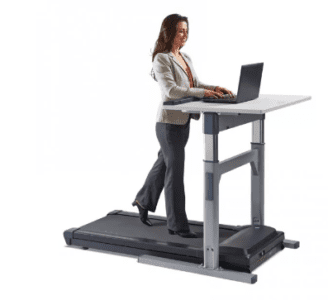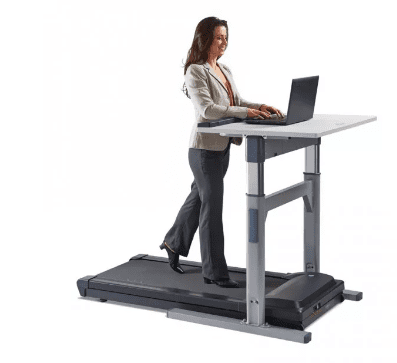 LifeSpan offers a surprisingly wide selection of treadmill desks.  This is a growing market and it is clear they are working to be at the very top.  We like their LifeSpan TR1200 DT5 model because it builds on the successful TR1200i treadmill model by simply adding a work surface.  You may also want to check out the lower model TR800 DT5 and DT3 for a purely walking option.
This LifeSpan TR5000 model is their top treadmill desk model.  Treadmill desks have been gaining popularity because people are becoming more concerned about the health problems associated with hours sitting in one place.  It is much healthier to keep your body moving throughout the day and a treadmill desk seems to be the perfect solution for many.
One of the main differences you'll find with these LifeSpan machines and popular models from NordicTrack are their ability to act also as running machines.  The NordicTrack Treadmill Desk and Treadmill Desk Platinum also convert between a walking desk and a regular sitting desk by folding up the tread deck surface.  The Platinum model can go up to 8.0 MPH and even has an incline feature for a decent running workout.
LifeSpan Fitness TR5000-DT5 Top Features
Choice of Work Surface Color – The TR5000 lets you choose from four different color options on the desk work surface.
20" x 50" Walking Space — It's interesting that the TR800 actually comes with a slightly wider 52″ belt.  Still, the TR5000 model has a more reasonable width at 50″.  This might just come down to your preference.
3.0 HP Continuous Duty Motor — This is a good sized motor and will work well for walking.
0.4 – 4.0 MPH speed settings – The NordicTrack machines go up to higher speeds so you have the option to jog or even run if you'd like.  We're a bit disappointed that this could ONLY be used for walking.  Still, that was the point of designing the machine so it's staying true to function.
Shock Absorption – The shock absorption on this machine is pretty standard.  Nothing too special.
User Weight – If you are a heavier individual looking for a walking treadmill desk, you should definitely go with this model over the TR 800 or TR1200.  The user weight limit here is at 400 lbs.
Warranty — Lifetime Frame, 3 years Motor, 2 years Parts, and 1 years Labor.
Difference Between the DT7, DT5, and DT3 Models
The LifeSpan TR5000 treadmill desk comes in three different options.  The DT3 is just going to include the walking surface.  It is designed to slip underneath an existing desk or table.  You will want to consider the height of your table and make sure it is tall enough to use while standing on the treadmill.
The DT5 option comes with a desktop sized at 38×29″ or 48×29″.  The height of this desktop can be manually adjusted.  (NOTE:  The wider desktop costs an additional $50.)  On the DT7 model, the height adjustment is powered.
Our Review – LifeSpan Fitness TR5000 Treadmill Desk
Of all of the LifeSpan Treadmill Desks, this is certainly the one with the most attractive features.  We like that LifeSpan provides you with three different configurations.  Before you purchase full priced from LifeSpan, definitely check for some good deals on Amazon.  Be sure to use our links above for the best pricing.
We should mention that we really like the features on the NordicTrack Treadmill Desk and Treadmill Desk Platinum.  Their ability to serve as both a walking and sitting desk is definitely worth checking out.