ProForm Carbon T14 Treadmill Review
| | |
| --- | --- |
| Brand: | ProForm |
| Expert Rating: | |
The ProForm Carbon T14 is ON SALE!
Built to Withstand Heavy Use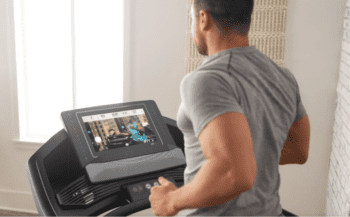 The brand-new 2022 launch to the ProForm Carbon collection of treadmills is the Carbon T14 model. The Carbon series of treadmill machines are designed specifically to be able to keep up with athletic levels of use, while still being in an affordable price range. The other two treadmills in this collection include the Carbon T7 and the Carbon T10.
All of the treadmills in this series are below $2,000, and have impressive specs. This series is perfect for in-home residential use. ProForm is a sister brand of NordicTrack, both made by the parent company Icon. Both of these brands have been industry leading competitors in the fitness world for many years. ProForm has a great reputation for building quality products.
While the Carbon treadmill models are built to withstand heavy amounts of use, the machines are great for any level of fitness. Whether you are just starting out on your journey or even if you are an avid fitness junkie, these treadmills have features for you and everyone in between.
The ProForm Carbon T14 is priced at $1,499, or pay just $39/month with 0% financing for up to 39 months. 30 day iFit membership included and FREE shipping!
What's Different About the ProForm Carbon T14
The Carbon series treadmills are all very similar. The main feature that sets them apart from each other is the size of the screen. Some of the top features on the T14 include: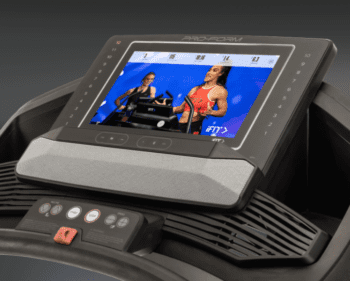 14" Smart HD Touchscreen – The T14 features the largest screen out of the three Carbon models. The T7 has a 7" screen, and the T10 has a 10" screen. Since they are all priced within a few hundred dollars of each other, if a larger screen size is important to you, then we would suggest considering the new Carbon T14. If a smaller screen doesn't bother you, you can likely just purchase the Carbon T7. All the features are almost identical.
iFit – On your Smart HD Touchscreen, you'll be able to enjoy all the benefits of the interactive fitness technology known as iFit. iFit is exclusive to ProForm and NordicTrack machines. There is a 30-day free trial included on all ProForm treadmills. iFit allows you to experience features like…
Live interactive coaching from world renowned fitness trainers
Workout in sceneries across the globe
On demand workout library
Fitness tracking
Community interaction and accountability
& so much more!
To learn about iFit and all that it has to offer, read more here.
Fan and Speakers – A lot of treadmills don't come with fans anymore, and if they do, they're subpar fans. The CoolAire Fan from ProForm on the Carbon treadmills is actually a decent fan for when you're working up a sweat during exercise. In addition, the Bluetooth speakers on ProForm treadmills offer good audio quality.
ISO Flex Cushioning – Deck cushioning on a treadmill is very important. In order to keep yourself safe and injury free, you'll want to make sure that the deck has adequate cushioning. The flex cushioning built into the deck on the Carbon treadmill series is designed to reduce joint impact.
Walking Surface – The walking area on the Carbon T14 is the same as the other two Carbon treadmill models, 20" x 55". This is a standard size. If you're taller than 6", you may want to consider upgrading to a model with a 60" length, such as the ProForm Pro 9000 Treadmill.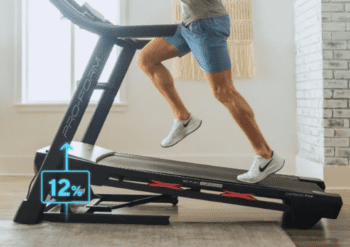 Speed and Incline – The T14 goes from 0-10 MPH and has a 0-12% incline.
Motor – The Carbon T7 has a 2.6 HP motor, and the Carbon T10 has a 2.75 HP motor. At this time, ProForm has not released the size of the motor on the Carbon T14.
Weight Capacity – All of the Carbon treadmill models have a 300 lb. weight capacity.
Space Saving Design – All ProForm treadmills are designed to be space conscious. The footprint on the Carbon T14 is 35.2" x 73.5 " x 57.5". It's not a monster-sized treadmill by any means, so it won't take up your whole space. These treadmills also have EasyLift Assist, so when not in use, they're easily foldable to move them right out of the way.
Warranty – 10-year frame, 1-year parts and labor.
Check out our Comparison Chart of all ProForm Treadmill models here.
ProForm Carbon T14 Treadmill – The Final Verdict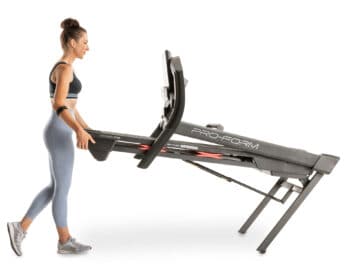 Over the years, ProForm has been a reliable contender in the industry.
They continually release fitness equipment that is durable, while also staying on top of technology with features like iFit and HD touchscreens.
The Carbon series of treadmills will be a great choice for anyone who is looking to incorporate more exercise while in their home. Just keep in mind that with the T14, there really isn't much that differentiates it. The Carbon T7 and the Carbon T10 are very similar aside from the screen size.
So, if you don't care about a larger touchscreen, save yourself $500 and opt for the Carbon T7 machine. You'll be getting all the same features and perks.
Go to www.proform.com/treadmills to learn more.