One of the Best Treadmills on the Planet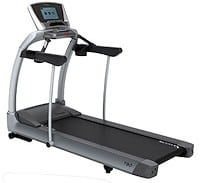 We typically do not review commercial treadmills, but apparently the Vision Fitness T80 treadmill is often purchased by home owners, in addition to commercial customers.  Why would customers want to purchase a commercial grade treadmill for the home?  It is simply because it has the very best in engineering, components and ergonomic design.
Quite often, people who are used to commercial treadmills at their local health club decide to buy a retail model for their home.  They typically are disappointed by the quality, stability, and shock absorption. Our team member has been on this machine and reported that it blows away the lower end competitors like NordicTrack, Sole, and ProForm, while competing with the very best commercial grade treadmills.
Then again, for the price tag it should make you coffee and fluff your pillow…this machine base price is $2,000 higher than what you can purchase a solid built residential machine from other brands.  In fact, the NordicTrack Commercial 1750 is around $1,500 compared to the T80 which is $4,500 plus with touch screen. YIKES! You could buy one NordicTrack 1750 and give away two more to your neighbors, and still have money left for a night out on the town.
Vision Fitness T80 Commercial Treadmill Features
Choice of Consoles – Vision Fitness is the only treadmill manufacturer that offers you a choice of consoles based on your fitness goals.

Classic Console – Designed for individuals that want a basic interface.  There is an LED display that gives you feedback on Time, Speed, Incline, Distance, Calories, Pace & Heart Rate. You also get five popular workout programs. It is Passport compatible – see below.
Elegant+ Console – The Elegant+ offers a 10"full color touch screen display. It comes with ViaFit, Virtual Active, Sprint 8 and is Passport compatible – see below. You also get 14 installed workouts that include several heart rate control programs – includes wireless heart rate chest strap.
Touch+ Console – The Touch+ offers a 15.6" full color touch screen display.  The Touch+ has all the features of the Elegant+. In addition you have an installed calendar that tracks your workouts, and lets you retrieve favorite workouts for future use. There are also 18 installed programs. In addition, you can use your iPhone or iPod and play music or videos through the console.
ViaFit – ViaFit is a tracking application that allows you to track your fitness, health and exercise stats in one location. You create a free ViaFit.com account and your workout stats from the Vision Fitness T80 treadmill are uploaded to your account. You can set goals and monitor your progress towards those goals. What we particularly like about ViaFit is that it acts like a clearing house for numerous health, weight-loss, and fitness apps, in addition to fitness wearable devices. Through one location you can monitor your progress towards your fitness goals.
Sprint 8 – Sprint 8 is an exclusive program only found on Vision Fitness and Horizon treadmills and elliptical

trainers. It is a scientifically proven 3-day-a-week, 20-minute program designed to lose 20%+ body fat over an eight week period. It alternates your workout between intense surges and recoveries. There are a number of users that swear by the efficiency and success rate.
Virtual Active – Virtual Active is an installed program that allows you to simulate running outdoors while viewing the scenery on your display. It includes two trails in the Northwest foothills and the northeast. Your speed determines the progress of the video, and the Vision Fitness T80 will simulate the terrain with the incline feature. Additional videos of famous trails and landscapes are available. Virtual Active is designed to take the boredom out of running in place.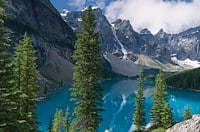 Passport Compatibility – Through the Passport player, that is sold separately, you can project the Virtual Active videos onto you HDTV.   The Passport player is available with all three console choices.
22" x 60" Running Surface  – The Vision Fitness T80 treadmill comes with an extra wide 22" wide deck, giving you an extra wide comfort zone for running.
Johnson Drive System – The drive system consists of the motor, incline motor and electronic boards. Obviously, all motorized treadmills have some type of drive system, however the components are typically from third party vendors. Johnson, the parent company of Vision Fitness, specifically builds their motors and electronics for their treadmills. They are better integrated with the machine and less likely to have service issues. The extra large 3.0 continuous duty HP motor runs very efficiently at low RPMs, resulting in less wear and reduced noise. The motor is commercial grade and is design for the abuse of a commercial environment.
Infinity Deck – The Vision Fitness Infinity Deck is also designed for abuse in a commercial setting. It was engineered for runners and multiple users. It has a design that is similar to most treadmills. There is more shock absorption towards the front where your foot lands, and less towards the back where you want a solid push-off. What makes the Infinity Deck unique and worth the extra cost is they use rubber grommets similar to the bumpers on trains. You get a balance of just the right amount of shock absorption without too much bounce. The other important aspect of the Infinity Deck is the maintenance free treadbelt and deck. The belt is interwoven with wax and the deck has a double dose of wax. They claim it will let you run the Vision Fitness T80 treadmill to up to 21,000 miles without maintenance.
Heavy Unit Weight – Evidence of the commercial quality of the Vision Fitness T80 is the 350 lbs. assembled weight. It would take a tsunami to move it.
Warranty – The T80 comes with either a residential or commercial warranty.  The residential warranty is lifetime motor and cushioning system, 7-years parts and 2 years labor coverage, which is very generous.  The commercial is 5-year parts and 2-year labor for a "limited" commercial environment. Typically for a commercial setting it is 1-2 years parts and 1-year labor, another indication this is a heavy duty machine.
Vision Fitness T80 Treadmill Review
For most residential customers the Vision Fitness T80 is an overkill.  Still, buying an overkill treadmill is not necessarily a bad thing when you are getting the very best machine to handle the abuse of constant running. This means it is ideal for fanatical runners or multiple users. It also means no matter what the planned usage, the chances of needing maintenance and service are very slim. In addition, you are getting a treadmill that is engineered to provide a very rewarding and forgiving workout. The Infinity Deck is one of the very best shock absorption systems in the industry. The emphasis is on reducing stress and strain to your joints.
Finally, what makes the Vision Fitness T80 treadmill appealing is your choice of consoles based on your fitness goals and needs. If you just want an exceptional running machine, then the Classic console makes sense. However, if you want interactivity, tracking and virtual running environments, then the Elegant+ and the Touch+ are excellent choices. When you combine all the positive features of the Vision Fitness T80, it is one of the best treadmills on the planet.
To learn more, visit VisionFitness.com.
Note: *Our Vision Fitness T80 Treadmill Review is based on personally testing the equipment, in addition to feedback from company officials, customers and sales professionals. We attempt to be as accurate as possible with the review. Changes in warranty, options, features and prices can change without notice.