Truly a Good Buy!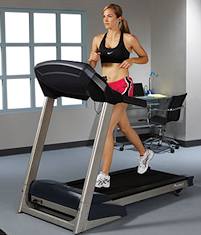 With a 10-year parts warranty and an affordable price,the Spirit XT285 treadmill is truly a good buy!  This quality machine is made by Dyaco,the company that builds the reputable Sole brand treadmills.
The Spirit XT285 is a great choice for individuals who want to get back into an exercise program but don't want to spend a fortune on fitness equipment.  The XT285 is a sturdy,dependable treadmill for walking and jogging and will adequately meet the needs of the average user.
Spirit is one of the oldest names in fitness equipment. Their longevity is due to building quality machines that are both durable and low maintenance. And I personally prefer exercising on my treadmill instead of maintaining it.
---
---
Nevertheless, compared to other treadmills in its category, the Spirit XT285 has a lot to offer.
A Look at the Features on the Spirit XT285 Treadmill
You might expect to find some of the features of the Spirit XT285 treadmill on more expensive models.  Yet, these are also standard features on this more cost-effective machine.
Below is a list of features that are part of the Spirit XT285 treadmill:
Attractive 7.5″ blue backlit LCD display — You are able to get feedback on 6 stats simultaneously. There is also a reading rack. and water bottle holders.
2.75 HP continuous duty motor—Powerful enough to provide a smooth, quiet workout for walkers and light joggers.
Cooling fans—Located in the console, these fans create a nice, cool breeze for more comfortable exercise experiences.
Folds for convenience and easy storage—Folding treadmills are nice to have when space is limited.
20" x 58" treadbelt — Adequate in length for the average user, but may be a little too short for taller athletes.
8 installed programs — Perfect for adding variety to your workouts and to help you achieve your fitness goals.
Speakers in console with a jack for your MP3 Player — Must-have features that make it easy and convenient to listen to your favorite tunes as you burn calories and fat.  Those workouts will seem to fly by!
Handle-based speed and incline controls—Controls allow for easy adjustment of speed and incline levels, even when you are in motion.
271 Lbs. assembled — This is almost commercial grade weight. You will find the Spirit Fitness XT285 to be rock solid even running at high speeds.
2.5″ rollers — The larger rollers extend the life of the treadbelt, motor and bearings. They also reduce the noise level.
Heart-rate monitor—Monitor your heart rate with the contact heart rate sensors or the included Polar telemetry belt.
Warranty — Typically at this price you get lifetime frame and motor, 5 years parts and 2-year labor. I guess to distinguish it from the similar Sole treadmills they offer 10 years parts and 1 year labor. I probably would prefer the 2 year labor coverage, because labor can be very costly. However, the 10 year parts is a statement on the quality of the components.
Our Review—The Spirit Fitness XT285 Treadmill
The Spirit Fitness XT285 treadmill is available either online, through their site, or through fitness equipment stores. The advantages of buying through a fitness equipment specialty store are…
You are buying locally.
You are buying from professionals that can advise you.
These businesses will deliver and set-up your equipment, often at an extra cost. The free delivery you see from online sales is typically to the curb. You don't want to be moving a 217 lbs. treadmill.
These stores also do their own service.
There is one significant disadvantage, you pay a premium for these services. If you don't need hand holding, or professional advice you can probably save money buying a comparable Sole treadmill.