Some Good, Some Very Bad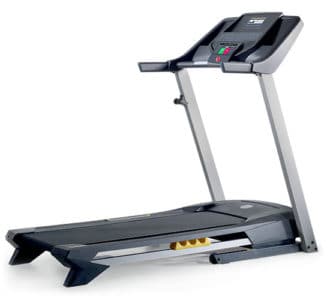 The Gold's Gym 430i Trainer treadmill is built by Icon Fitness, which also builds ProForm, NordicTrack, Reebok, Epic and several other popular brands. Yes, it is affordable — between $400-550! It has very mixed reviews from customers. About two-thirds of the reviews we found were from satisfied customers, but the problems noted in the rest of the reviews are enough to make us very cautious.
The main issues with this machine are in the quality of the machine's construction. It's broken down for a lot of people and customer service seems to be a nightmare.
The walking deck on the Gold's Gym 430 Trainer is only 16" x 50." The width of the treadmill is a real drawback. Take a tape measure and see just how wide 16″ is. There are some ProForm treadmills for about the same price that have 20″ wide belts. This treadmill is practical only for walking and only for users 5'7" or shorter.
The 2.5 HP motor is not the continuous duty rating. The 2.5 HP rating is the peak performance, so don't be fooled. It is not the same powered motor you see in higher priced treadmill. It is designed primarily for walkers and may strain when used for jogging or running.
What are some of the attractions on the Gold's Gym 430i Trainer treadmill?
At first glance, the features on the Gold's Gym 430i Trainer seem quite nice for a treadmill in its price category. Just keep in mind that the parts used in this model are not of the highest quality.
iFit Bluetooth Smart Enabled – Use your smart tablet or phone to view GoogleMaps exercise routes, track your workouts and watch your progress towards your goals. This feature requires an extra iFit subscription fee.
SpaceSaver Design – The 430i Trainer folds for easier storage.
Sixteen Installed Workout Program. – The variety of pre-programmed workouts lets you mix up your exercise sessions to keep you motivated to reach your fitness goals. Each workout automatically adjusts the speed and incline levels on this treadmill to focus on aerobic, weight loss, or endurance fitness.
0-10 mph speed – With the quick touch of a button, you can adjust the treadmill's speed to suit your level of fitness. On the 430i Trainer, however, the motor isn't really designed to handle speeds higher than a brisk walk.
0-10% incline – A 10% incline is fairly steep. That is what I set my treadmill at when I am walking on it. It kicks up my cardio workout.
LCD display – This is a decent LCD window that displays a motivational race track for monitoring the progress of your workout. It also graphically displays your workout on a 7 x 10 workout matrix. Monitor your speed, distance, time, calories burned, and pulse rate.
Speakers and MP3 Input – The sound is decent. It is iPod compatible.
Shock Absorption – The shock absorption is designed for walkers. If you jog on the Gold's Gym 430i Trainer you may find it too bouncy. In fact, you may experience reverse shock from the deck bouncing back. The rear of the deck is stiffer for a solid push off.
Heart rate monitor – Heart rate can be monitored by grasping the handlebars with built-in pulse sensors. The reading won't be as accurate as you would get with a wireless chest heart rate monitor. Nevertheless, it will give you a general idea as to how hard you are training.
Warranty – You get 90-days parts and labor, which tells you a lot about the durability of the Gold's Gym 430i Trainer. After 90 days you are on your own, and it is very expensive to have treadmills serviced. The frame and motor both come with a 5 year warranty.
120 lbs. Shipping Weight – Minus about 10 lbs. for the shipping container and you get the weight of the Gold's Gym 430 Trainer treadmill. That is not very heavy and will impact stability of the machine.
Our Review – The Gold's Gym 430i Trainer Treadmill
If you're short on money, short on stature and moderate on weight, the Gold's Gym 430i Trainer treadmill may work for you. However, this machine isn't built for the long haul. At this price range the company has to compromise on the components, engineering and overall biomechanical features.
The Gold's Gym 430i Trainer is sold only at Walmart.com. If you want it delivered to your home, you have to pay extra for shipping and handling. You can, however, have it delivered to your local Walmart store with free shipping. Once it arrives at the store, you are responsible for picking up the treadmill and getting it home. If you choose in-store pickup, you will probably need to find someone to help with moving the treadmill.
The low price and the listed features might get your attention and lure you towards the purchase of the Gold's Gym 430i Trainer. Before you spend your money, though, check out some of Icon's Proform treadmills. You would be better off buying a Proform on sale than using your hard-earned money for the 430i Trainer.
Check out all of our top rated ProForm treadmills or visit our Best Buy Treadmill page for more great deals!
Customer Reviews
The majority of the customer reviews on WalMart were positive. Although a number of customers said they had issues right out of the box or in a very short period. At least they were covered by the 90-day warranty.