A Really Fine Piece of Exercise Equipment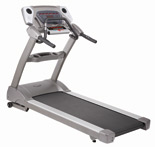 If you have plenty of room in your home and the budget to afford it, stomach the Spirit XT685 model treadmill built by Dyaco is a really fine piece of exercise equipment.  Similar to Sole's TT8 treadmill (another Dyaco product) in size, power, and durability, the XT685 can be expected to endure plenty of years of constant use.
---
Note: The Spirit XT 675 is no longer listed for sale on the Spirit website,  however the Sole TT8 is a comparable model to the Spirit XT685 and is built by the same manufacturer. You can purchase the Sole TT8 direct at www.SoleTreadmills.com.  Normally sells for $2,299 with shipping.
---
Good Treadmill, But Not for Everyone
The Spirit XT685 is a non-folding treadmill.  This is an important factor to consider before buying, because it IS a rather large and heavy treadmill that requires a certain amount of floor space.  This isn't one you can easily move or store out of the way when it isn't in use.  Wherever the machine is set up, that's where it is most likely to remain…at least, for awhile.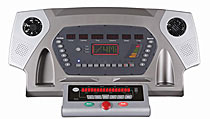 Individuals who have limited space would probably be happier with a smaller, folding model treadmill that can be easily folded and moved aside for storage.  However, if you live in a roomy house that can comfortably accommodate the Spirit XT685 treadmill, this just might be the perfect piece of fitness equipment for you!
Weighing in at 264 pounds, the XT685 remains stable, even during hard pounding.  With a 3.5 HP continuous duty motor, it should be powerful enough to handle runners and multiple users without any problem.  Its 22" x 60" running surface is large enough to meet the needs of taller athletes.
This treadmill can cost up to almost $3,000.  That's a lot of money to spend on a fitness machine.  If you're serious about exercise and want quality equipment that will last for years, the Spirit XT765 is well-worth the money it costs.  Otherwise, you may want to consider a less expensive treadmill.
Additional Features Found on the Spirit XT685 Treadmill
3.0" rear roller: This roller is even larger than the one found on the Spirit XT475!  The larger than normal roller reduces the wear and tear on the bearings, motor, and belt.  It can also make the belt run more smoothly and quietly.
Active buttons: Quick keys make adjusting the speed and incline levels fast and easy.
Cooling fans in the console keep you cool and comfortable during your workouts.
Incline capacity goes up to 15 degrees and can be adjusted in 1 degree increments.
Heart rate monitoring system can be controlled through contact heart rate sensors or the Polar telemetry belt that comes with this treadmill model.
Our Review—The Spirit XT685 Treadmill
For someone who can afford it and who has adequate space in which to put it, the Spirit XT685 treadmill is a quite decent machine.  It is rated as light commercial quality and should easily be able to accommodate runners and multiple users.  The motor is powerful enough to operate effortlessly—even at steep inclines and high speeds.
An indication of the quality of the Spirit XT685 is its 10-year parts warranty!  When a company is willing to back its parts with that kind of warranty, this signifies the company's belief in its product and the parts used to build it.
This machine is comparable in quality and price to the Sole TT8 non-folding treadmill.  We have learned from personal experience that Sole treadmills tend to be dependable, strong, and sturdy.
If you're in the market for a well-built, high-end treadmill, the Spirit XT685 definitely deserves consideration!