Last Updated on September 14, 2017 by administrator
Built to the Highest Standards of Engineering
T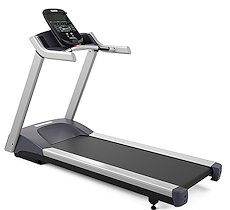 he Precor TRM 243 treadmill is part of their Energy series. Unlike their premium Precision series treadmills,the Energy series are built in Taiwan and not the U.S.A. Most treadmills available in the U.S. are either built in China or Taiwan. The better machines typically come out of Taiwan.
The fact the Precor TRM 243 treadmill is not built in the U.S. like the Precision models should not distract you from the fact that they still incorporate many of the design features found on Precor commercial treadmills. The Precor TRM 243 is built to the highest standards of engineering,and in its price range,is one of the most durable and low maintenance machines available.
Precor TRM 243 Treadmill Features
3.0 Continuous Duty HP Motor — This is a heavy duty industrial motor, and the chances of it ever having any mechanical problems are slim to next to none. It will run effortlessly as you run and is very quiet.
2.36″ Precision-machined, steel crowned rollers keep belt centered and running smoothly to reduce noise and wear.
20″ x 57″ Treadbelt — The length will handle the stride lengths of runners.
Energy Stride Technology — The Precor TRM 243 incorporates their patented deck design from their commercial treadmills. It provides a soft landing in the front of the deck and a firm push-off from the rear. It works with a series of rubber grommets on each side.
Wireless Heart Rate Monitoring — You can monitor your heart rate and with their SmartRate Target Zone feature you can target your preferred heartrate zone like fat burn, cardio or peak target.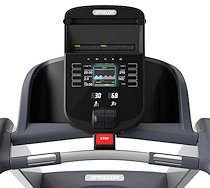 Premium Console and Display —New for 2014, the 40 series console on the Precor TRM 243 is designed to maximize and personalized your workout. Here are a few of the features…
7″ color liquid crystal display
Lever style motion control for easy adjustment. Precor designed this feature so you can effortlessly make changes to the speed and incline as you run.
4 user IDs
Suggested workouts based on your fitness goals
27 feedback metrics, includes 5 graphs
Touch or wireless heart rate monitoring
Heart rate target zone monitoring
Ability to save your workout for future use (16 total)
USB port for smartphones or tablets with plugin for headphones. It also will charges your device. Although I feel they should have included speakers
Ability to download future software updates
Reading racks with clips for tablet
In addition, the Precor TRM 243 console is Preva compatible. Preva is Precor's mobile app. You can save your workout through the USB port to a mobile device and download it to your personal online account. Through your account you can store workouts, get training recommendations, and record and review your stats. Preva is also available on their commercial models so regardless if you are using your residential treadmill or one of their commercial models, all your workout data can be downloaded to your online account. If you are striving towards particular fitness goals, this is an ideal way to stay focused.
23 Preset Workouts:
Be Fit: Intervals 1-1, 2-1, 4-1; Rolling Hills, Mountain Peaks, Heart Rate Cardio
Lose Weight: 4-3 Interval, Aerobic, Aerobic Plus, Fat Burner, Heart Rate Fat Burn
Push Performance: Intervals 1-4, 1-2; Heart Rate Zone
Get Toned: Glute Toner, Glute Toner Plus, Leg Sculpt, Leg Sculpt Plus
Go The Distance: 1 Mile, 5K, 10K
Fitness Test
Manual
2 User IDs — Stores specs for two different user.
238 lbs. Unit Weight — Precor treadmills are all non-folding and combined with the heavy weight these machines are rock solid.
Warranty — Lifetime frame and welds;  5-years parts and wear items; 1-year labor.
Our Review – Precor TRM 243 Treadmill
The Precor TRM 243 treadmill gives you the exceptional quality that Precor is known for without having to spend over $5K. Actually the Precision model with the 40 console lists for $6K. The Precor TRM 243 lacks several of the patented features that are found on their Precision series and commercial models, but unless you are a fanatical runner you probably wouldn't notice the difference. Regardless, the Precor TRM 243 treadmill is vastly superior to the majority of treadmills sold for residential use.
Learn more at Precor.com/Treadmills