Designed to Take a Pounding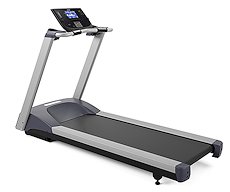 The Precor TRM 211 treadmill is their entry model and is very basic,but is also reasonably priced.  This is not a knockoff of their commercial treadmills and they are not built in the U.S.A.,but in Taiwan.  Actually most treadmills are built in either China or Taiwan,with the better models coming from Taiwan.  It does not have some of the high-end features found on the Precor Precision models, but it is still a quality running machine that is very durable. It is designed to take a pounding.
Precor TRM 211 Treadmill Features
3.0 Continuous Duty HP Motor — Powerful enough to handle runners at all levels.
20″ x 57″ Treadbelt — The belt is lengthy enough to handle the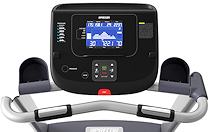 strides of runners.  Furthermore, rather than using a wax deck, the belt is coated with silicon, which I am told results in less wear and tear on the belt, thus extending the life.  Replacing belts can be very expensive.
Easy Assembly — Reading the reviews on the Precor TRM 211 on Amazon, a number of people mentioned how easy it was to assemble the machine.  Sometimes you need an advanced degree in engineering to assemble certain treadmills.
227 lb. Unit Weight — Heavy enough that you can be assured the treadmill will feel solid and stable.
2.36″ Precision-machined, steel crowned rollers keep belt centered and running smoothly to reduce noise and wear.
Six User Programs — You get the basic programs, which for many is adequate.
No Handlebars — I mention this, because for some users handlebars are a must.  You can get full size handlebars on the Precor 9.27.
Warranty — Lifetime frame and welds, 5-year parts and wear items and 1-year labor.   The length of the warranty may not match a number of comparably priced treadmill, but Precor has a reputation for selling some of the most durable machine in the market.
Our Review — Precor TRM 211 Treadmill
You will find the Precor TRM 211 to be rather basic.  It lacks a fan, speakers, MP3 input or motivational software.  If you are looking for those bells and whistles consider a brand like NordicTrack.  But if your priority is to get a good running machine at a reasonable price, the Precor TRM 211 should be a consideration. Obviously their $5,000+ models are a runner's dream come true, but the TRM 211 still outperforms the majority of home treadmills.
Visit the manufacturer website to learn more at Precor.com/Treadmills