Last Updated on January 27, 2020 by Rachael Kraft
Not Recommended, But Users Seem Satisfied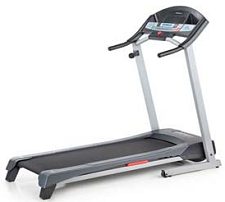 You really do not want to buy the Cadence G 5.9 Treadmill.  However, there are countless people who have bought this treadmill and are satisfied with their purchase.  The $300 price tag with shipping is a very appealing price. But let me give you a few words of caution.
When you subtract the cost of shipping and a reasonable profit margin, there is not much left to build a decent cardio machine.  You end up with a number of compromises in the end. It should also be noted that out of 41 treadmills rated by a popular consumer magazine the Weslo Cadence G 5.9 came in second to last.
---
Note: Also check out the ProForm Treadmills. Built by the same company. Their models are more durable and have longer warranties.  A perfect example is the Performance 400i.
---
Weslo Cadence G 5.9 Treadmill Features…
16″ x 50″ Treadbelt –  This is probably one of the major drawbacks to the Weslo Cadence G 59.  A 16″ wide belt is very confining.  I encourage you to take a tape measure and see how restricting that is to your movement.
2.25 HP Motor – This not the same as a 2.25 continuous duty hp motor.  Continuous duty is the industry standard for rating the power of a treadmill.  It represents the horsepower that a motor runs at effortlessly.  The 2.25 HP motor on the Cadence G 5.90 is the peak rating.  When comparing to a continuous duty motor you probably are getting about 1.50 hp – a small motor that does not have a lot of power.   It won't take much to make this motor strain.
Manual Incline – The incline feature on treadmills are a plus.  They allow you to kick up the cardio workout and to focus on different lower body muscles.  However, you have to get off the machine to adjust the incline and there are only a couple of settings.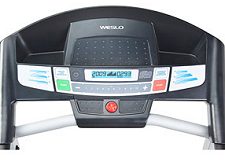 Stability – The stability is compromised by the light weight of the machine.   It weights approximately 100 lbs.  If you weigh 150 lbs, you are 50% heavier than the treadmill.
Minimal Shock Absorption – You won't get the kind of reduced impact you will find on higher priced treadmills, however it is an improvement over walking on asphalt or concrete.
Warranty – You get 1-year on the motor and 90-days parts and labor.  The 90 days coverage tells the story.  If this treadmill were built to last, they would have sufficient coverage.
Our Review – Weslo Cadence G 5.09 Treadmill
The real question is, what if you only have $300 to spend on a treadmill, and you desperately need to lose some weight.   Should you not buy this treadmill, continue to gain weight and blame it on my recommendation.  Look, there are over 100 customers reviews on the WalMart web site that overall gives this treadmill a favorable review.
However, there are some serious limitations to this treadmill, and it is my job to point them out.  If after reading this review you feel you want to purchase this model, I've at least done my job.  And if you end up with a trouble free machine that serves you fitness goals, you can write me a nasty letter telling me I don't know what I am talking about.
If you plan to buy this treadmill I have to important recommendations.  First, only use this treadmill for walking.  This machine is not designed for running on.  Second, I would put the weight limit at the very max at 200 lbs.
On a final note, I will say for $300 you probably are not going to find a better treadmill.
You may also want to check out some of the ProForm Treadmills. They are built by the same company, are more durable and have longer warranties.