Extra Wide 22″ for Elite Treadmill Workouts
We'd put the quality of Lifespan treadmills in the same league as top brands like Sole and Yowza.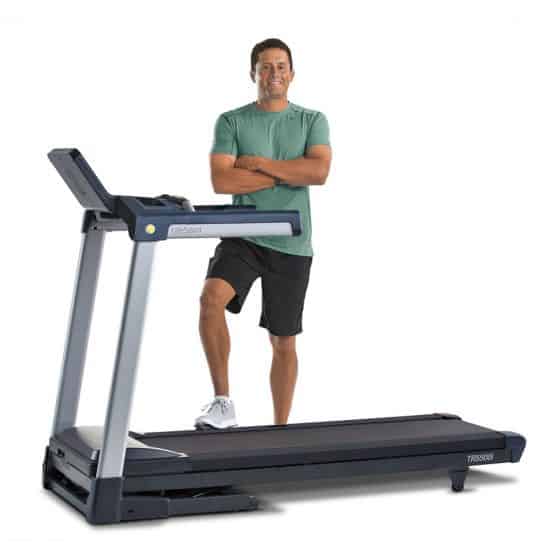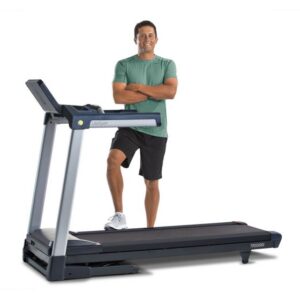 They are not as well known, but they produce durable machines that come highly recommended from several prominent resources. One distinguishable factor of LifeSpan is their top notch customer service. Their customer service department is run by a 15-year veteran of fitness equipment service. Although you may not get all the extra "bells and whistles" with this company, they provide high quality products with outstanding customer service.
This particular model, the LifeSpan TR5500i has a large 60×22″ deck, a massive 4.0 HP motor, anti-vibration technology and an EZ fold design. The TR5500i is designed specifically with runners in mind.
The TR5500i is an upgrade from LifeSpan's TR4000i model, featuring upgrades like decline capabilities, and higher speed options. The 5500i is a quality machine that's created to withstand high intensity workouts, over and over again.
LifeSpan Fitness TR5500i Top Features
22" x 60" Running Space — The length of this machine will work well for all types of runners.  We especially like the 22″ wide belt.  You will really enjoy the extra elbow room.
4.0 HP Continuous Duty Motor — This is a powerful motor that will easily be able to handle regular running workouts.
Anti-Vibration and EZ Fold Design – The Lifespan TR5500i separates the running surface from the console supports so your running steps will not cause the display to vibrate.  In addition, this design contributes to an easy folding mechanism that lets you clean around the machine more easily and store it when it's not in use.
10″ Full Color Display Screen — This is the largest display offered on LifeSpan machines. It's a really nice oversized screen.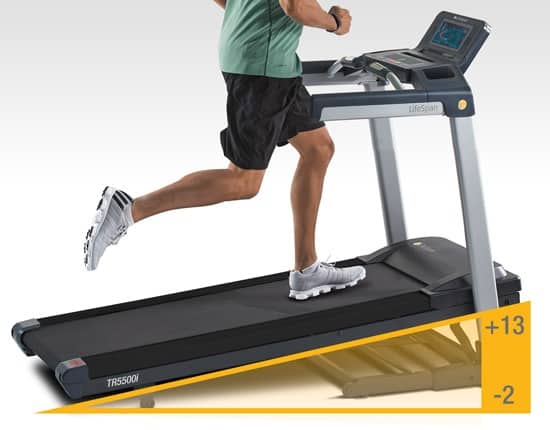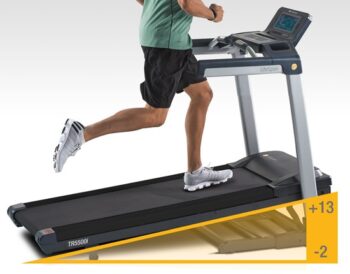 Incline AND Decline — Most treadmills don't offer decline features. However, the TR5500i provides -2 levels of decline all the way up to 13 levels incline. This machine is really made to offer "kick butt" workouts.
High Speeds — The TR5500i goes up to 13.5 mph so you can take your workout to the extreme.
2.5" Rollers — Larger rollers like this will decrease noise and prevent excessive wear on your belt.
Bluetooth Speakers — Listen to your favorite music during your workout to stay motivated and charge your phone at the same time with the built in USB  charging port.
Forgiving Shock Absorption — Just like the LifeSpan TR4000i, this machine has four compression shocks on each side of the deck for extra cushioning.  It will provide a natural feel and protection for your joints while you run.
Warranty — Lifetime Frame, Lifetime Motor, 5 years Parts, and 2 years Labor.
Our Review – LifeSpan Fitness TR5500i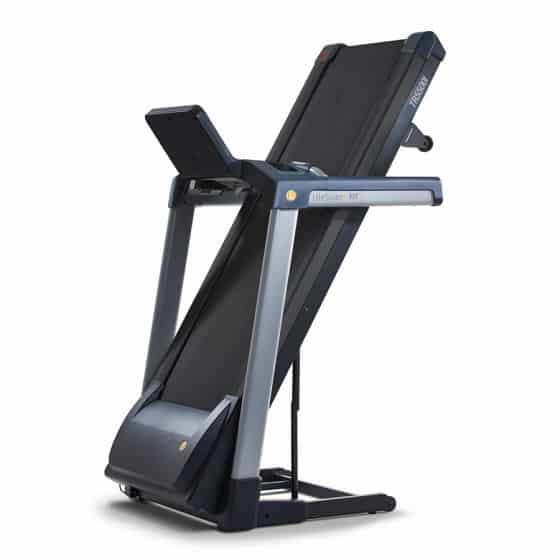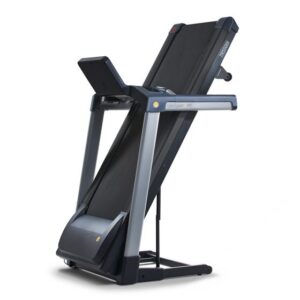 We're a big fan of the shock absorption on this LifeSpan 5500i model.  The 8 variable density compression shocks will help provide a comfortable running surface. The decline features and high speed capabilities will ensure you get an effective workout. Plus, we respect the strong reputation from this company. LifeSpan machines are built to last and well worth the price.