Sole ST90 Treadmill Review
| | |
| --- | --- |
| Brand: | Sole Fitness |
| Expert Rating: | |
Sole ST90 Treadmill is ON SALE!
The First Commercial Treadmill from Sole
GREAT DEAL! For a limited time, Sole is offering a FREE 90 day trial membership to their interactive fitness technology Studio with the purchase of any Sole elliptical. 
For years and years, our review team has been impressed by brand Sole Fitness. Sole has been a major player in the fitness equipment industry for a very long time, and for good reason. Their brand is known to produce some of the most durable and dependable treadmills on the market today.
During our visits to Sole headquarters in Logan, UT, our team has had the chance to sit down and talk to the owners of Sole Fitness. The owners mission has remained the same: to manufacture treadmills that focus on quality engineering and components. When you look at other brands in industry, you'll find that they focus more on flashy equipment. Features such as large touch screens, aesthetic designs, and sleek interfaces dominate the industry. Instead of putting priority on fitting in that mold, Sole has paved their own way by dominating the industry in making the most heavy-duty fitness equipment out there.
Have you heard the saying "If it's not broke, don't fix it"? For many years, Sole has not changed their product line up.  Sole is one of the few fitness equipment brands that rarely changes their products or pricing. However, in 2022 we got an unexpected surprise. Sole released their first commercial treadmill, the first that's over $3,000 from their brand. The Sole ST90 is the newest machine on the block.
So… what makes this machine so special?
The Sole ST90 Treadmill is priced at
$3,599.
Financing is available. 1-year access to Studio included
($399 value).
Click to Buy Direct at SoleTreadmills.com
*Shipping/Delivery Note:

 
All Sole treadmills come with free curbside delivery. For this standard delivery, the driver will back the truck up as far as they can (which is sometimes at the end of your driveway) and unload your box for you. Treadmills can often be awkward to move and typically require more than one person. Sole now offers Assembly Authority Delivery for $299. An Assembly Authority Tech will unload the treadmill to the designated room of your choice, assemble it, and demonstrate the functionality for you. This new delivery option is a great deal in our opinion.
Sole ST90 Treadmill Features and Technology
2 HP AC Motor – At first glance, this might look like a small motor for the large price tag. However, many other treadmills in this category use larger "DC" motors. AC motors are much more efficient, and can run at a lower horsepower. These motors are more appropriate for treadmills that need to be able to function at high speeds. AC motors also have a much longer lifespan than DC.
20″ x 60″ Treadbelt – This is one of the largest treadbelt sizes that you'll find. If you go to your local commercial gym, it's likely that 20″ x 60″ is the treadbelt size. It has ample room to be comfortable for those who have a long stride, or even those who are over 6 foot.
Incline & Speed – With the incline and speed ranges on the ST90, you'll be able to push yourself until your heart is content. The incline goes up to a challenging 15 levels, with up to 12. 5 MPH top speeds. You'll be able to walk, jog, run, and even sprint – all while adjusting your incline level to whatever pushes you.
Heart Rate Monitoring – It's important to be aware of your heart rate during exercise. The ST90 has both pulse as well as telemetric heart monitoring.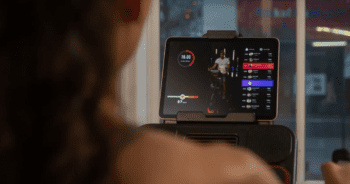 Workout Programs – A lot of treadmills do not have built-in workout programs anymore. If you're someone who enjoys a good pre-installed program to just be able to jump on the treadmill and go, you'll appreciate the programs on the ST90. The pre-installed programs will let you take the thinking out of your next treadmill workout. There are 10 standard programs, 12 custom programs, and 7 heart programs. In addition, there are bundling options available to add Sole's interactive fitness technology Studio onto the purchase of your treadmill. After the end of your bundle purchase, Studio is $39/month. Studio comes with features like…
Community Accountability and Support
Fitness Point System to Keep You Motivated with Prizes Through FITCOIN
Programs from NASM Certified Instructors
Wide Variety of Programs in Categories such as Treadmill, Boxing, Rowing, Strength, Yoga, and More
Data Tracking
To read more about Sole Studio, click here.
Touch Screen Display – As we mentioned earlier in the review, Sole is not known for all the extra bells and whistles on their treadmills. So, we were pleasantly surprised to see a 10.1″ Touch Screen Display on the ST90 treadmill. On the display screen, you'll be able to utilize your home WiFi on the screen as well as screen cast your favorite show or podcast from any smart device.
Extra Features – Tablet/Phone Holder, Bluetooth Compatible, Sound System, USB Charging Port
Warranty – 5-years frame and motor, 3-years deck and electronics, 1-year parts and labor
Our Review: Sole ST90 Treadmill
Before the release of the ST90 treadmill, the top-of-the-line product from Sole was the TT8 treadmill. The TT8 is priced for about $1,000 less than the ST90. So, with such a big price jump, we'd expect to see a big jump in features. To be honest, we do not.
Check out this quick comparison chart between the Sole ST90 and the Sole TT8 treadmills.
| | | |
| --- | --- | --- |
| Feature | Sole ST90 | Sole TT8 |
| Motor  | 2.0 HP AC | 4.0 HP DC |
| Incline | 0-15 Levels | Decline 0-6 Levels, Incline 0-15 Levels |
| Speed  | 0-12.5 MPH | 0.5-12MPH |
| Display  | 10.1″ LCD Display | 10.1″ Touchscreen with Wifi and Screen Casting |
| Bluetooth  | Yes | Yes |
| Heart Rating Monitor  | Pulse and Telemetric | Pulse Grips |
| Warranty  | 5-yr frame & motor, 3-yr deck & electronics, 1-yr parts & labor | Lifetime frame, motor, & deck, 5-yr electronics, 2-yrs labor |
| Weight Capacity  | 330 lbs. | 400 lbs. |
Sole ST90 vs. Sole TT8
We are impressed with some of the feature upgrades on the Sole ST90, such as the upgraded display, motor type, screen-casting, and heart-rate monitoring capabilities. The most significant difference between the ST90 and the Sole TT8 is the deck design. The Sole ST90 is the only treadmill from Sole that features the slack style belt design. According to Sole, the design of this deck enhances user safety and comfort. The belt functions like a conveyor belt, to provide an optimal and smooth running surface while reducing wear and tear on your joints.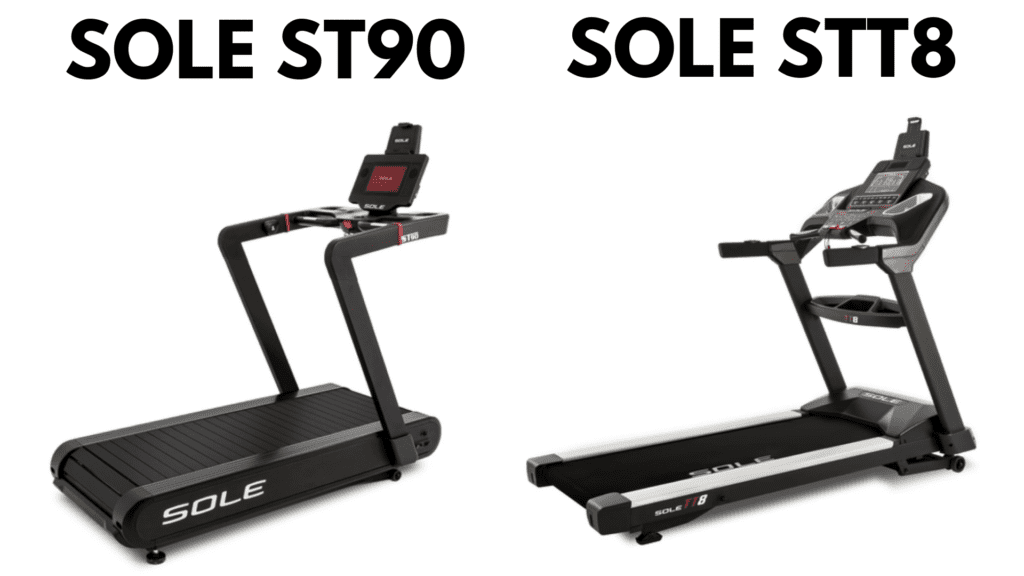 The Sole TT8 features a deck that is capable of decline, designed with the Cushion Flex Whisper Deck technology from Sole. This deck technology has been shown to reduce joint impact by up to 40%.
The Bottom Line
So, the choice is yours. The Sole ST90 is brand-new to the market, and maybe some features will be changed in the future. If you prefer a touchscreen, an AC motor style, and the slat style belt – the $1,000 price jump for the ST90 will likely be justified for you. However, if you're just looking for an overall solid treadmill and don't mind a standard style belt, the TT8 will be more than sufficient for you. The TT8 still offers a commercial-grade design as well as features, but it's priced for $1,000 less.
FAQs
What is the weight limit on the Sole ST90 treadmill?

330 lbs.

What are the dimensions of the Sole ST90 treadmill? 

The Sole ST90 Treadmill dimensions are 65″ H x 70″ L x 33.5″ W.

What is the best Sole treadmill? 

The Sole ST90 is the most expensive treadmill from Sole, however when we are asked for the best all-around treadmill for both price point and features from the brand, our go-to suggestion is the Sole F80.

Can you watch Netflix on the Sole ST90 treadmill?

Yes. The Sole ST90 allows for screen casting from your favorite device.