Horizon Treadmill T303 Review
| | |
| --- | --- |
| Brand: | Horizon |
| Expert Rating: | |
The Horizon Treadmill T303 is On Sale!
Don't Let "Budget Machine" Fool You!
Use code Horizon5 at checkout to save.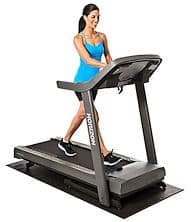 There are so many options our there for at-home exercise and we seem to live in the time of "more is more", which can be a bit overwhelming. That's why it's so nice to see a new budget treadmill option from Horizon that can still pack a punch.
We recently traveled to the Horizon Fitness headquarters in Madison, Wisconsin. We wanted to check out their equipment in person. The T303 is the newest addition to Horizon's budget line of treadmills, but don't be fooled. "Budget" doesn't mean that you sacrifice performance or quality when it comes to Horizon, it just leaves your wallet happier.
Horizon is part of the Johnson Fitness family and that means your can count on the utmost quality when you purchase one of their products. Each Horizon machine contains a Johnson Drive System Motor. This motor uses larger magnets to run at a lower RPM, resulting in a quieter, cooler system. This guarantees a longer life for your machine and more workouts for you.
The motor isn't the only piece of this machine made to last. The tread belt on every machine has been tested to be maintenance free for up to 21,000 miles. Since they produce the parts themselves, Horizon ensures you get the most use out of your machine, with the least amount of maintenance.
The Horizon Treadmill T303 Features
3.0 CHP Motor – This is a substantial motor for an entry-level treadmill. Whether you want to walk, jog or run, you'll be able to do it on the T303. To find a motor of this size on a treadmill with a price tag of $1,099 is impressive and quite out of the ordinary. This is the benefit of a company making its own parts. They can afford to provide performance and power at a lower cost.
This is also great for those of you that are starting out on your fitness journey, but want a machine that will be able to grow with you. This is a great price point for a beginner, but it has the performance features to keep up with you as you make leaps and bounds of progress.
0-15% Incline – This is another area where we see a substantial performance feature for a machine in this category. A 15% incline is big even for a far more expensive machine. If you are a fan of hill days, or HIIT workouts, this treadmill will give you a run for your money.
Plus, just like the motor, this is an area where your machine will be able to grow with you as you get faster and stronger.
0.5-12 MPH – A top speed of 12 MPH rivals what you will find on any other machine. Challenging speed drills and HIIT workouts will be easily attainable and your machine won't ever slow you down.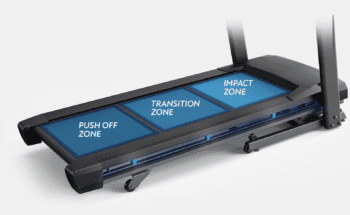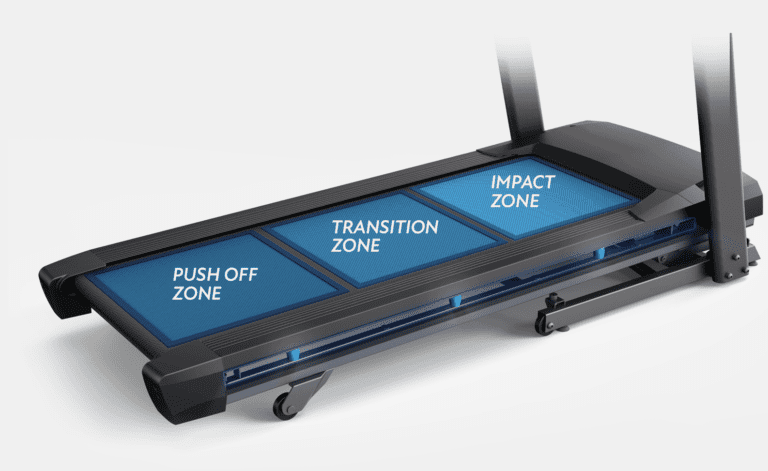 3-Zone Variable Response Cushioning – Horizon's 3-zone cushioning helps you maintain your proper stride and protects your joints at the same time. The front portion of the deck has more cushioning to decrease wear and tear on your joint when your foot strikes. The rear of the deck is more firm to allow for your foot to push off with more force and stability.
20" x 60" Tread Belt – Fear not tall runners and those with a long stride. The 60" long tread belt on the T303 means that you will always have enough space to stretch your legs and run your best every time.
Backlit LCD Window & 3 LED Windows – This is where we see a difference between Horizon and many other treadmill companies. Horizon doesn't provide the big, bright HD Touchscreens that we are seeing everywhere. However, the combo of LCD & LED windows means that you can track your workout stats as you go and not miss a beat.
As an alternative option… if you're a person that loves the idea of the interactive training and personalized routes that iFit — available on NordicTrack and Proform — has to offer, you can sign up for the monthly subscription service. If you choose to do so, you will need to provide your own device to take advantage. You can use the multi-position tablet holder to ensure you don't miss a thing during your sessions.
Comfort Features – The T303 isn't just about performance, it's full of comfort features in addition to the tablet holder. Bluetooth speakers, cooling fan and custom interval keys ensure your workout is exactly what you need.
See a comparison chart of all Horizon Treadmills here.
Our Review: The Horizon Treadmill T303

The T303 is a very welcome surprise as the newest addition to the Horizon T-Series. It joins the Horizon T101 and T202 treadmills. Still considered part of their entry-level machines, the T303 offers performance features that make it anything but entry-level. In fact, much of what the T303 offers rivals its much more expensive competitors. With a regular price tag of $1,099, the T303 is packed full of impressive features that you may not expect to find.
The 3.0 CHP motor is going to provide enough power to keep up whether you are a walker, jogger or runner. Combining that with the 15% incline and 12 MPH top speed means that you can do speed drills, HIIT sessions and hill workouts to your heart's content.
By putting these kind of features on an "entry-level" machine, Horizon has built a machine that can grow with you each step of the way on your fitness journey. The price makes it more accessible to those who don't need to spend money on a commercial grade machine. However, as your needs grow, the T303 will be able to keep up with you so there's no need to worry about having to upgrade.
As with most Horizon machines, we don't see the large HD Touchscreens that are becoming the norm. The lifetime frame and motor warranty are a definite upgrade from other brands, however, this is exactly what we expect from Horizon. Because they make their own parts, Horizon can assure that you are getting amazing quality.
All in all, the T303 hits it out of the park. In terms of performance and quality at a great price, the T303 has it all.
To learn more about the Horizon T303 treadmill, check out HorizonFitness.com.