NordicTrack Elite Treadmill Review
| | |
| --- | --- |
| Brand: | NordicTrack |
| Expert Rating: | |
The NordicTrack Elite Treadmill is ON SALE!
Does This Treadmill Live Up to Its 'Elite' Name?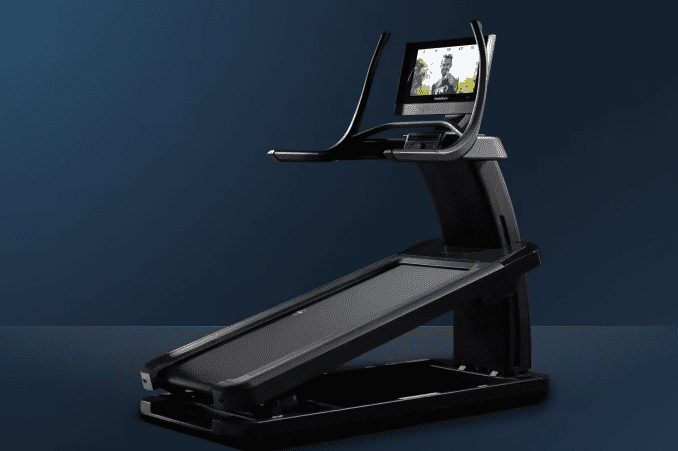 NordicTrack is one of the most popular fitness equipment brands in the industry, and for a good reason. The company has continued to produce quality fitness equipment year after year. What really makes NordicTrack shine above other brands is all of the *extras*, or the "bells and whistles" we like to call it on their equipment.
If you're looking for just a standard ol' treadmill to simply get the job done – you'll likely want to look somewhere else than NordicTrack. Their specialty is creating reliable fitness equipment that features top-notch specs as well as the latest and greatest interactive fitness technology to help you reach your goals in a more fun way.
The most recent launch to the NordicTrack treadmill collection is the Elite treadmill. With such a prestigious name, you're probably wondering what makes this treadmill so 'Elite'? Let's dive right into the features of this machine.
NordicTrack Elite Treadmill Features and Technology
3.6 CHP DurX Motor – This is more than enough motor than most people will ever need, especially for a home treadmill. This motor will easily handle top speeds as well as inclines and declines during your workout. One thing that continues to impress us about NordicTrack treadmills is the quality of their motors. When the machine is in use – it's essentially silent. So, if you live in an apartment or a have a shared living area, you won't have to worry about being the most hated neighbor for having a loud, clunky, treadmill.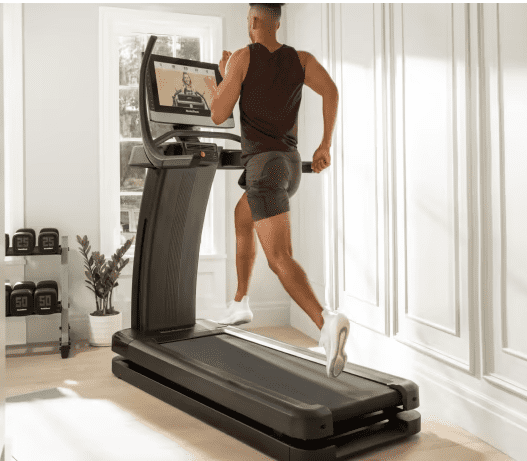 22" x 60" Treadbelt – Standard dimensions on most home treadmills are 20″ wide by 55″ long. So, we really appreciate the extra 2 inches in width, and the extra 5 inches in length that NordicTrack offers on their Elite treadmill. It doesn't seem like a lot, but it certainly makes a difference when using the machine. Particularly if you're doing sprints, on the taller side, or just have a long running stride.
2.5" Precision and Balanced Non-Flex Rollers – Roller size isn't something that most people are concerned about when they're treadmill shopping; although it should be. Large rollers = more durable over time, and less treadmill maintenance for you.
40% Incline – The incline capability really makes the Elite treadmill stand out. You might be wondering, what's the point of such a crazy incline? The answer is: a more effective workout. Not only are you able to burn additional calories when walking uphill, but it also incorporates more muscle groups, too. It's a win-win in our books.
-5% Decline – Similarly to walking at an incline, the ability to walk at a decline is also an enhancement to any treadmill workout. More calories are burned, and a totally different set of leg muscles are engaged when walking downhill. Who says you can't get a full-body workout in on a treadmill?
Tilt & Pivot HD Touchscreen – Here is where NordicTrack really shines: their technology. The Elite treadmill is available in both a 22″ screen as well as a 32″ screen size. NordicTrack screens are really like having TVs attached to your treadmills. Not only are they large, but the graphics are impressively clear. If you plan to be using iFit technology, you'll definitely appreciate the immersive experience that NordicTrack provides with their state-of-the-art touchscreens.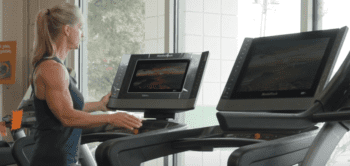 The tilt & pivot option is a fairly new feature for their treadmills. It's a nice option so that you aren't locked into your screen being in one place. Also, if you're doing any type of iFit workout off of your treadmill, you can tilt your screen away from the machine completely.
*NOTE: At regular pricing, there is a $1,000 difference between the 22′ and 32″ touchscreen on the Elite treadmill.
iFit Technology – A lot of people don't really know where to start on their fitness journey; and iFit can be extremely helpful in this area. iFit technology gives you access to world class personal trainers and professional athletes – all the way from marathon runners to Olympic medalists. 
iFit offers a wide array of program options that are specified toward different types of fitness goals. You can choose workouts based on an upcoming race that you'd like to train for, weight loss goals, or maybe switch up your workout type – like incorporating strength training or yoga.
In addition to providing a massive library of pre-recorded as well as live interactive workouts, iFit allows you to travel outside of your home to keep your treadmill workout from ever being boring. Using Google Maps technology, iFit has scenic based workouts so that you can take your workout anywhere you'd like – all the way from the wilderness to the city lights.
iFit provides users with that extra little boost we all need to stay accountable with our fitness goals. You'll be able to track your workout stats, keep up with your progress, and interact with others with community groups.
Please note that this model come with a free 30 day iFit trial subscription. After your initial 30 days this is a paid subscription service.
Warranty – 10-Year Frame Warranty, 2-Year Parts Warranty, 1-Year Labor Warranty. This is the standard warranty coverage from NordicTrack.
Size – 81″ L x 38″ W x 80″ H.
Other Features – Bluetooth connectivity; 300 lb. user weight limit; improved 30W sound bar, fan.
The Bottom Line: Is the NordicTrack Elite Treadmill Worth It? 
Over the years, our team has visited NordicTrack headquarters many times. With that being said, we have been on many, many, many NordicTrack treadmills.
When it comes to the latest and greatest Elite treadmill from NordicTrack, we aren't surprised that they hit it out of the park again with this model. The Elite treadmill offers all the features that you could ever need (or want) on a treadmill.
So, with the question being is the NordicTrack Elite treadmill worth the money – the answer is a resounding yes. However, the real decision that you'll have to make is how much money that you're willing to spend. At regular pricing, you can expect to pay around $4,000 for the 22″ Elite Treadmill, and closer to $5,000 for the 32″ Elite Treadmill.
In our honest opinion, we have tried out both screen sizes, and the 32 inch screen can be really overwhelming. If you're going to be using iFit for every single workout, it may be a feature that you really enjoy, and the upgraded screen size cost could be well justified. However, if you only plan on using iFit on occasion and just want standard workout stats on your screen the majority of the time, we'd suggest sticking to the 22″ screen and saving some money, too.
Go to www.NordicTrack.com to learn more!