Last Updated on August 4, 2021 by Site Admin
Woah – A 22″ Screen from Bowflex!
Bowflex is a brand in the fitness world that most people are probably familiar with. Their fitness equipment has been around for quite some time, and their company has made a great reputation with their products. Over the years, we have been in contact with the team at Bowflex, specifically with some of their top engineers. You may have heard of some of their innovative launches such as their Maxtrainers, or previous Treadclimber series.
Bowflex's products have never been known for their technology features. Usually, consumers just associate Bowflex with an all-around solid machine, a product that will get you a good workout. Recently, Bowflex has stepped up to the plate to compete with other well-known brands in the industry, such as NordicTrack and ProForm. In their new Treadmill 10 and Treadmill 22 machines, Bowflex has integrated their product durability and testing out some new fitness technology features on their treadmills as well. Their company has announced their digital fitness platform known as Bowflex JRNY.
Bowflex is brand new to the fitness technology integration department. While it's obvious that Bowflex is a wonderful brand based on their years of high-rated reviews in the industry, our team is hesitant to give this new Treadmill 22 a sure recommendation until we can get a better feel of how consumers are reacting to this machine. For now, we feel more comfortable recommending the upgraded NordicTrack x22i Commercial Incline Trainer. The x22i from NordicTrack is a powerhouse of a treadmill that comes with the well-established industry leading interactive fitness technology known as iFit.
NordicTrack X22i Commercial Incline Treadmill Top Features
When our team last visited the NordicTrack headquarters in Logan, Utah, we had the opportunity to test out first hand the Commercial Incline Trainers. Several of the NordicTrack employees raved that this line of treadmills were their favorite machines. We were very impressed with the effectiveness of the Commercial Incline Trainers, without causing impact to your joints. The x22i features NordicTrack's 'Reflex Cushioning'. Reflex Cushioning is NordicTrack's most cushioned treadmill deck. This extra cushion will allow you to exercise for longer periods of time, without the added strain to your knees or back that's typically associated with treadmill exercise.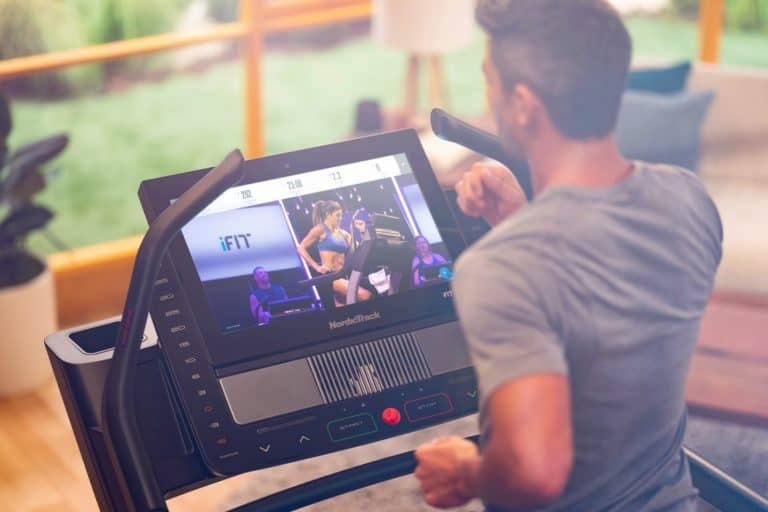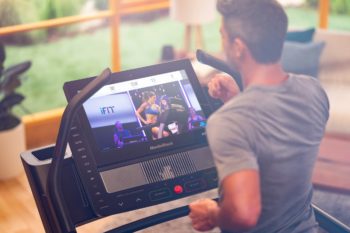 22″ Smart HD Touchscreen – Like the Bowflex Treadmill 22, the x22i Incline Treadmill offers a 22″ screen. This is one of, if not the largest touchscreens that you will find on a treadmill. At 22-inches, it provides a totally immersive experience. While using iFit on the x22i treadmill, you can enjoy features such as:
Interactive personal training sessions where your trainer can adjust your speed, resistance, and incline throughout your workout. This takes the "guesswork" out of your exercise routine – you have a pro helping you.
A wide variety of on-demand workouts, new workout videos are added daily. You will never get bored!
Even if your treadmill is in your basement, you can workout anywhere around the globe with breathtaking views. The scenery options are limitless.
Community accountability and support are available through iFit groups.
Track your fitness progress and workout stats at the touch of a button on your screen.
Next-Gen Sled Push – The Next-Gen Sled Push feature on this treadmill allows you to take your workout to a whole different level. NordicTrack added a push bar and sled grips to this machine to allow the user to experience a full-body burn workout. The Sled Push workouts allow you to accomplish cardio and strength training all in one. Simply put the treadmill at 1.0 MPH and start pushing – your body will thank you later.
4.0 Continuous Duty HP Motor – This is a monster motor that can handle your toughest workouts.
22″ x 60″ Treadbelt – A 60″ belt is pretty standard in this price range, but the 22″ width is not. The extra 2″ may not seem like much, but it will make you feel like you have so much room during your workout.
Incline and Decline – The x22i Commercial Incline Trainer goes from -6% decline all the way up to 40% incline. Utilizing the incline and decline feature will allow you to mimic going up and down hills during your treadmill workout. Bonus: this helps you target a larger amount of muscles and burn even more calories.
Warranty – NordicTrack backs up this treadmill with a great warranty. 10-year frame, 2-year parts, 1-year labor.
Other Features – Speakers, Bluetooth Connectivity, AutoBreeze Fans, Out-of-the-Box Easy Assembly, Google Maps Workout Technology and Large 2.5″ rollers.
The Final Verdict: Bowflex Treadmill 22
As we mentioned, we are stoked to see Bowflex rolling out some new technology on their fitness equipment. Based on specs alone, these machines seem really promising. For the time being, our team is recommending a similar alternative that has a few upgraded perks from the Treadmill 22. Plus, the x22i comes with iFit technology that has been around for quite some time and "earned it's stripes" among consumers so to speak. We have seen positive reviews time and time again on the Commercial x22i, as well as NordicTrack's iFit. We have been thoroughly impressed with the entire NordicTrack Incline Treadmill line, which is why we are recommending it as an alternative at this time until the Treadmill 22 from Bowflex has more time on the market.
---
Check out a few recent consumer reviews below on the NordicTrack x22i Commercial Incline Trainer:
LOVE MY TREADMILL – I love the treadmill as it has really gotten me to get back into a routine of exercise! The iFit classes are awesome and very engaging and makes me look forward to exercising.
EXCELLENT MACHINE – I've owned this machine for about two months and now over 300 miles and all I can say is I love it. The quality is top notch and the included iFit subscription is addictive. I can recommend it without any qualms.
I DIDN'T KNOW HOW MUCH I NEEDED THIS. – I needed a way to workout at home since being sent home to work full-time and my Nordictrack is perfect! I have lost weight and feel like I am in much better shape. I love the variety in the workouts and how the trainers make things interesting while talking about the different locations and their life experiences. I wish I had bought this a lot sooner!
JUST GET ONE! – Finally a machine I actually look forward to getting on! 60+ y/o former couch potato and now l love working out and traveling around the world on my incline trainer! So many great classes that it is hard to pick just one.
Go to www.NordicTrack.com to learn more.
---
Check out our Video Review of the Commercial x22i Incline Trainer!