Bring Home a Gym Quality Running Machine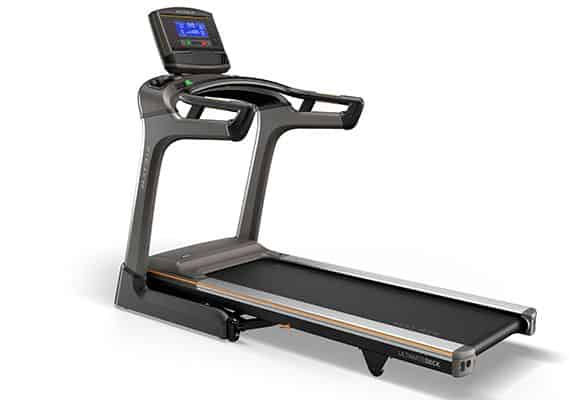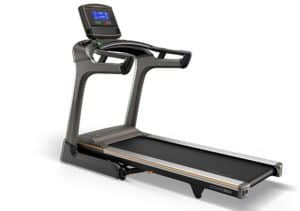 Matrix Fitness is the fasted growing commercial brand in the world, so it's pretty exciting to learn about their new line of residential treadmills.  Matrix treadmills are produced by Johnson Fitness, the same company who makes Vision and Horizon treadmills.  They are well known for their low maintenance machines, cutting edge technologies, and outstanding customer service.
The Matrix TF50 is their top folding treadmill model with several improvements over the Matrix TF30 machine.  It has a spacious 20×60" running service, a thicker belt and soft-touch buttons for quick incline and speed control.  Best of all, it folds up nearly in half for easy storage and cleaning.  This machine is definitely worth a look if you're looking for a fantastic folding treadmill.
Features on the Matrix TF50 Treadmill…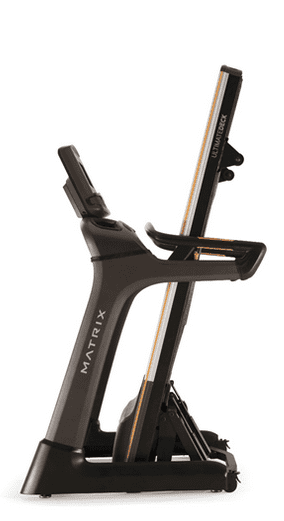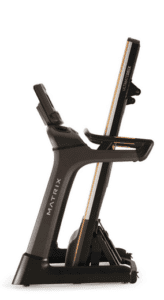 20×60" Running Surface – There are a few features that distinguish the Matrix TF50 from the smaller Matrix TF30 and the most important is the size of the running service.  This longer 60" deck will work better for individuals over six feet or those with long running strides.
Folding Design – A folding treadmill is a great option for people who live in smaller homes.  After your workout, it can easily be folded up and rolled out of the way.  We were impressed with how high the deck folds up… nearly to a 90 degree angle!
3.25 HP Continuous Duty Johnson Drive System – Motors from Johnson Fitness have all of their components built in-house so you can avoid maintenance issues that arise when ill-fitted parts are forced together (this is common with other brands).  Instead, you are left with a quiet and efficient motor that runs at a lower RPM than the competition.  The motor is designed to re-calibrate hundreds of times per second so you will experience a smooth run without lags or surges.  Plus, you will enjoy peace of mind because the motor comes with a lifetime warranty.
Industrial Grade Cushioning – The Matrix TF50 has an extra-thick deck, heavy duty frame and industrial grade cushioning.  Rubber elastomers, similar to those used on train car bumpers, provide support and durability while you run.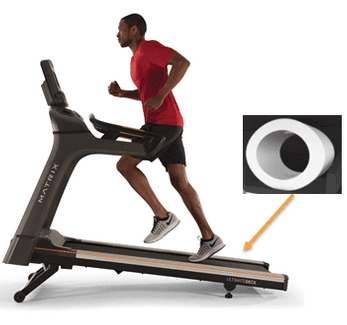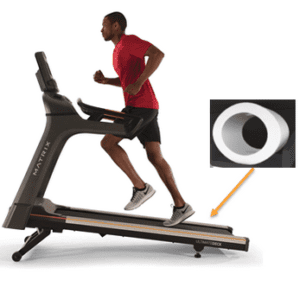 0-12% Incline – Target your glute muscles by increasing the incline on your treadmill for a butt-busting workout!  This is a nice range for treadmill incline.
0.5-12.5 MPH Speeds – Vary your speed to challenge your body.  Interval training with Matrix's Sprint 8 program has been scientifically proven to build muscle and lower body fat.  (Sprint 8 is available with the XER and XIR consoles only.)
400 lb. Weight Capacity – This machine will accommodate many typical users.
Warranty – Lifetime frame, motor and cushioning, 7 years parts, 2 years labor.  A strong warranty like this demonstrates the company's confidence in their product.
Superior Treadmill Technologies
Choose from three consoles for your Matrix TF50.  This variation allows you to choose the type of console that best fits your goals and budgets.  Some people want something basic mounted on a high quality machine, while other people want the ultimate in interactive technology.  Here are some of those top tech features:
Sprint 8 – Johnson Fitness hit a home run with this HIIT (High Intensity Interval Training) program.  If you are looking for a highly effective workout program that can be done in a short amount of time, then look no farther.  Sprint 8 was developed by a doctor and has been scientifically shown to boost energy, reduce body fat, promote lean muscle development, improve cholesterol, and increase bone density.  The program requires only twenty minutes a day, three times a week for eight weeks.

Virtual Active – Virtual Active is a program that allows you to run virtually through a filmed course shown on your treadmill display.  The machine will adjust incline to match the virtual course while you enjoy views of famous global landscapes.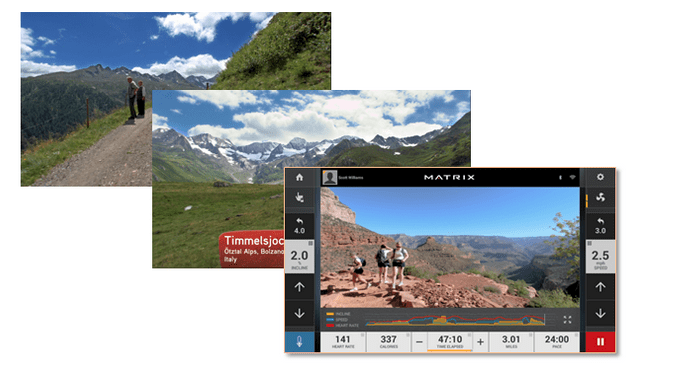 Passport Player – The Passport Player is a separate box that can be purchased to display these landscapes on your television for an even more immersive experience.  Each console with Virtual active comes with two pre-loaded courses.  You can purchase additional 6-courses packages on a USB thumb-drive.  All of the TF50 consoles are Passport ready and the XIR and XER have Virtual Active integrated directly onto the console display.

ViaFit Connectivity – It has been show that people who track their fitness activity reach their goals faster and see greater results.  ViaFit is a fitness tracking program that stores information from your Matrix machine, popular fitness apps, or from your manual online input so you can track your progress over time.  This program lets you set goals, join online challenges, and easily link to many popular fitness apps and wearables.  Best of all, it does this all for free!  Other treadmill brands have fitness tracking apps that require an ongoing subscription.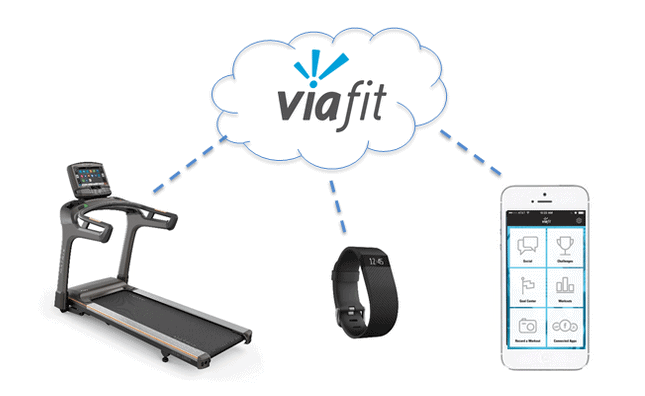 Heart Monitoring – The XIR and XER consoles come with a free Polar HR Strap ($50 value.)  This allows you to keep track of your heart rate for more effective training.
Energy Saver Mode – An energy saver mode allows the Matrix TF50 to limit power consumption when not in use.
Choice of 3 Different Consoles

XIR – This console is for users who want the ultimate experience on their new Matrix TF50 treadmill.  It regularly sells for around $3,699 and features a 16" HD touchscreen display.  The XIR consoles also includes 11 workout programs, Bluetooth connectivity, built in speakers, a USB port and console apps.  The console apps display as if they were on a typical smart device and include Sprint 8, YouTube, Netflix, Twitter, Facebook, Hulu, Web Browser, and more.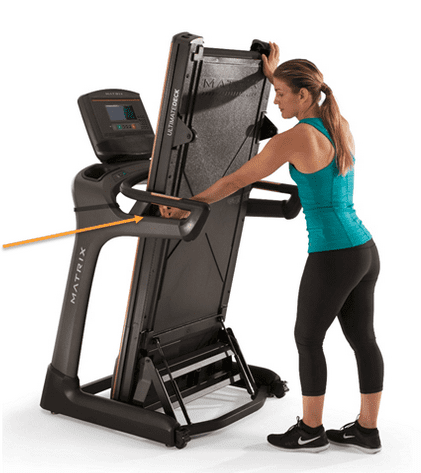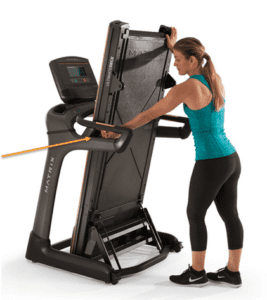 XER – Take your console down one notch with the TF50-XER for around $3,199.  The touchscreen display on this console is only 10" and it includes one less workout program for $500 in savings.  You will still enjoy all of the other benefits of the top console model.
XR – If you like the look of the Matrix TF50 but know that you are not going to use the tech features, you may be happy with this basic display option.  The XR console sells for $2,699 and features an 8.5" extra wide blue back-lit LCD display, 6 workout programs and all of the other basic stats you would expect.  No frills with a lower price-tag.
Review for the Matrix TF50 Treadmill
Folding treadmills are wonderful for those of us with smaller homes and the Matrix TF50 delivers what you'd expect and more.  The spacious 20×60" running surface makes this a good option over the similar Matrix TF30 for taller runners.  A choice of three consoles allows you to farther customize your machine to fit your goals and budget.  You can't go wrong with a Matrix machine from Johnson Fitness.  The company has integrity, excellent customer service, and quality products.
Learn more at www.matrixfitness.com