Last Updated on August 23, 2021 by Site Admin
The Most Budget-Friendly in Home Treadmill
The Xterra TR150 folding treadmill is the most affordable treadmill offered by the company. We typically see it selling for less than $400. Xterra Fitness equipment is built by Dyaco, which is the same company that builds Sole treadmills.
Since they are produced by the same manufacturer, the Xterra brand offers similar benefits to Sole brand treadmills. Since their parent company Dyaco is so large, brands like Sole and Xterra are able to produce fitness equipment on a large scale. Large scale product translates into being able to produce high quality, durable equipment, at an affordable price.
One of our team members personally owns a treadmill made by Xterra, a model extremely similar to the Xterra TR 6.6. Our team member has owned her treadmill for 3+ years and reports no issues with her equipment. Her personal statement on the treadmill is that, "It's an affordable option that requires minimal maintenance, and can withstand frequent use by multiple users." Other reviewers on Amazon gave the TR 150 4.5 stars from 2,754 reviews. 
Xterra TR 150 Features
16″ x 50″ Walking/Running Surface – This is not a large deck surface, and some users may actually find it confining. We suggest using a tape measure to visually see how wide 16″ is. If you're looking for a larger deck in the same price range, you may want to consider looking at the Horizon T101. It will run you $100-200 more, but it has a 20″ x 55″ running surface which will be far more comfortable to the user of average height.
0.5 – 10 MPH Speed – This is more than we expect to find on a machine offered at this low of a price. The speed options will allow you to get your heart pumping during your workout.
2.25 HP Motor – This motor is decent. It can handle walking, jogging, and some light running.
5′ LCD Display – This is definitely not the largest, nor fanciest screen. But it does get the job done so that you can view your workout stats.
12 Pre-Set Programs – Challenge yourself to some variety by taking advantage of the 12 built in programs the TR150 has to offer.
3 Manual Incline Settings – You can get some slight incline on this treadmill to push yourself even more during your workout.
 1-Ply Belt – The TR150 features a 1-ply belt, higher end models will typically have a 2-ply belt. This means that the Xterra TR 150 is ideal for mainly just walking.
XTRA Soft Cushioned Deck – The deck does a decent job of shock absorption.
Easy-Fold Pop Pin – Simply pull the knob to release the deck to fold or unfold your machine.
Warranty – Lifetime frame, 1-year motor, 90-day deck and parts, 1-year in-home labor.
Note: The TR150 has a 250 lb. weight capacity. 
Xterra TR 150 Treadmill Review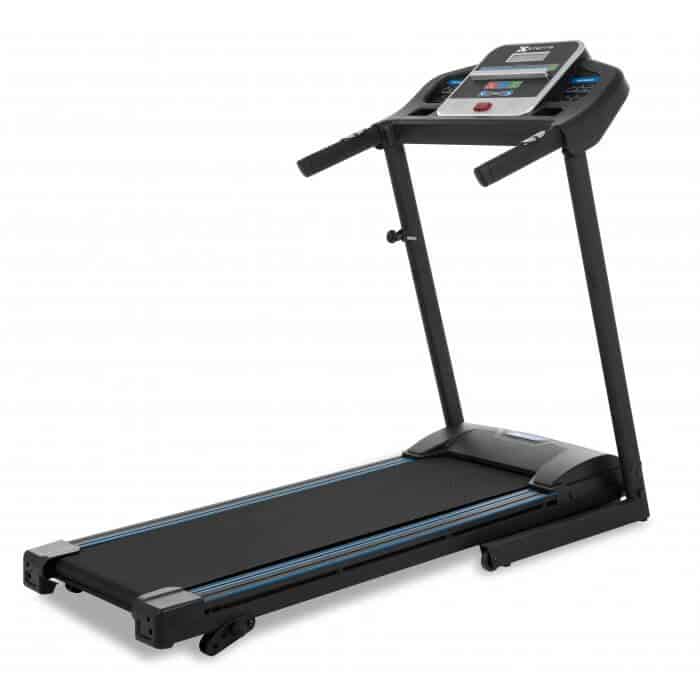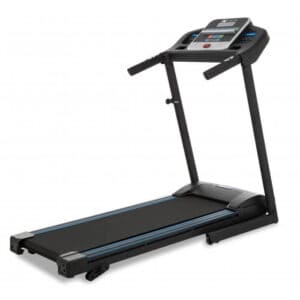 What we know about Xterra as a brand is that they produce quality equipment at an affordable price range, and they good warranties as well as excellent customer service. The TR150 is a good option for someone on a budget, looking for an entry-level treadmill. If you're looking for a treadmill to keep up with long-term running and fast-paced treadmill workouts, we wouldn't suggest this machine. This machine is really not built to withstand the abuse of regular running. It's ideal for someone who wants to mainly walk, occasionally jog. The Xterra TR 150 has some limiting features like the 1-ply belt, limited shock absorption, and confining running deck surface. If you're looking for a higher quality machine in a similar price range, we suggest the Horizon T101.