A Folding Treadmill with Quality Construction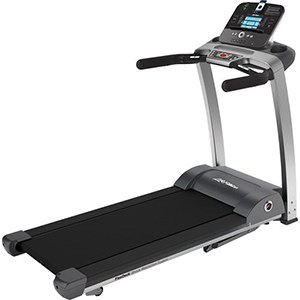 The LifeFitness F3 Folding Treadmill is one step up from the F1 Smart Treadmill with several additional features.  Life Fitness is known for their very high quality machines and long history in the industry.  They've been around for over 45 years!
This particular machine is like buying a Mercedes, but getting a very basic version. This brand doesn't offer a lot of bells and whistles, but you can be sure that the overall quality is there.  In fact, several Life Fitness brands have received excellent ratings from a popular consumer magazine for construction, ergonomics, and ease of use!
Features on the F3 Folding Treadmill
The Life Fitness F3 Folding Treadmill differs from the Life Fitness F1 Smart treadmill in a few key areas.  First, it has a larger 3.0 HP motor with MagnaDrive motor controller.  It is compatible with many popular fitness apps including an Apple and Android Connection.  The machine weighs about 15 lbs more to add to its stability and allows for users up to 350 lbs.
Things We Like:
We like that this machine comes with two console options.  The Go Console is a basic LCD backlit display showing your stats.  The Track+ Console is compatible with Android and Apple devices and interacts with popular fitness apps.
The Life Fitness F3 GO console edition got an EXCELLENT rating from a leading consumer magazine for construction.
The F3 has both contact heart rate hand sensors and wireless telemetry heart rate monitoring.
A machine that is dishwasher safe!?  Yes, the F3 has removable cup holders that are safe to wash.  It also has an integrated smart phone / tablet holder that can double as reading stand.
The F3 has quick start so it remembers your favorite speed and incline settings.
This machine is a much better step over the F1 Smart Treadmill.  The added tech features, especially with the Track+ Console are a great reflection of its quality.
Things We Don't Like:
We're a little bit disappointed that it doesn't come with a better warranty.  Granted, you can purchase an extended warranty package for an additional fee.  Still, the motor only comes with a 10-year warranty.  Many other companies in this price range allow for a lifetime motor warranty.
The deck on this machine is only 55″ in length.  This will be fine for many individuals but people over 6 foot will want to look at a machine with a 60″ length.
You can buy machines with fancy consoles like the Track+ console for around $1,500 from other brands.  For example, the ProForm PRO 5000 has a 7″ touchscreen display, folds, and only costs $1500.
Remember that Life Fitness focuses on solid quality instead of adding a lot of fancy interactive features.
Life Fitness is PERFECT for you if…
you DON'T care so much about interactive tech features.
you DO care about an ergonomic machine that will be kind to your body and last.
Also see the Life Fitness F1 Treadmill Review.