NordicTrack EXP 7i Treadmill
| | |
| --- | --- |
| Brand: | NordicTrack |
| Expert Rating: | |
Recently launched, the NordicTrack EXP 7i Treadmill is ON SALE!
Out With the Old – in With the New!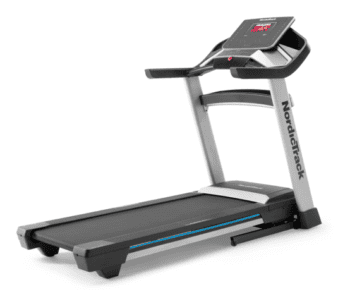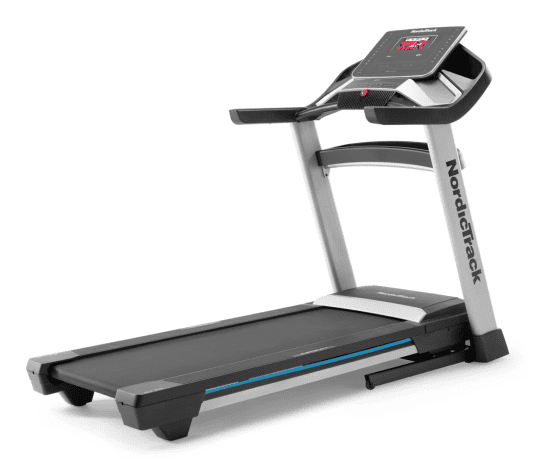 Recently, NordicTrack made some adjustments to their treadmill models, including phasing out old models and rolling out some new ones. Once known as the T-Series of treadmills is now the EXP series, introduced with the EXP 7i treadmill.
The EXP 7i comes packed with features that anyone will appreciate, from those looking for casual cardio all the way to avid runners. The NordicTrack EXP 7i is built by the parent company Icon Fitness, which also manufacturers the popular ProForm treadmills.
Icon Fitness is the largest fitness manufacturer in the world. What this means is that they are often able to produce equipment at a much larger scale, giving consumers higher quality products for an affordable price. The best part about the EXP 7i as well as the new EXP 10i is that they come equipped with iFit. iFit is an innovative fitness technology exclusive to Icon Fitness machines.
NordicTrack EXP 7i Features –
3.0 CHP DurX Commercial Plus Motor – This is a powerful, quality motor that is pretty standard for this price range. This motor has a SMART-Response drive system which allows for reduced vibration and self-cooling.
The 3.0 CHP motor will be able to handle miles of walking and even jogging and light running. However, if you are someone who will be running as a majority of their exercise, we suggest upgrading to the EXP 10i in the EXP series from NordicTrack. The EXP 10i comes with a 3.5 CHP Commercial Motor, which is better equipped to handle long-term running use.
20" x 60" Treadbelt – This is pretty standard for the EXP machines from NordicTrack. The 60″ length is going to make the EXP 7i comfortable for tall users and those with a longer running stride.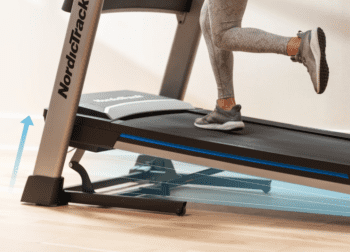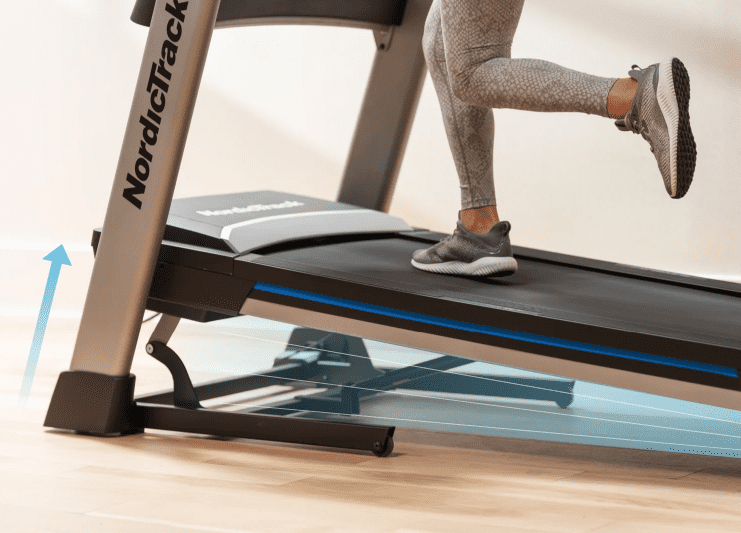 0-12% Incline – This incline is nothing to look over. The 12% incline capability is high enough that you will really be able to challenge yourself during your workout.
0-12 MPH – A standard top speed for treadmills is typically 10 MPH, so a top speed of 12 MPH is great for those who don't want to be limited while exercising. With incline and speed ranges like this, you'll always be able to keep pushing yourself further.
7" Smart HD Touchscreen – A 7″ display screen is not huge, but it will be sufficient for most people. If you are interested in a slightly bigger screen, the EXP 10i does have an upgraded 10″ screen, but that comes with an upgraded price as well.
On the EXP 7i treadmill, the 7″ screen will allow you to take advantage of the 30 day iFit subscription that's included in the purchase price. If you want to continue using iFit after your free 30 day trial membership expires, it is a $39/month subscription fee.
iFit is NordicTrack's interactive training program and video library. Here are some features you can find with iFit…
Live and On-Demand Workouts: Workout anytime and anywhere you want with thousands of videos to choose from.


Expert Trainers: Yes, you read that right. iFit technology allows you to workout with qualified personal trainers right on your treadmill in the comfort of your own home. Choose from 130+ professional iFit trainers. Your trainer will have automatic controls on your machine, that allows them to adjust your speed and incline for you during your interactive workouts.
Travel the World: iFit is integrated with Google Maps technology. This integration allows you to take your workouts virtually anywhere. Stay motivated and entertained while working out around the globe!
Stat Tracking and Community: It's hard to stay motivated alone. iFit allows you to keep track of your fitness stats, and share them publicly to the leader board for accountability. You can engage in a community support group to keep yourself inspired.
Other Features – A few other features the EXP 7i comes equipped with:
EKG Grip Pulse

1.9" Precision and Balanced Non-Flex Rollers

Two 2" Digitally Amplified Speakers

Bluetooth®

1

Audio Capabilities

AutoBreeze™ Workout Fan

SpaceSaver® Design with EasyLift™ Assist
Warranty – 10-year frame, 2-year parts, 1-year labor.
Note: The EXP 7i Treadmill has a 300 lb. user weight limit.
Our Review: NordicTrack EXP 7i Treadmill
The EXP 7i Treadmill from NordicTrack is a great treadmill for walkers, joggers and light runners. The 3.0 CHP Commercial motor is a strong motor ready to handle heavy use.
The 12% incline and 12 MPH speed capability will ensure that you always have room to grow in your workouts. The EXP 7i also comes with a 30 day trial subscription to iFit so that you can keep your exercise routine fun, exciting, and challenging!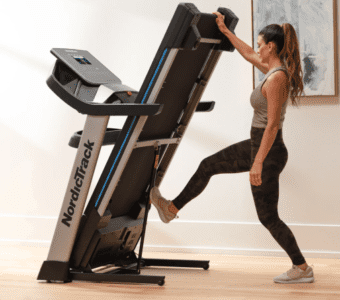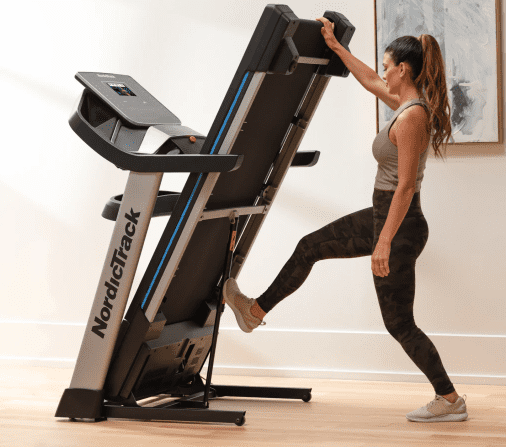 The EXP 7i and EXP 10i are exciting new launches from NordicTrack. If you're having a hard time deciding between the two, it really comes down to deciding what's important to you in a treadmill. The 7i comes with a 7″ screen, while the 10i has a 10″ screen. If a bigger screen is a deal breaker for you, we would probably suggest upgrading to the 10i.
The EXP 7i has a 3.0 CHP motor, and the 10i has a 3.5 CHP motor. While most users won't necessarily "feel" a difference in use, the stronger the motor, the more use it can withstand. As we mentioned, if you will primarily be walking/jogging or occasionally running, the EXP 7i will be more than sufficient for you. If you're looking to run on a more consistent basis, it will probably be worth the $300 price jump to go ahead and get a stronger motor.
Overall, the EXP 7i is a great treadmill that will check many of the boxes for most people. This model also offers folding capability which is great for users that live in a smaller or shared living space.
Check out other models in the NordicTrack EXP-Series here.
Learn more at www.NordicTrack.com.