Last Updated on August 29, 2017 by Rachael Kraft
A Treadmill Desk to Keep You Going While You Work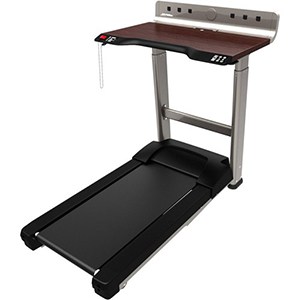 The Life Fitness Treadmill Desk will help you keep your body moving throughout the day.  Numerous studies have shown that it is incredible unhealthy to sit for hours on end at a desk job.  With this machine, you can reap the health benefits while getting serious work done through Life Fitness's connectivity features.
The focus for this company is on construction quality and ergonomics. In fact, several Life Fitness machines have received very high ratings in these areas from popular consumer magazines.  You will find that their machines do not have a lot of bells and whistles, but are very well made and built to last.
Features on the Life Fitness Treadmill Desk
The Life Fitness Treadmill Desk is designed to adjust to your specific height so you can comfortably work while you walk.  It has a silent motor for less distraction and a sturdy design.  Honestly, the quality on this treadmill desk is superb, if you can handle the price.
Things We Like:
We like that the Life Fitness Treadmill Desk will work well for users from 4'10" up to 6'6″.  It also has an expanded foot rail.
The FlexDeck Shock Absorption system is comfortable and will work well to protect your joints.
The LifeFitness Treadmill Desk has a nice 31.4×40″ work surface that includes outlets and cable jacks for your computer.
Things We Don't Like:
The warranty is a bit disappointing on this machine.  It only has a 7-year warranty on the motor.  NordicTrack has a Treadmill Desk Platinum with a lifetime warranty on its motor.
The price seems a bit excessive for what you're getting.  If you're only planning to walk while using the machine, maybe you don't need to spend quite so much.
Also see the Life Fitness Club Series Treadmill Review.