Quality and Durability at an Affordable Price!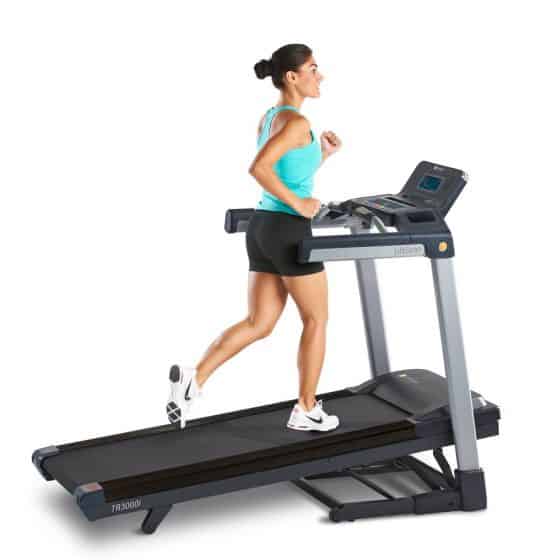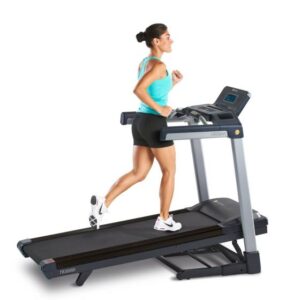 LifeSpan is a smaller company that primarily sells through individual fitness stores and on their website. LifeSpan's goal is to create quality products to help average folks reach their fitness goals.
The LifeSpan TR3000i is a budget friendly option, while still maintaining great quality. This machine requires very little assembly or maintenance, so it's great for someone who is crunched for time to workout. The durability of this machine allows you to focus on your exercise and your results, rather than worrying about the upkeep of your treadmill.
LifeSpan TR3000i Treadmill Features
Electric Folding — The TR3000i can fold easily with its electric EZfold feature. This makes storage and unfolding a breeze.
Bluetooth — The LifeSpan TR3000i features built-in Bluetooth to wirelessly connect your phone to your treadmill speakers.
Media Holder —   The media holder is handy to have but any large books or papers are going to block your stat display during your workout.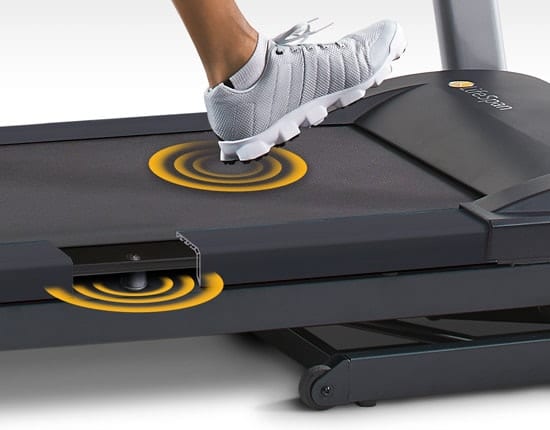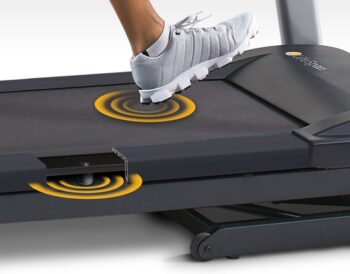 8 Compression Shock Absorbers —  This will reduce noise and impact to protect your joints.
Intelligent Features — There are some unique features built into the TR3000i that really set it apart.  The Intelli-Step is a built in pedometer that counts your steps while you exercise.  The Intelli-Guard will halt the machine 20 seconds after you step off for safety reasons.  The Intelli-Key will simplify the console
operation with illuminated lights to guide you through the set-up sequence.
2.75 Continuous Duty HP Motor —  This is a fine motor for walking, light jogging, and maybe some running if you are not excessively heavy.
20″ x 56″ Running Surface —  This length will work well for most people.  If you are over 6-foot, you will want a 60″ length.
Rollers — 2.5″ is a good size for front rollers.  They will help extend the life of your motor, belts, and bearings.  Larger rollers result in a quieter machine as well.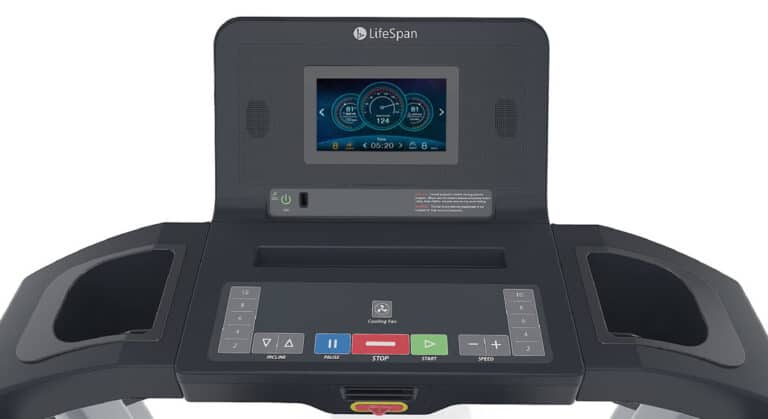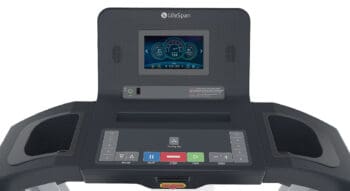 7″ TouchScreen Console — Full color console that displays time, calories burned and calories burned per hour, distance, total steps and steps per minute, heart rate and percentage max heart rate, speed, incline level, pace, total laps and split time, and elevation change. 
Programs — There are 38 programs built into this machine, including customizable options.
Warranty —Lifetime frame and motor, 5 years parts, 1 year labor.  A strong warranty.
Our Review — LifeSpan TR3000i Treadmill
The LifeSpan TR3000i is a solid machine for the price point. LifeSpan is known for the durability of their machines, so it will likely last for a long time. There is nothing fancy about the TR3000i, but we really appreciate the minimal approach to their design and the convenience features, such as their EZfold and their unique intelligent features.