Last Updated on March 1, 2019 by Rachael Kraft
One of the Most Rewarding Running Experiences in the Industry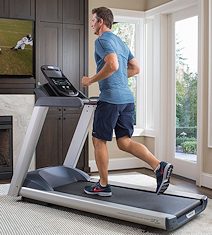 We take pride in our top-quality reviews of various treadmill models.  That's why we asked specialty brand salesman, Ken Wunderlain about his top pick.  He didn't hesitate in sharing his thoughts on the Precor TRM 445 – a standout treadmill in his Pittsburgh, PA store!
"Ask each of my staff what his or her favorite elliptical is, and each will give you a different answer.  Ask about his or her favorite treadmill, and each will tell you the Precor TRM445.  In no other category does one model have such a sole grip on the top spot.  It's well earned."
Ken is a HUGE fan of the Precor brand in general and his 20 years of experience in the fitness industry make him a person's whose opinion you should take seriously.  For Ken, the TRM 445 incorporates biomechanical and ergonomic features that give it one of the most rewarding running experiences in the industry.
"People in stores like ours take pride in doing well and putting people on the right track to fitness. That includes carrying machines that are motivating, engineered to last, and designed to promote body health."
Precor, a USA based company, is fanatical about quality control.  In the past, we've even described Precor machines as the "luxury cars" of the treadmill world.  They can take a beating and just last years longer than the competition.
Please enjoy this special review with comments from Ken Wunderlain of G&G Fitness Inc in Warrendale, PA.  If you're in the area, we highly recommend you stop by Ken's shop to try out the Precor TRM 445.
Precor TRM 445 Treadmill Top Features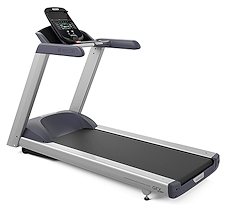 Integrated Footplant Technology (IFT) — Buzzwords and fancy names are often a good way to disguise a run-of-the-mill tech feature.  But with the Precor models, they really are doing something unique here.
"Treadmills tend to move our bodies differently than they move when we run on the road, a treadmill keeps a constant pace, our bodies do not," says Ken. With each step, our feet are accelerating and then coming to a sudden stop when they meet the ground.  This is where Precor's IFT comes into play. Your footstep has a unique pattern of accelerating and decelerating. Precor is the only company that accounts for this movement.
Ken explained, "Their motors take about 10,000 more readings per minute than any other brand. This extra data gives the motor a better idea as to where a runner's body is in their stride." Based on your speed the treadmill adjusts the speed of the belt to match your natural movement. The result is a more comfortable run that significantly reduces the amount of wear on the body.
To put it in plain terms, Ken says, "think of it as a horizontal suspension to match the vertical one." This feature is exclusively found on the Precor Precision series and their commercial models.
Ground Effects Impact Control — The deck of the Precor TRM 445 is designed so you can get proper shock absorption with every single foot plant. Then, when you push-off towards the back of the deck you get a solid launch.
Now most treadmills offer a similar benefit, however, the Precor TRM 445 is designed in a way that it offers similar shock absorption for individuals of different weight.  Oftentimes a heavy person will like the shock absorption, but a lighter person says it feels like running on concrete.  Then, when a light person likes the shock absorption, a heavy person on the same machine feels like they are running on a mattress.  Weight matters.
Precor solved this problem by incorporating triangular-shaped shock absorbers at the front of the deck that bow based on your weight. According to Ken, " The whole strike zone has a continual piece of suspension, not just a little bumper. This gives even suspension no matter where the foot lands." The rubber bumpers on the Precor TRM 445 are also hollow, instead of solid. "This allows for energy dissipation out to the sides instead of back up into the runner," says Ken.
The problem with the shock absorption on most treadmills is that they are geared for a certain weight range.  Lighter individuals will not get adequate absorption, while heavier individuals will get too much absorption. "A popular brand of running shoe has said that 38.6% shock reduction is the perfect amount: not too soft as to take too long to balance upon landing, but soft enough to reduce as much impact as possible," Ken explains. Precor takes this into consideration to find the perfect amount of shock absorption and designs their machines to achieve this.
"When those two features are coupled together, the result is a run that is incredibly comfortable and smooth that takes absolutely the most stress away from your run as possible."
Additional Features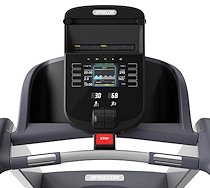 Upgraded Console — The 40 series console found on the Precor TRM 445 is designed to assist you in reaching your fitness goals. It's not as flashy as consoles found on brands like NordicTrack and ProForm.  They even have an outrageously large 32" HD Touchscreen on their x32i Incline trainer!
But, Ken makes a great point about this tech:
"Precor's one shortcoming is entertainment, and that is solved by the tablet holders on the top of the console.  Overly fancy electronics can be a danger as they age: parts get difficult to find and just plain old slow.  Where is your laptop from fifteen years ago?  Probably replaced four times over, right?  If a machine is to last a long time, don't think for a second that the processors in the console will stay smart enough to handle growing technology.  They won't.  Precor keeps it separate so that your machine doesn't rely on it."
This Precor TRM 445 console was released in 2014 and offers an array of feedback, in addition to several interactive features. The Features include…
7″ color display with backlit touch buttons and acrylic LCD faceplate. The acrylic faceplate means that it is impervious to water…and sweat. It's a simple thing that many manufacturers overlook. As Ken points out, "Why on earth would you put giant holes in a console right by your sweaty hands?"
Lever style motion control for easy adjustment
4 user IDs
Custom workouts for each user (4 per user)
Suggested workouts based on your fitness goals
23 preset workouts
27 feedback metrics, includes 5 graphs
Touch or wireless heart rate monitoring
Heart rate target zone monitoring
Ability to save your workout for future use (16 total)
USB port for smartphones or tablets with plugin for headphones
Ability to download future software updates
Reading racks with clips for tablet
In addition, the console on the Precor TRM 445 is Preva compatible. Preva is Precor's mobile app. You can save your workout through the USB port to a mobile device and download it to your online account. Through your account you can store workouts, get training recommendations and record your workout stats. Having the ability to record and review your stats is a great way to motivate you to your next level.
3.0 Continuous Duty HP Motor — This motor will run effortlessly even at higher speed.  It is one of the better motors found on a residential treadmill and is industrial strength. While you may see larger motor on other brands, the benefit of the Precor motor lies in its ability to draw steady power. Fluctuations on the amount of power being drawn create more pressure on the internal construction. "This leads to failure in the wiring and internal electrical construction," explains Ken. The motor on the TRM 445 maintains a steady draw, providing awesome power and maintaining the internal integrity of your machine at the same time.
22″ x 56″ No Maintenance Treadbelt — Typically treadmills come with a 20″ belt width. The extra 2″ feels less confining. In addition to the size, the construction of the belt itself makes for a more comfortable run. "Precor uses a dry lubricant that is rolled into the polyester of the belt that provides continual lubrication as the machine gets older," says Ken. "If a user doesn't lubricate their machine, it will burn out that much faster. Precor takes that worry away and actually wants you to keep using their machine."
2.5" Precision-machined, steel crowned rollers keep belt centered and running smoothly to reduce noise and wear.
2% Decline to 15% Incline — With the ability to decline the deck you can simulate running up and down hills.
23 Exercise Programs — You get a variety of exercise challenges, allowing you to regularly change up your routine and break up the monotony.
335 lb. Unit Weight — This is commercial grade heavy.  No matter how fast you are running you will maintain a solid and stable feel. This heavy unit weight contributes to Precor's idea that the weight of the user should never stand in their way. As Ken explains, "They test their machines at 350 lbs., but will never deny a claim for weight. In their mind, if you are 500 lbs. and want to make a change, they should help!"
Warranty — Lifetime frame and welds, 10-years parts and wear items, 1-year labor. It is important to note that Precor specifically covers wear items in their warranty. This is something that no other company does. "They use parts, especially wear items, that last an incredibly long time. When there is a problem, however, they send what we need without question or argument," says Ken. "It's very refreshing not to have to fight. In terms of durability no one is better." Anyone that has ever had to deal with difficult customer service issues can view that as a benefit in and of itself.
Our Review – Precor TRM 445 Treadmill
The Precor TRM 445 is one of the most expensive treadmills for residential use, but it also one of the best treadmills available for the home.  What makes it such an extraordinary machine is the fact it is commercial grade for the home, with unique ergonomic features that enhance the experience of running.
One of the major benefits that makes Precor a brand with enduring quality is their ability to keep the needs of the user in the forefront of their minds. "I like Precor because they don't concentrate on building machines with certain features that they think will sell," says Ken.
"They believe equipment should be reliable, easy to maintain, and most importantly have the end user's health and safety in mind. Many companies will talk of their components and their entertainment features, but only Precor REALLY looks at what the equipment needs to do to keep the body healthy."
Visit the manufacturer website at Precor.com/Treadmill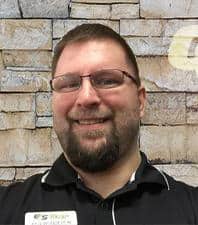 About our Guest Reviewer:  Ken Wunderlin is a Regional Manager for G&G Fitness Equipment in Pennsylvania. With over 20 years of experience in the world of fitness equipment, he finds himself consistently drawn to G&G thanks to their fantastic quality products and customer service. Ken's passion for what he does is something that he passes on to his customers. "Our jobs are an extension of who we are, and we want to share that excitement and enthusiasm for it that we already feel ourselves. We take it personally, and that means great things for the customer," he explains.
Learn more about the Precor TM 445 from Ken and his team by visiting them at G&G Fitness Equipment. Take advantage of their knowledge and experience to ensure you are getting the perfect treadmill to suit your fitness needs.