One of the Most Rewarding Running Experiences in the Industry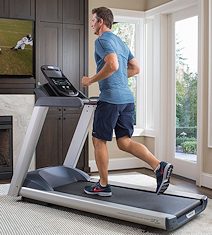 The Precor TRM 445 treadmill is their top of the line residential model, and it incorporates many of the design features and components of their institutional treadmills.  These are the machines that are found in facilities like fire stations, hotels and apartment complexes.  Consequently, with the Precor TRM 445 you are getting a treadmill designed to take abuse.
Equally important to the durability factor, the TRM 445 incorporates biomechanical and ergonomic features that give it one of the most rewarding running experiences in the industry. And it should be noted that the Precor TRM 445 is built in the U.S.A. and the company is fanatical about quality control.
Precor TRM 445 Treadmill Features
Ground Effects Impact Control — The deck is designed so that when you plant your feet you get the proper shock absorption, and when you push-off towards the back of the deck you get a solid launch. Now most treadmills offer a similar benefit, however, the Precor TRM 445 is designed in a way that it offers similar shock absorption for individuals of different weight. They incorporate triangular-shaped shock absorbers at the front of the deck that bows based on your weight. According to the company, "This unique feature progressively absorbs impact based on your height and weight." It also adjusts based on whether you are training for a marathon or are using the treadmill for walking.
The problem with the shock absorption on most treadmills is that they are geared for a certain weight range.  Lighter individuals will not get adequate absorption, while heavier individuals will get too much absorption.
Integrated Footplant Technology (IFT) — This feature was explained to me by the Chief Innovation Officer, and it is a perfect example of why Precor treadmills are exceptional. Your footstep has a unique pattern of accelerating and decelerating. Through the IFT the treadmill registers your speed, "checking the motor speed up to 710 times per second". Based on your speed the treadmill adjusts the speed of the belt to match your natural movement.  This results in a reduction of discomfort to your joints. This feature is exclusively found on the Precor 9.3 series and their commercial models.
Additional Features
Upgraded Console — The 40 series console found on the Precor TRM 445 is designed to assist you in reaching your fitness goals. This console was released in 2014 and offers an array of feedback, in addition to several interactive features. Features include…
7″ color liquid crystal display
Lever style motion control for easy adjustment
4 user IDs
Suggested workouts based on your fitness goals
23 preset workouts
27 feedback metrics, includes 5 graphs
Touch or wireless heart rate monitoring
Heart rate target zone monitoring
Ability to save your workout for future use (16 total)
USB port for smartphones or tablets with plugin for headphones
Ability to download future software updates
Reading racks with clips for tablet
In addition the console on the Precor TRM 445 is Preva compatible. Preva is Precor's mobile app. You can save your workout through the USB port to a mobile device and download it to your online account. Through your account you can store workouts, get training recommendations and record your workout stats. Having the ability to record and review your stats is a great way to motivate you to your next level.
3.0 Continuous Duty HP Motor — This motor will run effortlessly even at higher speed.  It is one of the better motors found on  a residential treadmill and is industrial strength.
22″ x 57″ Treadbelt — Typically treadmills come with a 20″ belt width. The extra 2″ feels less confining.
2.5" Precision-machined, steel crowned rollers keep belt centered and running smoothly to reduce noise and wear.
2% Decline to 15% Incline — With the ability to decline the deck you can simulate running up and down hills.
23 Exercise Programs — You get a variety of exercise challenges, allowing you to regularly change up your routine and break up the monotony.
335 lb. Unit Weight — This is commercial grade heavy.  No matter how fast you are running you will maintain a solid and stable feel.
Warranty — Lifetime frame and welds, 10-years parts and wear items, 1-year labor. Obviously they are confident their parts are not going to wear out.
Our Review – Precor TRM 445 Treadmill
The Precor TRM 445 is one of the most expensive treadmills for residential use, but it also one of the best treadmills available for the home.  What makes it such an extraordinary machine is the fact it is commercial grade for the home, with unique ergonomic features that enhance the experience of running.
When I went out to the corporate headquarters I asked the company, "who spends this kind of money for a treadmill?"  The answer was serious users.  Not necessarily fanatical runners, but users who are serious about exercising and want the very best machine to reach their fitness goals.
Visit the manufacturer website at Precor.com/Treadmill