Buy for the Low Price, Durability, and Fitness Tracking Feature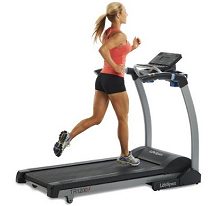 While I was at the LifeSpan corporate headquarters I checked out the LifeSpan TR1200i treadmill.  This is one of their more popular models, especially after they knocked the price down to a competitive $999. There are two reasons you want to consider buying this model.  First, for the price it is a durable machine, engineered with quality components.  Second, it has an integrated feature that allows you to track your results.
LifeSpan is what I call a boutique fitness equipment dealer.  They sell primarily through fitness equipment specialty stores and Amazon.com.  When talking to the president of the company, their strategy was to offer quality products that focus on assisting people in achieving their fitness goals.
LifeSpan TR1200i Treadmill Features…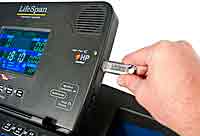 Membership to LifeSpan Fitness Club — One of the biggest reasons that most people do not utilize the full potential of their treadmill is that they lack direction and motivation.  With the purchase of the LifeSpan TR1200i you get a free membership to the LifeSpan Fitness Club.  This is an online resource where you can track your progress, set-up an exercise regimen and get helpful information on fitness and health.  How it works is that you insert a USB drive into the console and when you finish you download your stats onto your personal account.  It has been shown that people who track their progress are more likely to achieve their fitness goals.
2.25 Continuous Duty HP Motor — Not the biggest motor at this price, but adequate to handle both walkers and joggers.  It may strain with excessively heavy individuals.
20″ x 56″ Running Surface — This is a typical length  at this price range.  If you are very tall and plan to jog on this treadmill you may want to consider a machine with a 60″ surface.
Rollers — You get 2.5″ rollers in the front and 2″ in the rear. The 2.5″ roller is bigger than normal for a $999 treadmill.  It will help to extend the life of the motor, belt and bearings.  It will also reduce noise.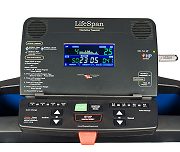 Speakers with MP3 Input — You'll find that the quality of speaker systems can vary dramatically on treadmills.  I have a machine where the sound quality is so poor I won't use it.  LifeSpan incorporates some decent speakers and driver, which result in a clarity of sound.
Speed and Incline Controls on Handlebars – Several other manufacturers offer this feature, and the benefit is that you do not need to break your stride by leaning forward towards the console to make adjustments.
Programs — You get seventeen installed programs grouped by fitness goals like sports training, healthy living and weight management . There are also two user defined programs and two heart rate control programs. Together they give you the ability to vary your exercise routines and break the monotony of running in place.
Our Review — LifeSpan TR1200i Treadmill
LifeSpan sales have grown primarily on their reputation for building quality machines.  Several of their products have received "Best Buy" awards from reliable resources.  Previously the LifeSpan TR1200i was selling for $1,299, and I felt at that price their were better buys.  Since reducing the price to $999 the TR1200i is now one of those "better buys".
For the price you are getting a machine that is relatively quiet and durable.  It also has a deck that is very forgiving to your joints.  All that is combined with the ability to track and manage your fitness and health results online.   One last note, Amazon customers gave the LifeSpan TR1200i their highest rating — 5 Stars.
Customer Reviews
The customer reviews at Amazon.com are impressive. The 35 reviews average 5 out of 5 stars. Comments include…
"I could not be more happy with our purchase. The treadmill has a nice design and colors and looks good in the room. It comes with a nice warranty and had all the features that I wanted and more. The fitness club is much more than I thought it would be and can not stop raving about how it has helped me to become more active. This is a great treadmill and recommend to anyone."

"The LifeSpan TR1200i has not disappointed me one bit. I did enjoy the fact that it came with virtually no assembly required. I had the assistance of my family to lug it down the basement and set it up. Within the hour it was all set up and ready to go. The belt is 20″ x 56" long and has shocks built into the deck. I noticed how stable the unit really is. Other pros from my runs are the fact that the belt and motor do not make a lot of noise and I was able to adjust the incline levels with a press of a button on the handlebar or the direct buttons on the console."

"In regards to the treadmills performance we are equally impressed. You can hardly hear the treadmills motor even at the highest speeds, it has enough incline to be challenging. The suspension is excellent and the treadmill is extremely stable great for walking, jogging and running. The handlebars have a very functional design. They are wide enough that when you are swinging your arms when running you have room to roam, the handlebars also have the speed and incline controls integrated which makes it easier to make adjustments the fly."
Popular Consumer Magazine Review
The LifeSpan TR1200i received "Very Good" ratings in all categories by a prominent consumer magazine, whose name I cannot mention.