Readers of review sites like this one are usually interested in the number 1 picks of subject experts.
In this post, we'll summarize our Review Team's top picks for treadmills under $1000. And we'll reveal which model is our absolute favorite in this category this year and why.
But first, let's take a closer look at the price-point category known as "best treadmill under $1000" so you'll have a better idea of what you can get for your money. 
The "Under $1000" price point — up close and personal
Treadmills in this lower price range offer the promise of getting in shape on a budget.
What the machines in this range do not typically offer is quality, durability, or long-term manufacturer warranties that speak to the longevity of the product.
It's vitally important to understand that you get what you pay for with treadmills. That's because even an inexpensive treadmill is still an investment. And you want it to be the best treadmill possible for your wants and needs. 
If you're looking for a treadmill under $1000, you're likely budget conscious, which ironically means that a bad decision—a treadmill that does not meet your needs—could hit you especially hard.  It's easy to purchase the wrong treadmill when you're shopping in the under $1000 category, because there are so many treadmills in this category that are, quite frankly, junk.
Therefore, we want to caution you that it's not a good idea to see how low you can go on the sticker price when you're shopping for a home treadmill. While there are deals to be had out there in the marketplace, being too much of a penny-pincher when shopping for a treadmill won't lead you anywhere good, in our experience.
Who shops for treadmills in this price range?
After that mini-lecture, you may be wondering why anyone in their right mind would shop for a treadmill under $1000?
These lower priced treadmills provide an entry level opportunity into the world of home fitness equipment.
First-time treadmill buyers, people who are exploring their options for getting in shape for the first time, or getting back in shape after a long hiatus, people who are rehabbing from an illness or injury, casual walkers, light runners, those who have a very small space for their home gym, and of course, the perpetually penny-pinching personalities we referred above. All of these types of people may be interested in a lower priced treadmill.
What can you expect from a treadmill in the under $1000 price range?
The bottom line is, when you purchase a treadmill in the under $1000 price range, you're most likely getting a lightweight, light-duty piece of machinery. The machine may be poorly constructed from inferior materials. As such, it is likely to need lots of repairs. It's entirely possible to literally wear out a cheap treadmill in fairly short order with regular workouts that become more intense over time.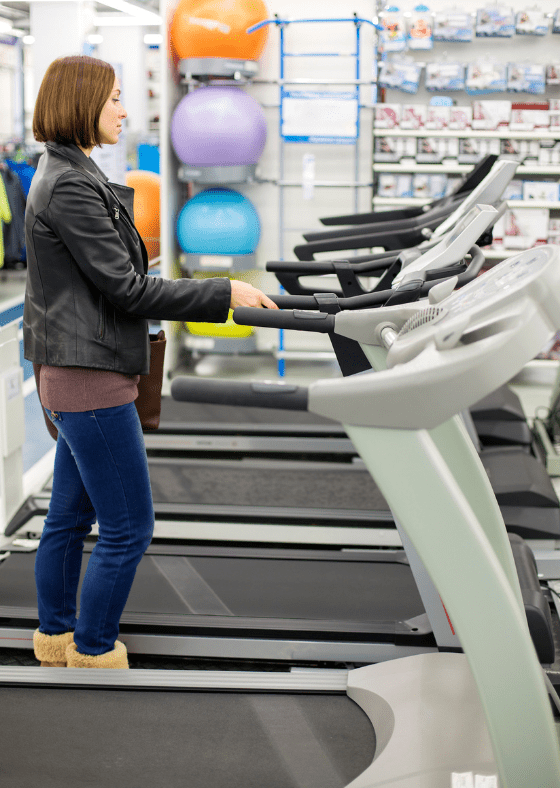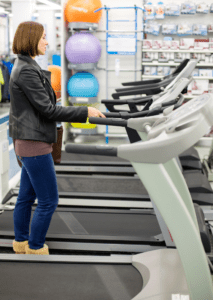 All this– and more– is why we don't recommend cheap treadmills. You can read more about that in another post.
Meanwhile…
What if you really must stay in the under $1000 price range?
We get it. As long as you know what you are getting and you're making an informed choice, we're here to help you make the best choice you can.
First, do some self-reflection and figure out what you really want. Then, check out our full reviews for each of the models and brands you're most interested in. After that, we recommend you take a look at the models in the next level up—slightly above your current stated price range. Just to see how these machines differ. If you can possibly afford it, you can figure out how you might be able to look for one of those slightly higher-priced, more durable models instead.
If you've done your due diligence, maintained an open mind, and explored your options with eyes wide open, then we're confident you'll make a choice you can live with.
Our process: How we choose the models we recommended
We evaluate the fitness equipment we review based on the following criteria: stability, durability, warranty, features, programming, and company reputation.
The treadmills we recommend are made by reputable companies with quality components. Unlike many other treadmill review websites, our team has actually visited the manufacturing facilities and tested the machines. So, we've verified the manufacturers' reputations. We only recommend machines we would use or would consider using ourselves.
We chose the machines recommended in this post because the experienced experts on our Review Team believe they will give you the most bang for your buck. 
Models from 3 brands made the list for this year – Let's take a look.
Treadmills under $1000 recommended by our review team
If under $1000 is the right price range for you, read on to discover our picks (we wrap up with number 1).
Horizon Fitness, owned by Johnson Fitness, the third largest fitness equipment manufacturer in the world, offers 3 treadmills in the under $1000 price range. All of them are models we highly recommend.
Horizon T101
The Horizon T101 is the #1 selling fitness treadmill with approximately ½ million units sold.
Why? It has a reputation for being very low maintenance, and we agree the T101 is very well constructed. But we wouldn't be doing our job if we didn't tell you the Horizon T101 is primarily designed for walking. Although it should be able to withstand moderate jogging as well.
Two additional features make the Horizon T101 stand out positively in its category:
High Quality Motor
The 2.5 continuous duty HP motor is built by the manufacturer specifically for the Horizon treadmill T101. It's not an off-the-shelf motor bought by a third party. In fact, this treadmill's motor, like all the product parts from Horizon Fitness equipment, are designed specifically for their machines to provide seamless integration and fewer maintenance requirements. This motor achieves peak performance at a lower RPM, so it runs smoother and quieter than other treadmill motors in the same price category.
Easy Assembly and Operation
Our review team found this straight-forward machine very easy to set up and operate. Easy assembly is a big advantage over other models.  We've set-up many treadmills and it can often take hours of frustration.  With the T101, you can be set up and ready to go in about half an hour. Once the treadmill is running, speed and incline can be adjusted easily during the workout with a single touch using the quick-select keys.
Horizon T202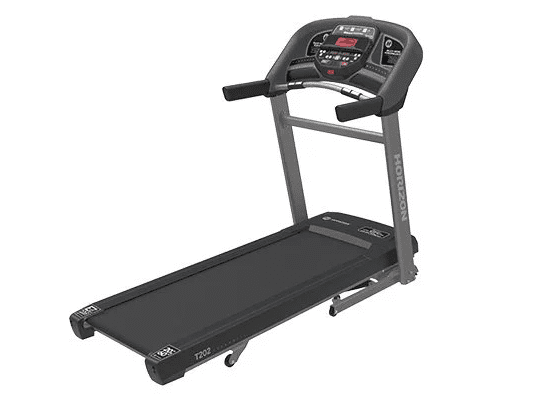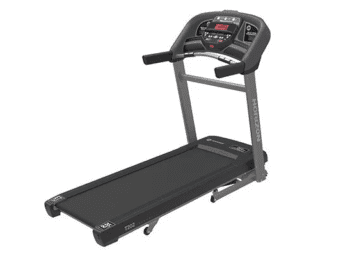 The T202 from Horizon offers some absolutely fantastic upgrades over the T101, including a larger incline and more powerful motor. With this treadmill, you are getting an exceptional deal on a tried-and-true design. Designed for walking and jogging, the T202 is a great option for anyone looking for a well-constructed treadmill with an easy-to-use design.
Horizon 7.0 AT
If you are looking for a treadmill that will simply allow you to run to your heart's content, the Horizon 7.0 AT treadmill could be exactly what you've been looking for. The 7.0 AT offers some great performance upgrades from entry-level models, but without the fancy features that jack up the price. The 7.0 AT is a no-frills treadmill, but it doesn't disappoint when compared to other models in the under $1000 price range.
Years ago, the ProForm brand dominated the market for low-priced treadmills. But today, this brand is more of a major player in the mid-range ($1,000-$2,000) category. ProForm treadmills are so popular because they offer more features for less money along with innovative technology.
ProForm City L6
The City L6 treadmill by ProForm is a quality machine designed to fit into small spaces. This machine is usually priced around $800.If your treadmill will reside in a very small space, the City L6 is an excellent option because it is designed with a space-saving footprint. But keep in mind that the small footprint comes at the cost of limitations in other features.
17.5" x 45" Treadbelt — Most treadmills priced below $1,500 tend to have treadbelts with dimensions of 55″ in length, and around 20″ in width. The City L6 treadmill is designed with even smaller treadbelt dimensions—so it can fit into small spaces. The resulting smaller running surface means some users may feel uncomfortably restricted when exercising on this treadmill.
ON SALE!! The ProForm City L6 Treadmill is priced at $599, or pay just $16/month with 0% financing for up to 39 months. 30 day iFit Family membership and FREE shipping included.
Shop now at ProForm.com/Treadmills
Our list of the best treadmills under $1,000 would not be complete without including this superstar machine from Sole Fitness.  This company is known for making very durable machines that are extremely low maintenance.  They have excellent customer service and stand behind their products.
Sole F63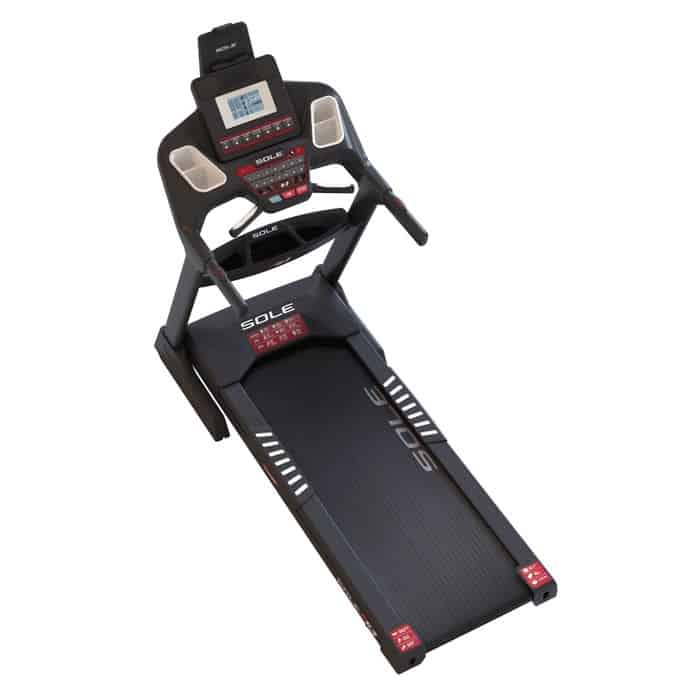 The Sole F63 is a great machine ideal for walking and light running. It includes Bluetooth capability so you can track your workouts and progress toward your goals.  With the Sole F63 you are getting one of the most durable $999 treadmills on the market. For the money, this machine comes with some excellent features.
3.0 Continuous Duty HP Motor
This motor is sufficient for both walking and jogging. It comes with a lifetime warranty, which suggests it seldom, if ever, burns out. The motor enables a range of speeds, up to 12 MPH.
20" x 60" Treadbelt
This generous treadbelt size is almost unheard of on a treadmill in the under $1,000 price range. The standard length is 55" on most lower-priced treadmills. The extra 5 inches creates a roomy deck space that can make all the difference if you're a taller person or naturally take a longer stride.
Pros and Cons
On the pro side, the F63 weighs a whopping 253 lbs., which is heavier than most other machines in this price range, so it's a very stable machine that won't wobble while you exercise. Plus, it has speed and incline controls right on the arm rails for easy access. Cons: This is not the quietest machine in the world, and it doesn't have five-star shock absorption.  If you're looking for a quieter running machine or a more comfortable running surface, you're looking for a more expensive treadmill.
 The Sole F63 is priced at $999. 30 Day Money-Back Guarantee!
Our Number 1 Pick for Best Treadmill Under $1000 in 2023
Drumroll, please!
Our Review Team picked the Sole F63 as our Number 1 Best Treadmill Under $1000 this year. 
That's because it's stable and sturdy, has a comfortable roomy running surface, and can withstand the rigors of a regular fitness routine with the potential to accommodate more aspirational fitness goals as you progress and improve your health and fitness.
Your next steps to finding the right treadmill for you under $1000
If you're committed to purchasing a treadmill in the under $1000 price range, your next steps are to:
1)     Check out the links to the full reviews for the models and brands in this post.
2)     Do some brutally honest self-reflection and figure out what you really want from your treadmill.
3)     Take a look at the models in the next step up—the mid-range price range. And see if they might meet your needs better.
4)     Crunch some numbers if the under $1000 don't meet your needs. If you can possibly afford it, figure out how you might be able to spend a few dollars more now for a machine that will last longer and give you a higher level of satisfaction.
It's worth noting that two of the models we showcased in this post, the Sole F63 and the Horizon 7.0 AT are both priced at the upper edge of the low-priced price range. They are teetering on the edge of the mid-range price range – where there the treadmills offer more features to choose from.
The mid-range price range has the most variety of options to choose from and is probably where you're best-served to begin your journey if quality matters to you and you're serious about your fitness.
If you're looking for more sophisticated programming, better shock absorption, more jaw dropping displays, or a machine that can handle serious running, than we'd urge you to consider some treadmills in the next price bracket. 
You can get a seriously nice machine for a just a few more hundred dollars that will work well for you long into the future.  Check out more of our Mid-Range Treadmill Reviews to find the one that works best for your body and budget.  Happy shopping!
FAQs
What is the best treadmill under $1,000?

For the most value, the Sole F63 is the best treadmill on the market for under $1,000. It is powerful, durable, and comes backed with a great warranty.

What is the best treadmill on a budget?

When you're tight on cash but want to invest in a home treadmill, Horizon has the most options to choose from including the popular T101, T202, and 7.0 AT.

Does the Sole F63 fold?

The Sole F63 is loaded with great features for under $1,000 including the ability to fold, fans, cushioned deck, quick touch controls, and a lifetime warranty.