A Machine with an Attractive Style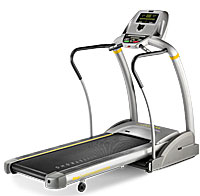 I had a chance to check this particular model out when I was at their corporate headquarters.  Most treadmills look like they came from the same cookie cutter.  In contrast, AFG 13.0 AT has an attractive style with flowing contours and a contemporary feel.  But looks are only skin deep, or in this case sheet metal and plastic shroud deep. What about the guts?
---
NOTE:  This treadmill has been discontinued.  The AFG 13.0 AT treadmill is built by Johnson Fitness, which also builds Horizon, LiveStrong and Vision Fitness products. We suggest you check out the similarly priced Horizon Elite T7 for similar specs and pricing.
---
AFG 13.0 AT Treadmill Features…
2.5 Continuous Duty Motor — Adequate power for runners, which runs smoothly and effortlessly at higher speeds.  Also this motor should not strain with heavier users, but I feel the 350 lbs. user limit is high –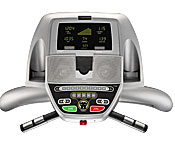 maybe 280 lbs. When testing the treadmill it ran extremely quiet, suggest the power of the motor, but also the overall quality of the machine.
20″ x 60″ Treadbelt — Adequate length to handle runners with long strides, in addition to taller individuals.  The belt is orthopedic, meaning you get some additional cushioning.  You will notice a slight reduction in the impact.

Speakers and iPod Input — They use Pioneer speakers, rather than the cheap ones you find in most treadmills.  Haven't actually heard the sound, didn't have my MP3 player with me, but I'm sure it is an improvement over a typical speaker equipped treadmill. One feature I particularly liked is the volume controls built into the console.
ProFile Tracking — The AFG 13.0 AT treadmill has software that tracks you progress. Two users can monitor and evaluate a variety of workout statistics, including time, calories, pace, and distance. With proFILE, you can track your fitness level across multiple workouts, helping you get the most from each and every routine.
Heavy Unit Weight — The AFG 13.0 AT weighs 242 lbs., the comparably priced PaceMaster Bronze only weighs 190 lbs.  The extra weight of the AFG 13.0 AT contributes to the stability and gives it a very solid feel.
Warranty — You get lifetime motor, 5-year parts and 1-year labor coverage.
Our Review – AFG 13.0 AT Treadmill
The AFG 13.0 AT treadmill has several things going for it, it looks good, it runs quietly, has a powerful motor, an extra long treadbelt, decent shock absorption, software that tracks your progress and you can listen to music.
The feedback I got about the reliability and durability of the AFG 13.0 AT suggests this treadmill is built with quality engineering and components. If your looking for a solid running machine, theAFG 13.0 AT should be a consideration.