Quality Components with "Excellent" Rating for Ergonomics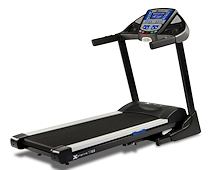 Xterra Trail Racer 6.6 treadmill is built by Dyaco, which is the same company that builds Sole treadmills, and I generally hold Sole treadmills in high esteem for being low maintenance and durable.   The Xterra brand offers similar benefits to Sole treadmills.  What you find in an Xterra treadmills, like the Trail Racer 6.6, is a value machine built with quality components.   It typically sells for $999 with shipping.
This statement is further confirmed by a leading consumer magazine review.  They ranked the Xterra Trail Racer 6.6 treadmill #2 in their list of Budget folding treadmills and was given a "Recommended" designation.  It ranked slightly below the NordicTrack C900 PRO (Now the NordicTrack C990 PRO).   In their review the Xterra Trail Racer received an "Excellent" for ergonomics and a "Good" for construction.
What I like about the Xterra Trail Racer 6.6 Treadmill…
You get a motor powerful enough to handle both walkers and joggers.  The motor comes with a lifetime warranty, which tells you it is probably one of the last components that you will have trouble with.
You get a comfortable running surface with a 20" x 60" deck. A feature that was noted by the consumer magazine.  You will find the running surface slightly smaller since a portion is covered by the front shroud.
The Xterra Trail Racer 6.6 weighs in at 265 lbs., which means this is a very solid and stable machine.
You have handlebar speed and incline controls, making it easier to make changes on the run.  I find it awkward to change the speed and incline on a console while I run.
In addition to the lifetime motor warranty, you get 5 year parts and 2 year labor coverage.  This is above the norm for a $999 machine.
The Xterra Trail Racer 6.6 treadmill has what they call their XTRA Soft shock absorption.  The deck does a good job of absorbing shock without being too bouncy.  Some runners may prefer a deck with a more solid feel.
What I am not crazy about…
You get a limited number of installed programs – 7 plus a manual program.  There is not much variety to the programming.   NordicTrack offers 25 programs on C990 PRO.  Although if you are like me that only uses manual control, then it is not a big deal.   However, you do get 2 heart rate control programs and a wireless heart rate belt, allowing you to define the level of exertion by your heart rate.  This was one of the features that the consumer magazine found attractive.
The quality of the speakers are mediocre, which is the same with the Sole Treadmills.
The Xterra Trail Racer 6.6 treadmill console looks kind of cheap, but overall the controls are logically laid out.
The Trail Racer 6.6 lacks any Internet connectivity.  More treadmills, even at the $999 price range, have the ability to connect with the Internet and in the process allow you to access motivational programming designed to assist you in achieving your fitness goals.  These features also allow you to download you stats and monitor your progress.  I suspect they will have these features in future models.
Xterra Trail Racer 6.6 Treadmill Review
I would put the Xterra Trail Racer 6.6 treadmill in the upper echelon of other leading $999 models like the NordicTrack C990 PRO and the Sole E63.  The Trail Racer 6.6 is a relatively new comer and long term performance has yet to be determined.  But considering that it is built by the same company that builds Sole, I will go out on a limb and say it will probably be a durable and low maintenance machine.