(Last Updated On: June 8, 2018)
What Types of Machines are Available at Sears?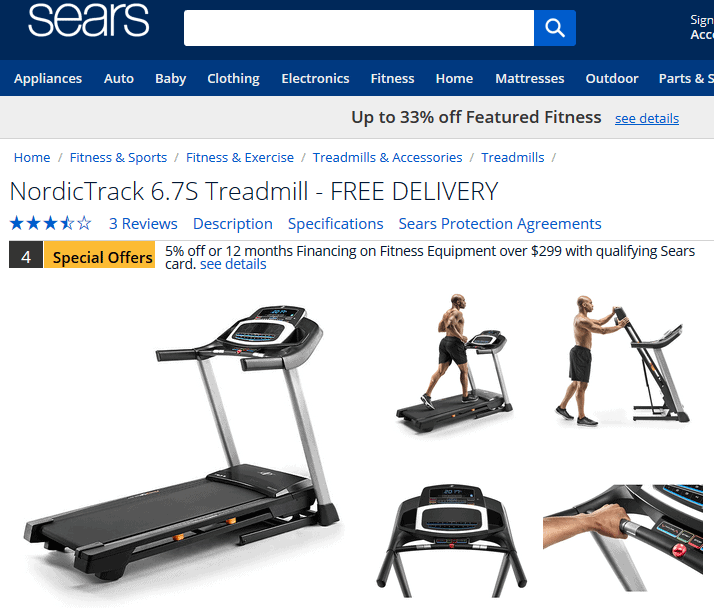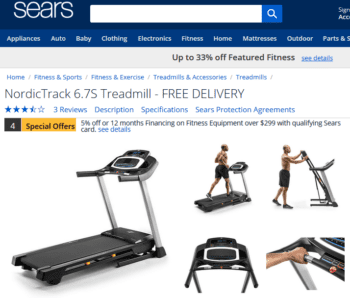 NordicTrack treadmills are known for having some of the best value in the industry.  That is because their machines often have very high specs and advanced features without an outrageous price tag.  The parent company, Icon Fitness, is also responsible for creating popular ProForm treadmills.  If you are in the market for a new home treadmill, both of these brands are great options.
It can be exciting to see their machines in person at your local store.  Places like Sears, Dick's, Costco, Sam's Club, and Home Depot will often stock a few models of NordicTrack and ProForm treadmills for users to buy.
But if you do buy an in-store model, you will be making a huge compromise in quality.
In Store NordicTrack Treadmills Often Have Out-Dated iFit Tech
Let's look at one particular example in New Jersey.  A local Sears carries the NordicTrack 6.7S for around $599.
For that price, you will be getting a machine that is very similar to the online model NordicTrack C700.
Here's a comparison:
| | | |
| --- | --- | --- |
|   | 6.7S ($599) | C700 ($799) |
| Running Surface | 20×55" | 20×55" |
| Motor | 2.6 CHP | 2.75 CHP (quieter) |
| Programming | 20 options | 20 options |
| Display | Backlit Display | Backlit Display |
| iFit | iFit Compatible | iFit Coach |
Everything look pretty similar until you get to the very last row of information.  Machines that are sold at Sears and other in-store locations will not always have the latest technology available from NordicTrack.
For instance, this NordicTrack 6.7S has an older "iFit Compatible" format that requires you to purchase an additional iFit Module in order to get access to the iFit features on your machine.  Newer machines have the wireless internet build right into the machine, but this older model requires an extra purchase.  It will cost you around $100 to purchase the module.
Then, once you buy the module, your iFit experience will still not be as sophisticated as on the C700.
The Latest Version of iFit (Called iFit Coach) Available on the NordicTrack C700 Has:
World Class Trainers – Choose from an impressive line-up of top fitness trainers who can provide motivating workouts and use dynamic training styles.  They appear on your linked smart device's screen and talk to you as if you are working out together one-on-one.
GlobeTrek Workouts – Exercise in exciting locations all over the world with your trainer right there to cheer you on.  They will run "beside you" whether you are on a Thailand beach or the streets of Paris.
LiveCast Workouts – Participate in high-energy studio workouts that get your heart pumping and your muscles burning.  You'll feel the excitement of working out with a class full of other people.
Mobile Fitness – Use the iFit Coach app on your smart device to create custom workout schedules and personalized meal plans.  Set your goals and track your progress.  It's long been known that people who track their fitness make much better progress towards their goals.
The NordicTrack 6.7S will not be able to access all of these above features!  To add insult to injury – you will still be required to pay the same yearly membership fee for iFit.
It's like one person getting restaurant quality filet mignon and another getting cafeteria steak but they both have to pay the exact same price!
NordicTrack Treadmill True Price Comparison: Online vs. In-Store
So, here is the true cost of having iFit on both machines:
The NordicTrack 6.7S will cost: $599 + $396 (1-year iFit) + $100 (iFit module) = $1095
The NordicTrack C700 will cost: $799 + 396 (1-year iFit) = $1195
You will only be paying about $100 more for the C700 for immensely better features on the iFit Coach programming.
Plus, you'll be getting a machine with a stronger and quieter motor to boot!
Where is the Best Place to Buy Your NordicTrack Treadmill?
After weighing the pros and cons, we feel any user interested in using the latest iFit features should buy their machine online instead of in the store.
Shipping is always free and NordicTrack provides a 30-day money back guarantee on all of their treadmills.
This way you are getting the latest and greatest that NordicTrack has to offer.  If you check on our site frequently, you can also take advantage of the great sales and deals that this company offers on a regular basis.
You'll be getting a better value for your dollar AND more functionality from your machine!
Find more information below:
Read our Full NordicTrack Brand Review
Read our Full ProForm Brand Review
Check out our reviews of these top NordicTrack Treadmills
NordicTrack X9i Incline Trainer
NordicTrack X11i Incline Trainer
NordicTrack X22i Incline Trainer