NordicTrack's Most Popular Cardio Machine With a 22″ HD Touchscreen!
Price Alert:This is $500 OFF the Regular Price!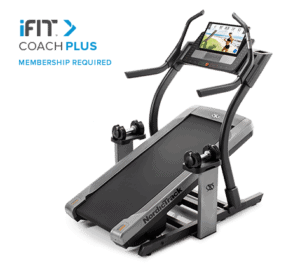 The popularity of the NordicTrack Incline Trainers is the ability to get a intense cardio workout with a low impact workout.  The main advantage for an incline trainer over a regular treadmill is the extreme 40% incline that will help you burn more calories while just walking.  The x22i  is their top of the line model and offers an enormous 22″ HD Touchscreen Display.
Our team has reviewed several Incline Trainers and we can vouch for the effectiveness of the workouts.  On top of our opinion, we know for a fact that NordicTrack employees view these machines as favorites.  The NordicTrack incline trainers are primarily for walking and help deliver effective workouts without subjecting your joints to excess stress and strain.  They can certainly handle running with a top speed of 12 mph.
Besides the intense incline workout, the NordicTrack x22i also comes with industry leading interactive technology in the form of iFit.  This program will help you set goals, track your progress, and let you work out in exciting virtual locations around the world.
NordicTrack x22i Incline Trainer Features and Technology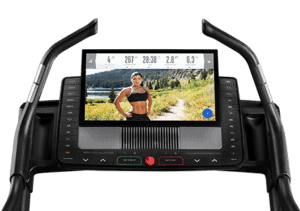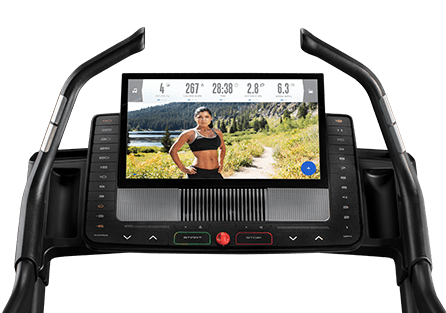 22″ Smart HD Touchscreen – This is the largest touchscreen we've ever seen on a treadmill.  At 22-inches, it provides a totally immersive experience.  Using the iFit Coach Plus technology, you can view landscapes around the world while you work out.  GoogleMaps also lets you observe the street view if you choose a more familiar route.  The machine will sync to your route's terrain with increases and decreases in incline percentage.  You can easily switch between your workout route and your stats with the easy swipe of a finger.
Dumbbells – The audio coaching for the x22i will include dumbbell workouts into your session both on and off the machine.  The machine is designed to work with two adjustable dumbbells that can be easily switched from 2.5 to 12.5 lbs.  They can be stored directly on the stand.  These dumbbells are no longer included with your purchase.  You can buy them separately from NordicTrack for $199.
4.25 Continuous Duty HP Motor – This is the same monster motor that is found on the X11i.  It will easily handle almost all users without straining.
22″ x 60″ Treadbelt – A 60″ belt is not uncommon in this price range, but you should take notice to the width.  This is an extra wide belt that will make your exercise service feel spacious.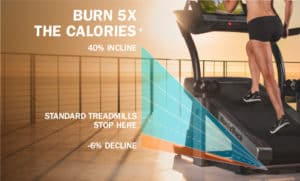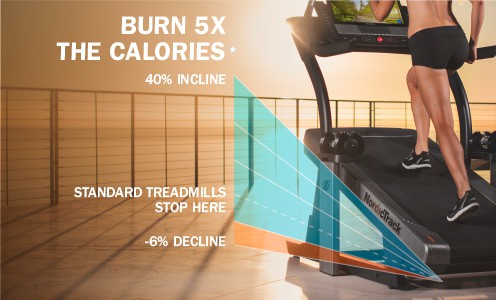 Ability to Incline and Decline – The x22i goes from -6% all the way up to 40% incline.  A decline feature is attractive because it lets you better simulate both up and down hills while you work out on virtual courses.  Plus, this helps you target additional muscles in your lower body.
iFit Live Enabled– We've mentioned a few of the features of iFit already.  This is the top feature available on all Icon Fitness products (Including ProForm and NordicTrack machines.)  iFit allows you to do the following:
Create custom workouts that are geared towards your personal goals.  Some of the workouts are led by celebrity trainer Jillian Michaels.  These progressive workouts span several weeks and help you see real results over time.
Your stats will be shared with your online iFit account so you can track your progress.  You can also enjoy other features in the online community such as participating in virtual challenges.
Use your iFit account to trace custom routes on GoogleMaps.  You will be able to view the street view of your course while you experience real time incline and decline.  Or, if you'd rather look at more exotic locations, you can use one of the filmed routes included with iFit.  Routes include famous landscapes and foreign cities.
Note: The x22i Incline Trainer requires a 1-year paid subscription to iFit Coach Plus.  Learn more here.
---
Check out a comparison chart with all of the NordicTrack Incline Trainer models here. 
Also, see a comparison of the NordicTrack x22i vs the x11i Incline Trainer here.
---
44 Installed Workouts – As with the X11i, this machine comes with 44 programs to keep the boredom out of exercising in place.
Warranty – The X22i has a great warranty: Lifetime Frame, Motor, and Deck, 6 years parts & electronics, 3 years labor.  A strong warranty is a good indicator of the quality of a machine.
Snap Assembly – This machine has "Out of the Box Assembly."  We have not personally tried to assemble this machine, but it is encouraging that the company has taken this issue into consideration.
Other Features – Speakers, MP3 input, fan, grip heart rate monitor, wireless heart rate monitor and large 2.5″ rollers.  This machine does NOT include a tablet holder.
Our Review – NordicTrack x22i Incline Trainer
The X22i takes an already popular machine, the x11i, and adds an enormous 22″ HD Smart Touchscreen.  It also includes adjustable dumbbell weights that you can use during your iFit workouts.  We have been thoroughly impressed with the entire NordicTrack Incline Trainer line.  This newest model will provide an even more immersive experience.  Best of all, the Icon Fitness employees view the incline trainers as favorites.  Of all the options, this is the one that they prefer to use.  That says a lot.
You may also be interested in the NordicTrack x11i and x9i for similar quality and a lower price.
Go to www.NordicTrack.com to learn more!
---
Video recorded at NordicTrack corporate headquarters!  This shows the x11i Incline Trainer in action.