10″ Smart HD Touchscreen With Built In iFit Features!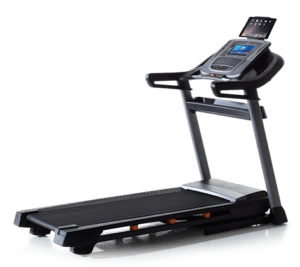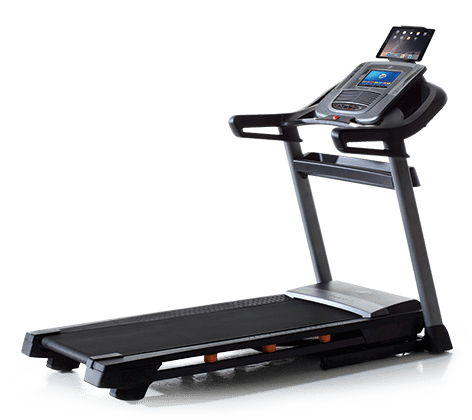 In the past, we did not recommend this treadmill for the cost over the lower model NordicTrack C990. Since a 10" Smart HD Touchscreen was added, we now feel it may be worth the extra investment. And recently a leading consumer magazine rated the NordicTrack C1650 a "Best Buy", giving it an "Excellent" rating for ergonomics and exercise range.
This treadmill is ideal for both walkers and joggers, but heavy duty runners would probably want to upgrade to something like the NordicTrack Commercial 1750. Overall, with all of the features, you are getting a very good value with the C1650.
NordicTrack C 1650 Treadmill Features…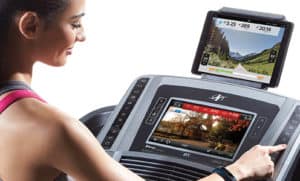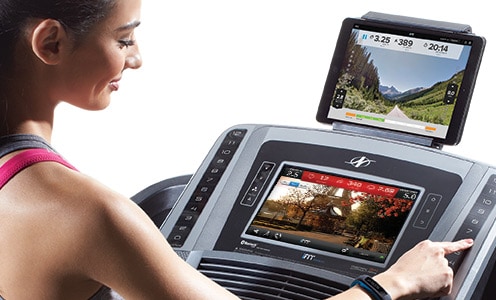 10″ Smart HD Touchscreen — Besides giving you vibrant feedback on your stats, this feature also allows you to view  your iFit Live stats while you exercise.
iFit Coach Ready—iFit Live allows for two-way communication between your treadmill and the Internet. After creating an iFit Live account on iFit.com, you can define your fitness goals, create a profile, and download motivational workouts from trainers like Jillian Michaels.
The iFit.com account also includes a nutrition and activity tracker, motivational text messenging, emails and workout videos so you can keep yourself accountable. Our favorite feature from iFitLive is the ability to map routes using Google Maps so you can simulate courses (hills and all) from your living room. The treadmill will adjust the incline and decline to correspond with real terrain. If you prefer, there is a library of existing routes through famous city-scapes or national parks. When we tested this feature, we were very impressed.
iFit "Coach Ready" means that you can access all of these features directly on your console screen with built in wireless connectivity.  If you see another iFit machine that only says "compatible or bluetooth compatible", be aware that you will need a separate smart device to view your stat info.
Finally, iFitLive hosts virtual races on a regular basis, so you can compete against others. The main downside to this program is the money. IFitLive requires a regular subscription fee. If you don't pay the money, all of these features will go unused on your treadmill.  Learn more here.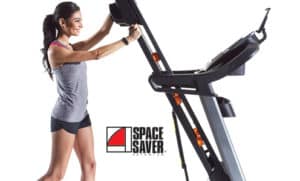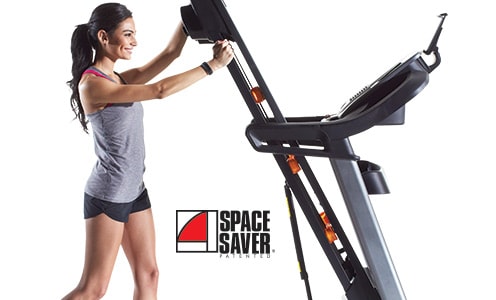 Folding Mechanism- The NordicTrack C 1650 comes with a SpaceSaver Design for easy folding.  The deck has telescoping shocks to assist with the lifting.
20″ x 60″ Treadbelt — This length is ideal for tall individuals and people who like to sprint or interval train.
3.5 Continuous Duty HP Motor — They call this motor commercial grade. That means it is also sold for use in C machine settings, but not necessarily in commercial grade treadmills. However, this motor is strong enough to effortlessly handle joggers/runners and multiple users.
1.9″ Rollers —  The larger the rollers, the more surface area for the treadbelt. In addition to reducing slippage, larger rollers reduce wear on the belt, motor, and bearings by reducing the number of rotations.
FlexSelect Cushioning – We really like that this machine allows you to switch between a comfortable squishy surface and a firm road-life feel. This cushioning option is idea if you run both road and trail races or have different preferences within your household.
Speakers with MP3 Input – One of our team members owns a NordicTrack treadmill and can attest that they include some of the best sound systems in treadmills.
34 Workout Programs – With the NordicTrac C 1650 , you get a generous selection of exercise programs. This breaks up the monotony of jogging in place. There are six high intensity, six speed, six incline and six calorie-burn workouts.
Warranty – NordicTrack offers a lifetime motor / frame, 5-year parts and 2-year labor warranty, which is the best coverage at this price range.
Our Review – The NordicTrack C 1650 Treadmill
NordicTrack has a C-Series and a Commercial series line of treadmills.  The NordicTrack C1650 is the top model available in the lower C-Series.  If you are trying to save money, then this is a great option with its 10″ Web-Enabled Touchscreen, 3.5 CHP motor, and well-sized 20×60″ running surface.
Check out a complete chart of NordicTrack models here.
The iFitLive will help you add variety to your workouts if you are willing to pay the subscription fee. The FlexSelect cushioning is great for those who like to run on both soft and firm surfaces. Finally, the 10" touch screen display elevates this machine over NordicTrack's lower C990 model.  We also appreciate the fact that this machine folds up for easy cleaning and to take up less space.
If you're willing to spend about $300 more, you can get the Commercial 1750, which is one of our Best Buy picks.  While it does have a smaller 7″ Smart HD Touchscreen, it will also have a wider running surface, larger motor, and decline feature.
You can learn more at www.NordicTrack.com to learn more. *