Quality and Durability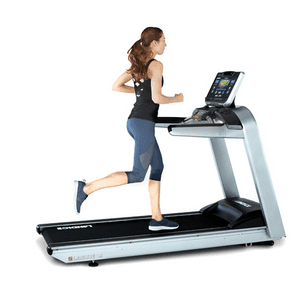 I just checked out the new generation of Landice treadmills at ProSource,in Raleigh. Dan Young was nice enough to talk to me about his experiences selling Landice. He mentioned that Landice has been selling treadmills for over 35 years.  The new models are the first to come out in 10 years. They still have the quality components and the durable construction of the previous models. The design is more contemporary and the electronics are upgraded. In fact,their Executive Trainer has some sweet interactive video features.
Dan mentioned, beyond a minor electronic glitch with one of the new models, they have been service free.
Landice builds premium treadmills that constantly receive "Best Buy" ratings from leading consumer reviews. You really can't criticize a Landice treadmill, since they are engineered to last, and equipped with the finest components available. This includes a 3.0 HP Baldor motor, which is industrial strength and is unsurpassed in performance. Dan took off the front shroud to show me the motor. This motor may be listed as 3.0 HP, but it is the biggest 3.0 HP motor you are going to find. Even the incline motor is huge.
The Landice treadmills range from $3,400 to $5,500. Unlike other brands, you won't have to worry about replacing this treadmill for a number of years. In fact, a Landice treadmill may outlast you.
Each Landice machine comes with an option of four consoles.
Their treadmills are built to institutional standards – in fact, Landice has over 50,000 treadmills placed in health clubs around the world. They are designed for serious runners who want a machine that will take a beating. The various accolades, as describe below, are evidence to the quality of their treadmills.
Landice Treadmill Reviews
Landice L7 LTD Executive Trainer
Landice L7 LTD Pro Sports Trainer
Landice L8 LTD Executive Trainer
Landice L8 LTD Pro Sports Trainer
---
Note: If you buy a Landice through a dealer, it comes with a lifetime parts warranty. That says something about their confidence in their equipment. If you buy online, they only offer a commercial warranty, where the parts coverage is 5-years.

---
Runner' World Review on the Landice L8

RW rated the Landice L8 Road Runner treadmill 6th on their list.
Comments:
The unique automotive motif includes shift-lever speed and incline controls, and analog-style gauges for speed and incline. Also features a six-disc Kenwood CD changer with speakers in the console posts and a headphone jack. Long 63-inch belt. Fast acceleration. Quiet running. Minimal programs. Scanning display can show only one piece of data at a time. Control buttons are small. Best warranty.
Tester quote: "The shift levers are easy to grab, and I gave Landice bonus points for this useful design innovation."
Regarding the L7 Executive Trainer: "An exceptionally solid, stable machine with a unique multi-feature display."
ConsumerGuide Treadmill Rating
ConsumerGuide gave the Landice L7 Executive Trainer and the L8 Cardio Trainer a Recommend rating. They gave the Road Runner L8 a "Best Buy".
Landice L7 Executive Trainer: "If you want the best – and can afford it – the L7 is the bad boy."
The American Council on Exercise (ACE)
 Awarded Landice their first-ever "Excellence in Customer Satisfaction" awards.
ConsumerSearch said the following about the Landice L7 Pro Sports Trainer
Heavy runners/pros. Experts say that this sturdy, well-built Landice feels like a health-club treadmill and can take a real pounding from serious runners. It also gets high marks for ergonomics, an oversized running surface, and build quality, backed by a lifetime warranty on all parts. Experts say the 3 HP motor is smooth and quiet. This treadmill is a monster, with a large footprint, making it very stable-but you'll need plenty of floor space for the L7.
*This Landice Treadmill Review is based on not only actual testing the machine, but also comments, testimonials, reviews and ratings of customers and third parties. We attempt to be as accurate as possible. Warranties, features and prices can change without notice.