Ideal for Precision Interval Training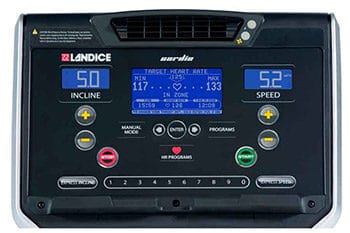 The Landice L7 Cardio is a great machine for precision interval training. Its display features a numeric keypad for quick data entry, and multiple heart rate control programs.
This is just one more version of the truly excellent Landice L7 series of machines.  You may also want to check out the Landice L7 Pro Trainer, L7 Pro Sports Trainer, and L7 Executive models.
Here are the top features on the Landice L7 Cardio treadmill:
Heavy Frame – This 300 lb machine will be sturdy during all of your hardest running sessions.
4.0 CHP motor – We were impressed by the power of this motor.  It is definitely a difference from other 4.0 CHP machines we've tested.
VFX Shock Absorption – Hours of medical research resulted in this comfortable shock system.
20×58″ Length – This length will work for you unless you are excessively tall.  Then, you'll want to check out the 60″ length on the L8 Cardio model.
2.5″ Rollers – These rollers contribute to a quiet running machine.
Warranty – A lifetime parts warranty is hard to beat.
Cardio Console Features: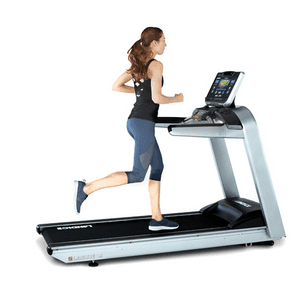 The Landice L7 comes with an option of four different consoles.  The cardio console comes with:
Easy to read two-color graphics.
Connect your machine via Bluetooth to your smart device apps.
Numeric keypad for easy data entry.
5 built-in programs
5 user-defined programs
Time, distance, and calorie goal programs.
3 fitness tests,
2 built in heart rate monitoring programs
2 user defined heart rate monitoring programs
Bluetooth connectivity.
Our Review – Landice L7 Cardio
The Landice L7 Cardio model is a great machine for those serious runners looking to do interval work, improve their 10K time, or work on easier walk/jog goals.  It has the very best quality.
If you are looking for a less expensive option, we'd recommend you check out the Sole TT8 for great quality and a much lower price tag.