Incredible Engineering and Commercial Grade Components
The Landice L7 Executive Trainer treadmill is the top of the line of the L7 models. Landice has two series of treadmills, the L7 and the L8. The main difference is the L8 series has a longer deck, bigger rollers and more powerful motor. But for many the L8 can be an overkill.
With the L7 Executive your still getting a strong 3.0 hp continuous duty motor. You also get a 5'8″ long 4-ply treadbelt. That length should be able to handle average to slightly above average height users. If you are over 6'1″, or are into sprinting, you may want to upgrade to the L8 series.
With the L7 Executive trainer you still get the incredible engineering and commercial grade components found in all Landice treadmills. And to prove it, Landice backs up their treadmill with a lifetime parts warranty. (To qualify you have to buy the treadmill within 60 miles of a Landice dealer.)
However, it is the console and the display, found in both the L7 and the L8 Executive trainer, that distinguish this particular model.

Landice created one of the most innovative, interactive displays in the industry. The control panel offers a computer-animated video display with state-of-the-art workout graphics. Features include built-in programs, user programs, and wireless interactive heart rate control. Here is an example of one of the displays: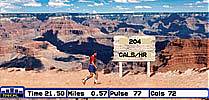 You also get a training calendar, 28 day fitness analysis, zone timer and track display. You can store data for up to 5 users.
Why would you want this feature? To further motivate you to reach your fitness goals. I talked to the one of the salespeople at Fitness Source, Canada, and they said customer really like this feature after they see it.
ConsumerGuide Review
Best Buy Rating:  "Landice prides themselves on manufacturing treadmills, and their focus pays off in units like the L7. "
Epinions.com Landice L7 Rating
4 star rating from 7 customers
L7 LTD Executive Trainer Treadmill Features:
3 HP Continuous Duty Motor
0.5 – 11 MPH speed range
15% grade elevation
VFX shock absorption system
1″ thick reversable deck
20×58″ four-ply treadbelt
2 1/2″ diamter, 14 lb steel rollers
Rust free aluminum frame
120 VAC electrical requirements
400 lb user weight capacity
Reading Rack
Dimensions: 32″ x 73″
Weight: 300 lbs