It Has All of the Bells and Whistles!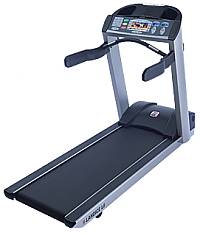 The Landice L8 Executive Trainer treadmill is for the serious runner who wants all the bells and whistles, and who also has some serious money. Hey, you get what you pay for, and in this instant you get quite a lot.
What distinguishes the L8 series from the L7 series is you get:
A monster 4.0 HP continuous duty Baldor motor. This motor will outdistance just about any user.
A 20″ x 63″ extra long treadbelt. At 63″ you never will feel like you are running off the end, unless you are the Chinese center, Yao Ming. It is excellent for running sprints.
4-ply belt. As typical with all Landice treadmills, they are willing to spend the little extra to give you the best. Most treadmills come with a 2-ply belt. Obviously, you get twice the strength with the 4-ply. Meaning you have less chance it will stretch or wear out.
3.5″ institutional grade rollers. larger rollers mean less stress on crucial components, like the motor, bearings, belt and the rollers. These are the kinds of rollers you find in the most heavy-duty commercial treadmill.
Of course, each Landice treadmill comes with a lifetime parts warranty. Something breaks and they have to replace the part. The labor warranty is for one year.

Innovative Display and Feedback
The Executive Trainer control panel offers a unique computer-animated video display with some very interesting graphics. Features include built-in programs, user programs, and wireless interactive heart rate control. You can actually simulate running up popular U.S. landsites, or jogging along a dessert dirt road.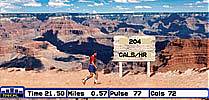 It also allows you to track your progress – up to 5 users. The Executive Trainer keeps you motivated with the most interactive graphic display on the market today.
L8 LTD Executive Trainer Treadmill Highlights:
4 hp continuous duty motor
.5 to 11 mph speed range
15% grade elevation
VFX shock absorbtion system
1″ thick reversable deck
20″ x 63″ four-ply treadbelt
3 1/2″ diameter, 22 lb steel rollers
Rust free aluminum frame
120 VAC electrical requirements
500lb user weight capacity
Reading rack
Dimesions: 32″ x 82″
Weight: 415 lbs
Our Review – Landice L8 Executive Trainer
You are going to pay a premium for this treadmill, but you'll end up with one of the best machines available for the residential model. For those who want the best and can afford it, this model is a serious contender.