A Treadmill You Can Pass Down to Your Children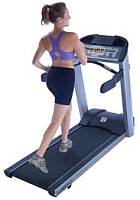 The Landice L7 Pro Trainer is a truly incredible machine.  When we tested the line, we were impressed with the power of the motor, quiet sound, and silky smooth motion.
The motor on this machine is a 4.0 horse power and runs with exceptional strength. You will definitely notice a difference on a Landice machine compared to other brands with this horsepower advertised.
Here are the top features on the L7 Pro Trainer treadmill:
Heavy Frame – And we truly mean it.  You will want to have someone else install the machine for you as it weighs over 300 lbs.  The frame is made of heavy duty, rust proof aluminum.
4.0 CHP motor – This motor packs some real power and will work well for all types of users.
VFX Shock Absorption – This is a comfy machine to use.  They put a lot of research into developing this shock system.
20×58″ Length – This machine will work well for most users.  If you are exceptionally tall, you may want to get the 60″ length on the Landice L8 models.
2.5″ Rollers – Large rollers like this mean less wear on the belt and a quieter ride.
Warranty – Landice has an impressive warranty that includes a lifetime warranty on parts!
Pro Trainer Console Features: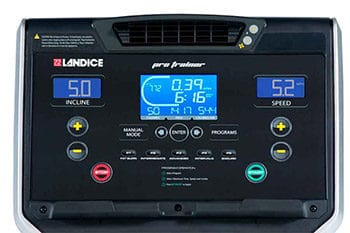 Each Landice machine comes in one of four console options.  This "Pro Trainer" console is actually the most basic of the options.  Here are its top features:
Basic Stats shown for time, distance, speed, elevation, calories, laps, pace, METS, and pulse.
Display for incline and speed.
5 built-in programs for variable time, speed, and incline.
2 user-defined programs
Heart rate monitoring for contact grips and wireless chest strap.
Our Review – Landice L7 Pro Trainer
You can't go wrong with the Landice L7 Pro Trainer.  Its quality and durability are going to be hard to beat.  You may want to check out the Landice L8 machines if you want something that is even one step higher in quality.
Or, if the price tag is a bit too steep, you may also want to check out some other top quality brands like Sole Fitness.  The Sole TT8 is a great machine available for $2,499.