A Longer Thicker Deck with Larger Rollers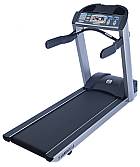 The Landice L8 Cardio Trainer offers all the excellent features of the L7 model, but includes a longer and thicker deck and larger rollers. If you are considering a Landice treadmill, and require a longer running surface, this is the model I recommend.
Of course, standard with any Landice treadmill is the quality and durability that come with its' name.Landice has been building treadmills for over 35 years. In fact, that is all they build. They seldom advertise their products and rely on all the Best Buy reviews as their means of promotion.
Here are some of the features that make the Landice L8 Cardio Treadmill a standout:
22″ lbs, 3.5″ rollers. These are the biggest rollers available on a residential treadmill, and they are institutional grade. Why do you want larger rollers? Overall, it extends the life of the treadmill. There are less rotations required with a larger roller, thus reducing stress to the motor, bearings, belt and the rollers, themselves.
A 4-ply treadbelt. The vast majority of treadmills come with a 2-ply belt. Although costing more, the advantages of a 4-ply belt is you get twice the strength over a 2-ply. That means it is less likely to wear-out or stretch.
415 lb. machine weight. This may be the heaviest treadmill for the home. All I can say, at over 400 lbs. you've got yourself an extremely machine. Just don't plan to move it once it is in place.
4.0 continuous duty HP motor. This is about as big as you get for a home treadmill motor. The bottomline, this motor will take any abuse you give it.
Lifetime parts warranty. That's right, Landice covers their parts for the life of the treadmill. Now that is a statement on the quality of the components.
Our Review – Landice L8 Cardio Trainer Treadmill
I'm a fan of Landice. They are a no-nonsense company that focuses on quality, and avoids unwarranted hype. Their treadmills are commercial quality for the home. Yes, you pay a premium price, but you are getting the best. You're likely to pass on this treadmill to your children.
The Landice L8 Cardio is a heavy-duty machine, built with institutional components. Everything is the best.

The console is laid out in a user-friendly style. You get a nice selection of challenging workouts, including heart rate control (Wireless strap is included).
The deck has just the right amount of shock absorption, decreasing your chances of getting stress related injuries.
The total packages defines the L8 Cardio as a premium treadmill.
Runner's World Review
"Simply put: The L8 can take a pounding. While many of the other units in this review are made from steel, the L8 is constructed from super-strong, aircraft-quality aluminum–delivering durability that's ideal for runners who push their equipment to the limit." RunnerWorld