ProForm Boston Marathon 4.0 Treadmill Review
| | |
| --- | --- |
| Brand: | ProForm |
| Expert Rating: | |
The ProForm Boston Marathon 4.0 Treadmill is ON SALE!
Train for the Boston Marathon with HD Workouts and Wireless Control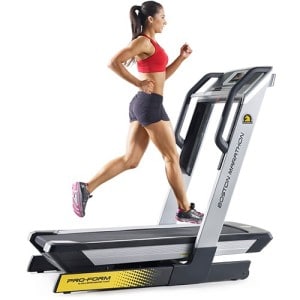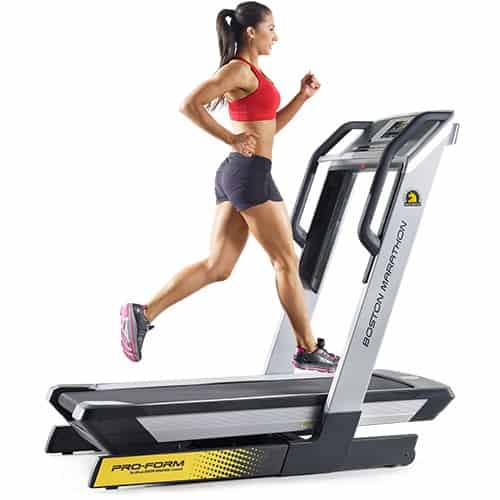 This discontinued model in the Boston Marathon series from ProForm and is targeted towards those most serious of racers- Boston Marathon runners!  This machine is almost identical to the Boston Marathon 3.0 model with a few minor exceptions.  The Boston Marathon 4.0 has a wireless SpeedRing which acts as a remote control so that you can adjust your speed without breaking stride.  It also has adjustable cushioning so you can simulate both road and trail running.
Just like the Boston Marathon 3.0, the ProForm Boston Marathon 4.0 features 0-15 mph quick control, 20% incline, -6% decline, and an EXTRA long running platform at 62 inches.  It has a powerful motor with 4.25 CHP and a 10″ color touchscreen that will display the actual Boston marathon course while you train.  It is created by Icon Fitness, who are the top fitness equipment manufacturers in the world.  This treadmill comes with a killer warranty so you can be confident it its quality.
Features on the ProForm Boston Marathon 4.0 Treadmill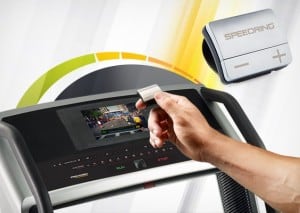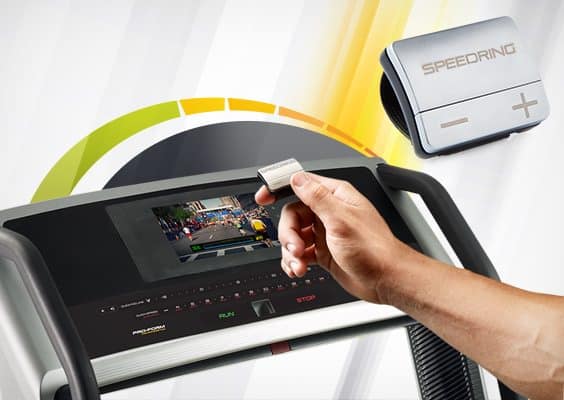 Wireless Speed Adjustment Remote – The SpeedRing feature hooks onto your finger and allows you to adjust your speed without breaking stride.  This is a handy feature.
Impact Control – A lever on the side of the machine allows you to adjust the cushioning along the entire length of the deck.  This feature lets you train for comfort or train for the road.
20% Incline and -6% Decline – The ProForm Boston Marathon 4.0 takes the incline and decline features to the extreme with its range of motion.  This makes this machine almost more like an incline trainer than just a running treadmill.  This will help you train for the up and down hill portions of an actual race.
10″ Full Color Touch Screen Display – The display is complete with an Android browser that allows you to swipe through your stats while you work out.  You can find your speed, time, distance, calories burned, heart rate, and incline/decline stats.
20″ x 62″ Treadbelt – For most machines 60″ is as long as it will go, but the Boston Marathon 3.0 has an extra long 62″ running surface.  It also includes a 2-ply commercial tread belt that will last longer than a 1-ply belt.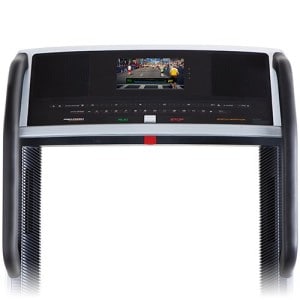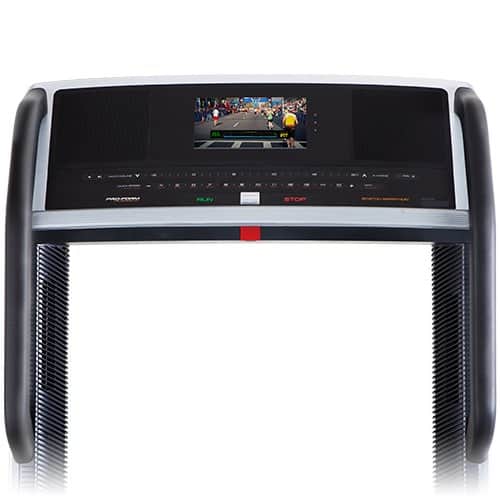 Boston Marathon HD Video Workouts – Choose from 16 or 20 week programs that will help you train for the Boston marathon.  The Boston Athletic Association helped develop beginner, intermediate, and advanced training levels to get you from Day 1 to Race Day.
(2) Cooling Fans – These 8″ CoolAire fans have two speed settings.
4.25 Continuous Duty HP Motor – The ProForm Boston Marathon 4.25 CHP motor is an overkill. It will effortlessly handle the rigors of running and individuals who are excessively overweight.
iFit Enabled – iFit is designed to motivate you to achieve your fitness goals.  It also helps to alleviate the boredom of running in place.  It works by letting your treadmill communicate with the Internet. There are three main features.
You can trace a route on Google Maps and the deck will simulate the terrain through the incline and decline feature. You can watch your progress on the full color display.
You can get customized workout programs that include audio coaching.  They last for several weeks and are geared towards your fitness goals like losing weight or running a race.
All of your stats and your progress are recorded on your iFit.com account. You can view your progress in graphical form.
Cadence Coach – This is an audible tone like a metranome that can keep you at the right pace while you are running.
2.5″ Balanced Rollers – Larger rollers are always better because they decrease tension and reduce wear and tear on your treadbelt.  Plus, you'll notice less noise and a firmer grip.
Warranty – The warranty includes 3-years labor, 6-years parts, and lifetime frame and motor coverage.  This is a great warranty and illustrates the confidence they have in their product.
Review for the ProForm Boston Marathon 4.0 Treadmill
The SpeedRing and Impact Control are nice improvements on an already great line of treadmills.  We love that this machine provides HD training on the actual Boston Marathon course.  The incline features, powerful motor, huge running surface, and iFit compatibility are like icing on the cake.  Best of all, we are happy that ProForm is backing this product with a great warranty.  This indicates that they have confidence in the durability of their product.  It's up to you if you feel the features like the SpeedRing and Impact Control on this model are worth roughly $500 extra dollars.  Personally, we would be happy with either the Boston Marathon 3.0 or the Boston Marathon 4.0.
Since these models have both been discontinued, we also recommend the NordicTrack x22i Incline Trainer and ProForm PRO 9000.
Learn more at www.proform.com/treadmills.