A Longtime Favorite Treadmill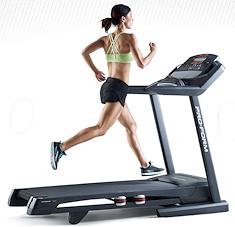 The ProForm Power 1495 treadmill was launched in 2014 so we have some positive history on it.  There are several features that make this treadmill notable…
10″ touch screen color display
Ability to decline
iFit Live compatible
Aggressively priced
At $1,500 this treadmill comes with a full package that you will not find on any other brand, except for NordicTrack, which is built by the same company.
ProForm Power 1495 Treadmill Specs…
3.5 Continuous Duty HP Motor — Ideal for runners. Will run effortlessly even at higher speeds.
20″ x 60″ Treadbelt — Ideal for runners. The extra length handles long strides and interval training.
10″ Full Color Touch Screen Display — This display will allow you to keep track of your workout stats, view courses through iFit Live and also browse the internet during your workout.  You can workout and watch your favorite TV shows or read blogs at the same time.  Pretty cool!
iFit Live Compatible — In a nutshell, iFit Live provides personalized 8-week exercise routines with audio coaching downloaded onto your treadmill through a WiFi connections.  It is also possible to track your progress online with your personal iFit.com account.  Running routes can be mapped out on Google Maps and the ProForm Power 1495 treadmill will simulate the terrain with the incline and decline feature.  You can view your progress on the display with street or satellite views.  Be warned that iFit Live requires a paid subscription for continued use.  Fitness tracking programs from some of the competitors offer comparable features at no additional cost.
ProShox™ Cushioning – There is cushioning present throughout the entire deck, but nothing notable to mention.
2.5″ Rollers — These large rollers reduce the wear and tear to the belt, motor and bearings.  By having a larger surface to grip the belt, they reduces slippage and the noise level.
Inclines and Declines — All power treadmills incline, but the ProForm Power 1495 also declines -3%. This gives you a more realistic running experience of going up and down hills and allows you to target different lower body muscles at different levels.
Heart Rate Monitor & Wireless Chest Strap — You can optimize your workout like professional athletes by letting your heart rate determine your rate of exertion.
34 Installed Workout Programs — A nice variety that focuses on different fitness goals.
Built-in Fan — An overhead fan works better, but the benefits of the built-in fan is that it is directed at your core.
Speakers and MP3 Input — This machine has better than average sound.
Warranty — Lifetime deck and motor, 5-year parts and 2-year labor warranty.
Our Review — ProForm Power 1495 Treadmill
The ProForm Power 1495 is a good example why its parent company, Icon Fitness, dominates the fitness equipment market. It is because they pack many innovative and unique features into a value package.  The large 10″ touch screen display and iFit Live are the best features for the ProForm Power 1495.
Overall, a sister Icon product, the NordicTrack Commercial 1750 is a better buy.  It has a larger running surface (22″ wide), a more powerful motor (3.8 HP), and adjustable cushioning at the same cost.  Both machines have a nice color touchscreen display, but the NordicTrack Commercial 1750 only has a 7″ screen.
Power 1495 Treadmill Customer Review
This is a very nice treadmill. I am 250 lbs. and 6'2″ and I have issues jogging on treadmills because of my weight. The Power 1495 treadmill had no issues at all handling my weight. It was very smooth. Smoother than the treadmills at my gym. Touch screen is nice and responded to my touches very well. I found watching the 10″ screen to be more comfortable than watching a 50″ screen TV mounted on my wall. I needed a treadmill that was very smooth and can support my weight. This treadmill did both. The 3.5 motor didn't break a sweat at all handling my weight while jogging at 6.5 mph.