NordicTrack T 7.5 S Treadmill
| | |
| --- | --- |
| Brand: | NordicTrack |
| Expert Rating: | |
Recently upgraded, the NordicTrack T 7.5 S Treadmill is ON SALE!
7" Smart HD Touchscreen for Only $1099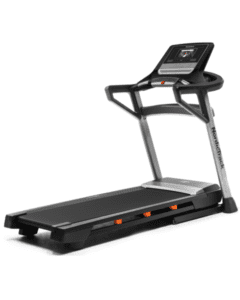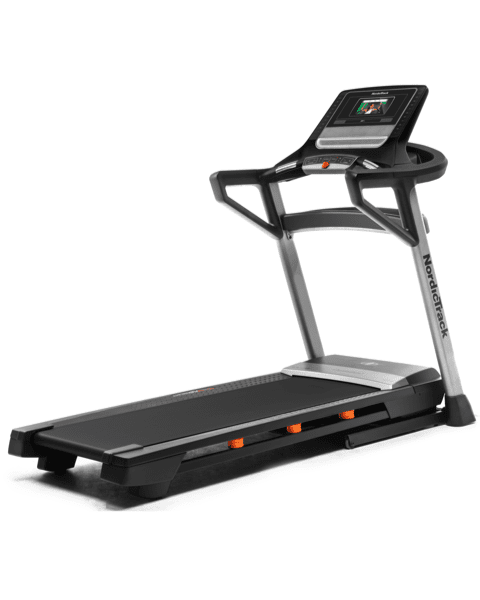 The T series treadmills from NordicTrack give a great range of machines to suit every user's individual needs. If you find yourself worried that you may quickly out-grow an entry-level machine, but you aren't a serious runner training for a marathon, the NordicTrack T 7.5 S may be just the treadmill for you.
As with all products made by NordicTrack, you can expect quality, durability and reliability. NordicTrack is part of Icon Fitness, the largest manufacturer of fitness equipment out there.  (Icon Fitness also makes ProForm Treadmills.)  Since this is such a large company, they are able to provide higher spec machines at a lower price.
The T 7.5 S is a step up from T 6.5 Si, which is the entry-level model for this series.  It provides great in-home fitness to walkers, joggers and light runners alike. At a price of $1099, you are getting a stellar product for a price that is significantly less than more serious machines.
WEEKEND SALE ENDS MONDAY: The NordicTrack T 7.5 S is currently OUT OF STOCK.  
NordicTrack T 7.5 S Features –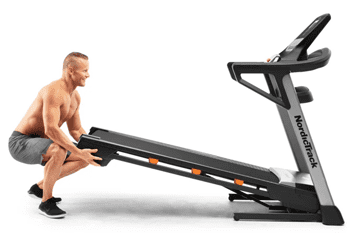 3.0 CHP DurX Commercial Plus Motor – While this motor may not be the best for users that are going to be doing more serious running or training programs, it is an excellent motor for most. If you are looking to get in your cardio and keep your heart and muscles working, the T 7.5 S will be able to do that for you without any struggle.
300 lb. Recommended User Capacity – This is an area where NordicTrack really steps up the plate. The quality construction and heavier unit weight make the T 7.5 S able to handle users of heavier weights. Just don't push this too much.  In fact, if you are right at the 300 lb mark, we'd suggest you go with a tried and true model like the Commercial 1750 for better durability.
7" Smart HD Touchsceen – While the T 7.5 S doesn't sport a giant 30" touchscreen, it does provide you with a high-quality screen that allows you to take advantage of all the technology features the T 7.5 S has to offer.
The display lets you utilize all that your 1-year free subscription to iFit can do for your workouts. Remember that after the first year, your iFit subscription becomes a paid service.
Recreate your favorite route around your own town, or from your last vacation, with Google Maps. Track the route that you want to run and your machine will automatically adjust the speed and incline to make you feel like you're really there.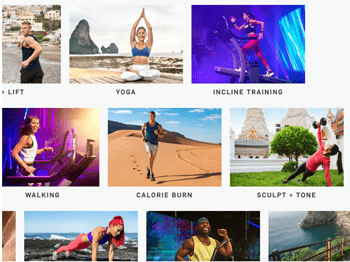 If you prefer more visual inspiration to accompany your run for the day, pick a virtual route from iFit's extensive library. You can choose from routes all over the world and watch the scenery go by as you make progress along the path. Just like the Google Maps feature, the T 7.5 S will change speed and incline to follow what you're seeing on the screen for a truly immersive experience.
Stay motivated and join a live training session with one of NordicTrack's world famous trainers. They will control your speed and incline to make sure that you're getting the most out of your workout.  Plus, the T 7.5 S tracks all of your workout stats in real time to show you your progress. Sync with your favorite fitness apps to share your hard-earned progress with you friends.
You can also branch out and try something new when you're needing a change. Try a yoga class or do some weight training. The iFit library provides you with endless options to keep your workouts fun and fresh.
50 On-board Workouts – Don't worry if you don't want to pay for an iFit subscription, you still have plenty of options. The 50 available workouts already on your T 7.5 S will definitely keep you going. This is a huge pre-programmed library on a machine in the price range and a definite upgrade from most entry-level machines.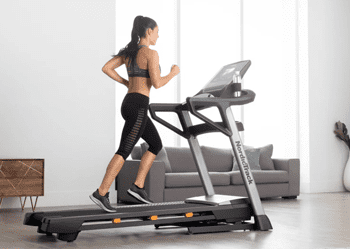 20" x 60" Treadbelt – This is another awesome upgrade on this machine. The 60" length is something that we normally find on machines that are going to cost you a bit more. This length makes the T 7.5 S great for taller users or those with a longer stride. Those users won't find themselves feeling cramped during their run.
0-12% Incline – This is a standard incline that we have come to expect from the NordicTrack treadmills. It is plenty to get you really working with HIIT workouts, or when your route for the day includes a lot of hills.
0-12 MPH Speed – Just like the incline, this is the speed that we expect to see on this machine. You will be able to work those HIIT sessions, and get in a little speed training to up your cardio and get your muscles really firing.
Other Features – Dual 2" digitally amplified speakers pair perfectly with the Bluetooth Audio capability on the T 7.5 S. You'll also find EKG Pulse Grip heart rate monitoring, an integrated tablet holder and an AutoBreeze workout fan. All of these features combine to give you a comfortable workout each time you use your machine.
Our Review – NordicTrack T 7.5 S Treadmill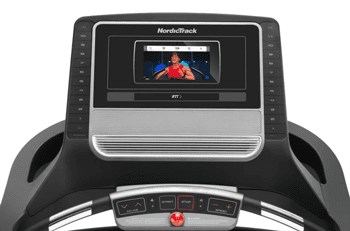 The NordicTrack T 7.5 S has all of the features to provide you with great performance, without the bells and whistles that are going to cost you a pretty penny.
The 3.0 CHP motor is perfect for walkers, joggers and light runners. It will keep up with you no matter how much variety you're looking for. Keep in mind that this may not be the best machine if you are a more serious runner that is going to be doing heavy training or putting in a lot of miles. For those users, check out the T 8.5 S and T 9.5 S in the NordicTrack T-Series.
The FlexSelect Cushioning is a great feature to find on this machine, as it helps accommodate a larger amount of users. If you prefer a real road feel you can adjust the deck to have a more firm feel. However, the ability to add more cushion to the running surface is perfect for those that have suffered an injury or need a lower impact option.
The 7" Smart HD Touchscreen isn't as large as we are seeing on some machines, but that shouldn't discourage you. This is why you are able to get a high quality machine for a lower price than you might expect. As the size of the display goes up, so does the price tag. If the display is really important to you, it may be worth the upgrade. Otherwise, you can save yourself a lot of money and still get a reliable, durable performance treadmill for a lot less.
All in all, if you are looking for a great way to get in shape in your own home, the T 7.5 S has all of the tools to help you do that. Knowing that you can count on your machine to provide a top-notch experience each and every time gives you peace of mind, and the T 7.5 S doesn't disappoint.
Learn more at www.NordicTrack.com.