The ProForm 995 i Treadmill Defines Value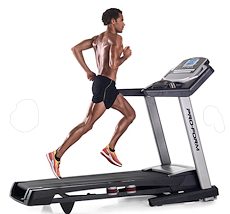 When priced at $999 with shipping, the ProForm Power 995 i treadmill may be the best value on their site.  According to the company, this is one of their hottest selling treadmills.
A couple of the features that make it stand out for the price are the extra long deck and the large HP motor. In comparison shopping you will find this treadmill will out spec just about any comparably priced model.  It also received an "Excellent" rating for ergonomics and exercise range from a leading consumer magazine.
ProForm Power 995 i Treadmill Features
20?x 60? Treadbelt — Treadmills below $1,500 usually have treadbelts around 54? in length.  They are adequate for walkers and joggers of average height.  At a length of 60?, you have a machine that can better accommodate runners, individuals with long strides, and taller users.
iFit Live — iFit Live is one of the  main attractions for ProForm products.  It is a fitness tracking system that allows you to run on virtual courses all over the globe, customize your own fitness program, receive automatic workout downloads, and even get virtual tips from Jillian Michaels.
GoogleMaps can sync with your machine to simulate the real life terrain of your chosen course. The treadmill will adjust incline levels to help provide an authentic experience.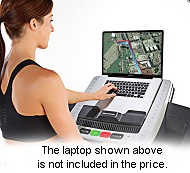 The only problem we see with iFit Live is the price.  Most ProForm and NordicTrack machines are low priced and provide high specs.  Still, the iFit Live requires an additional subscription cost.  Some competition machines (with a higher starting cost we might add) have free fitness tracking apps associated with their  treadmills.  So you can figure that the price evens out in the end.  Or, if you don't plan to use the iFit Live, then you can enjoy a great machine at a lower cost than you'd otherwise expect.
3.0 Continuous Duty HP Motor — This motor will be able to accommodate walkers and joggers.  It comes with a lifetime warranty.
Speakers with iPod/MP3 Input —  These speakers are not going to match your home entertainment system, but they do a decent job.  You will find that ProForm has better quality speakers than most other fitness equipment manufacturers.
30 Workout Programs — The ProForm Power 995 i has a generous selection of workout programs. They include speed, endurance, weight loss, and calorie burn workouts. It is a good idea to change your workouts regularly to enhance results and to keep yourself motivated.
Warranty — They upgraded the warranty with 3-years parts coverage.  This machine also comes with a lifetime warranty on the motor and frame, and 1-year labor.
ProForm Power 995 i Recommendation
The ProForm 995 i is a great machine even with some heavy competition in its pricing category.  We feel confident in recommending it as a Best Buy option in the budget category.  It has a long workout surface, large 2.5″ rollers, plenty of exercise programs, and iFit technology. Overall, we like this machine a lot and give it our 'thumbs up!'
Go to www.proform.com/treadmills to learn more.