Not Recommend But Gets Decent Reviews
Here's the deal.  We are not going to recommend the Merit Fitness 725T because we are not comfortable with any treadmill at this price range being a sound investment.  However, there are a number of individuals who have bought the 725T for around $400 through Amazon.com and were generally satisfied with their purchase.  The overall rating was 4 out of 5 stars – not bad!
Merit treadmills are built by Johnson Health Tech, one of the largest fitness equipment companies in the world.  They also build Horizon, Vision Fitness and the new LiveStrong brand.   The Merit treadmills compete with other budget brands like Welso, Image and Gold's Gym.  And from the various customer reviews, the Merit treadmills seem to hold up better than its competitors.
---
NOTE:  We suggest you check out the slightly higher priced ProForm 400i, which typically sells for $599. It is more durable, comes with a larger deck and motor and a longer warranty.
---
What You Get For $450
When you only spend $450 on a treadmill you are not getting a quality machine by no means.  After you factor the cost of shipping and the profit margin (Amazon was offering free shipping at $450.), there is not much left for manufacturing.  That said, the Merit Fitness 725T does appear to be one of the better low budget treadmills on the market.  However, a treadmill like the 725T has certain limitations.
Merit Fitness 25T Treadmill Features…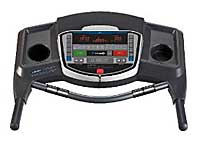 Small Output Motor — You get a 1.25 continuous duty HP motor, which is very small.  Typically $1,000 treadmills are equipped with a 2.5-3.0 HP motor.  This motor will strain with any excessive speed or under the weight of heavy individuals.
The suggested weight limit of the Merit 725T is 250 lbs.  That is excessive, and I feel it is best suited for users under 200 lbs.  They also claim this treadmill is designed for walking and "recreational runners".  If you are a runner you need to consider a treadmill that is at least double in price.  Another reason you should not buy this treadmill if you are a runner or heavy is the fact the deck is around .6 inches thick.  It has the potential to crack under the strain.
Small Deck — The walking area is 18″ x 45″.  Now take a tape measure and measure that out.  It isn't very wide or long.  Your walking space is very confined.  In fact, one reviewer suggested you wouldn't want to buy this machine if you are over 5'8″.
Light Unit Weight — The Merit 725T weighs 139 lbs., which is not very heavy.  This treadmill may have stability problems with heavy users.  In comparison the Sole F63, which cost $1,000 weighs 255 lbs.
Limited Warranty — You get a 2-year motor and 90-days parts and labor.  After 90 days if you have any mechanical problems you cannot fix yourself, you may as well buy a new machine.
Our Review – Merit Fitness 725T
We've listed a number of negatives against purchasing the Merit 725T treadmill — but they seem to be negated by all the positive reviews from customers.  Yes, there are people who complained about poor quality and customer service, but the ratio is 4-5 in favor.  In fact, we checked another customer review site and the positive reviews were about the same ratio.  The majority of customers are pleased with their purchase.
We're still not going to recommend the Merit 725T because we still have reservations about the quality, motor, deck, warranty and unit weight.  But if you want to get into shape and burn calories in the convenience of your home and you have a limited budget, then the Merit 725T could be a consideration.  But we discourage you from purchasing this machine if you are over 200 lbs. and/or plan to jog or run.
This model is available to purchase on Amazon.com.