---
Best Buy Treadmills for 2020
---
"Best Treadmill" Buy ratings are based on:
Treadmill Quality
Product Performance
Innovative Features
Customer Feedback
Company Reputation
Product Warranty
---
Price Range: $700 - $999
The Horizon T303 is the latest addition to join Horizon's budget line of treadmills. Often in this price range we find that quality will be sacrificed, but that's not the case with Horizon's budget line. The T303 comes packed with a 3.0 CHP motor, which is more than we see on most entry level treadmills. The T303 features 3-Zone Variable Response Cushioning Technology to prevent wear and tear on your joints. This machine is capable of 0-15% incline, which is a substantial performance feature for any treadmill—not just in a budget friendly category. Whether walking at an incline, or tackling the latest HIIT running challenge, the T303 is sure to provide a great workout to anyone. The T303 is currently ON SALE for a value price of $999. Click to read our
Review Here
or visit the manufacturer at
JohnsonFit.com
.
---
Runner-up: $700 - $999
LifeSpan is a company that prides themselves on building durable, quality products. Their TR1200 series treadmill desks are top of the line. These machines make a great addition to your office to allow you to incorporate movement into your workday. The TR1200 treadmill desks feature a simplistic, compact design to fit into your office seamlessly. With a 2.5 HP continuous duty motor, your co-workers or neighbors won't be bothered by your exercise. 6 impact-absorbing shocks built-in will keep your joints protected. These treadmill desks are a solid investment, starting at only $999. Read our full
Review Here.
---
Runner-up: $1,000 - $1,499
Rated as a "Best Buy" from a leading consumer magazine, the ProForm Smart Pro 2000 is packed with features for a relatively low price. This machine will get your heart pumping with 3% decline all the way up to 15% incline, to simulate going up and down hills. The PRO 2000 has a 3.5 HP motor, which will keep you running at high speeds for longer amounts of time. Enjoy a 7" HD Smart Touchscreen to view your fitness stats during your workout, or catch the latest video on the iFit library (1-Year iFit Subscription is included in the price!) This treadmill is a steal of a deal. Read more about the ProForm PRO 2000 in our full
review here.
---
Price Range: $1,500 - $1,999
If you're sick of staring at blank walls during your indoor workouts, you should consider the innovative features of iFit Live available on the NordicTrack 1750. This machine allows you to download workouts from trainers like Jillian Michaels, track your progress online, and simulate exciting outdoor courses (hills and all!) using Google Maps. On top of that, the NordicTrack 1750 has some impressive specs including a 3.5 HP motor, a spacious 22"x 60" treadbelt, sound system, color touch screen display, and a 5-year parts / 2-year labor warranty. These are some pretty hefty specs considering this price range! Click the link to read our full
Review Here.
---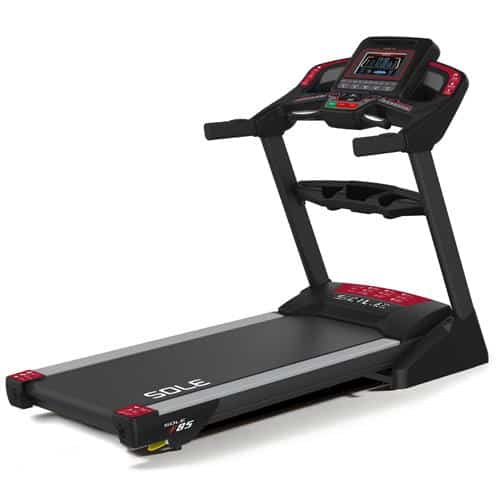 Runner-up: $1,500 - $1,999
The Sole F85 is an excellent treadmill in the $1,500-$1,999 pricing category. It has a powerful motor, super wide 22" tread belt, and an impressive warranty. Sole Fitness is known for their solid machines and great customer service. Best of all, they back up their equipment with an industry leading two-year service warranty! Read our complete
Review Here
as we feel this treadmill will last you a long time.
---

Runner-up: $2,000 - $2,499
One of the most innovative inventions we have seen, the Bowflex TC100 offers an alternative to a stair stepper, elliptical and a treadmill. It's designed primarily for walking but you can increase the incline to achieve equal calorie burning from running without the impact on your joints. Read our full
Review Here
to learn the benefits of the Bowflex TC200. Also, you may want to visit the
Bowflex TreadClimber TC100 Bowflex Catalog
---
Price Range: $2,500 - $2,999
This machine offers a low impact but still very intense workout session. Use extreme inclines to target those muscles in your butt and thighs and burn away the calories. We especially love the huge 22" Smart HD Touchscreen on this model. It allows you to take advantage of the iFit Coach technology and simulate runs using Google Maps. Read our full
Review Here
to learn the benefits of the NordicTrack x22i Incline Trainer. Also, you may want to visit the
NordicTrack.com
---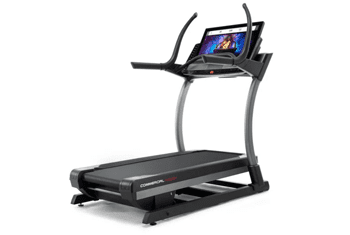 Price Range: $3,000+
If you are looking for an incline trainer with all of the bells and whistles, NordicTrack has you covered with the Commercial x32i. This model has everything we love about their Incline Trainers with some big upgrades in the technology department. It comes with a powerful 4.25 CHP motor, 22x65" treadbelt, and ENORMOUS 32-inch SMART HD Touchscreen. As with all of the Incline Trainer models, the Commercial x32i is going to provide you with a quality workout just by walking. Thanks to the steep 40% incline on these machines, you don't have to be pounding the pavement to put in the work. This means you can get a killer cardio session with little to no impact and stress on your joints. The NordicTrack Incline Trainers are extremely popular machines brought to you by parent company Icon Fitness. Read our complete
Review Here
---
Note: Our 2020 Best Treadmill ratings are based on personally testing the machines, professional feedback and customer testimonials. We attempt to be as accurate with the information that is provided. Be aware that manufacturers change prices ,machine features and designs without notice, and may not be reflected in our Best Buy reviews.