(Last Updated On: January 10, 2023)
Many people are hesitant about using treadmills because of the misconception that they are hard on the joints.
A lot of people think that exercising on a treadmill can lead to joint strain, or ankle, shin, and knee pain. 
This is not entirely untrue.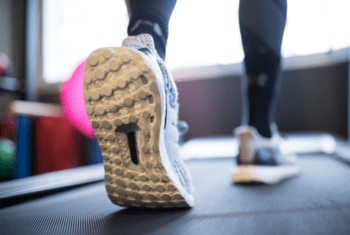 Yes, a few treadmill machines and brands can aggravate your joints and lead to pain or injury. A continuous workout on low-grade treadmills, that are old and worn-out, or just lack the proper cushioning, can definitely result in pain or injury. But if you invest in a good treadmill, especially one that is properly cushioned, it will help you reach your fitness goals while staying injury and pain-free.
What Makes a Good Cushioned Treadmill?
Essentially, the most important thing in a good cushioned treadmill is the shock absorption it's equipped with. Shock absorption on a treadmill is the layer that is used on the running deck. The shock absorption layer is designed to minimize the impact as your feet strike the running area. When a treadmill lacks shock absorption, each step strike will be hard on your joints and muscles.
Outside of the construction of your treadmill deck, there are a few other things that can help with making treadmill workouts easier on your joints.
Running Shoes – It is a good idea to invest in proper running shoes. The best way to find the right shoe for you is to go into your local shoe store. A lot of shoe stores will have treadmills located within the store, where they can have you run and determine which type/style of shoe is best for your running strike. A good shoe can make all the difference. 
Techniques – You can improve both walking and running techniques to minimize the impact on your joints. A few quick tips to remember to keep proper form on a treadmill:
Keep an upright posture
Get your arms involved
Keep your feet directly under your body
Strike with the ball of your foot
Don't lean forward
Run in the middle of the treadmill
Relax your body and keep your shoulders down
Don't hold onto the rails
Incline – If you already suffer from an injury or pain, but still want to use a treadmill, walking at an incline is a great option. Incline walking is often used as a rehabilitation exercise. Walking causes less stress on the joints in comparison to running, and adding an incline to it can help strengthen your lower body muscles and joints, without causing excess strain.
Choosing the Best Treadmill For Cushioning
It used to be the case that you had to buy commercial-grade treadmills in order to get good cushioning. However, that's not the case anymore. There are a lot of residential treadmill options out there for home-use that will keep your joints happy and protected. We have researched, compared, analyzed, and narrowed down the top cushioned treadmills. 
#1 Best Choice: Sole F63 Treadmill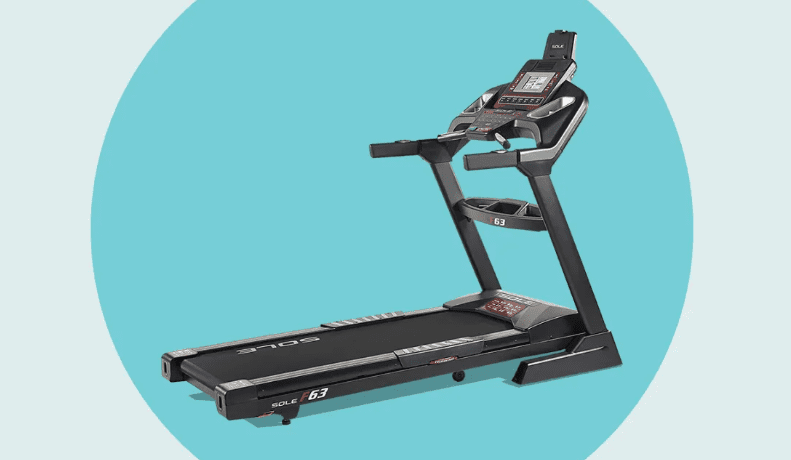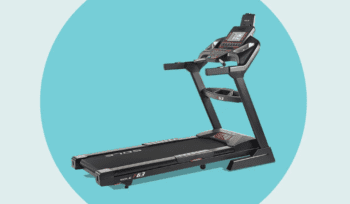 Our team has visited the Sole headquarters many times throughout the years. The #1 thing that we are consistently impressed with on these treadmills is the comfortability and the durability of their machines. The Cushion Flex Whisper Deck technology on Sole Treadmills is shown to reduce joint impact by up to 40%. 
In addition to the great shock absorption in the deck, the F63 has 15 levels of incline. The construction as well as all the other features on the F63 are covered by their lifetime frame and motor warranty. Other top features on the Sole F63 treadmill include: 
3.0 HP engine
Foldable: Yes
Weight capacity: 325 lbs
6.5″ LCD screen
Pulse grips and chest strap heart rate monitoring 
12 MPH top speed
20″ x 60″ running area
Lifetime frame and motor warranty, 3-years deck and parts, 1-year labor
Check current pricing below to get the best deal!
Shop now at SoleTreadmills.com
Shop now at DICK'S Sporting Goods
2. Bowflex Treadmill 10
The Bowflex Treadmill 10 is a beast of a machine. It has a whopping 400 lb. weight limit. In recent years, Bowflex upgraded their decks to the ComfortTech cushioning system. We have been really impressed with this shock absorption on their treadmills. It provides the perfect amount of give, without being overly bouncy.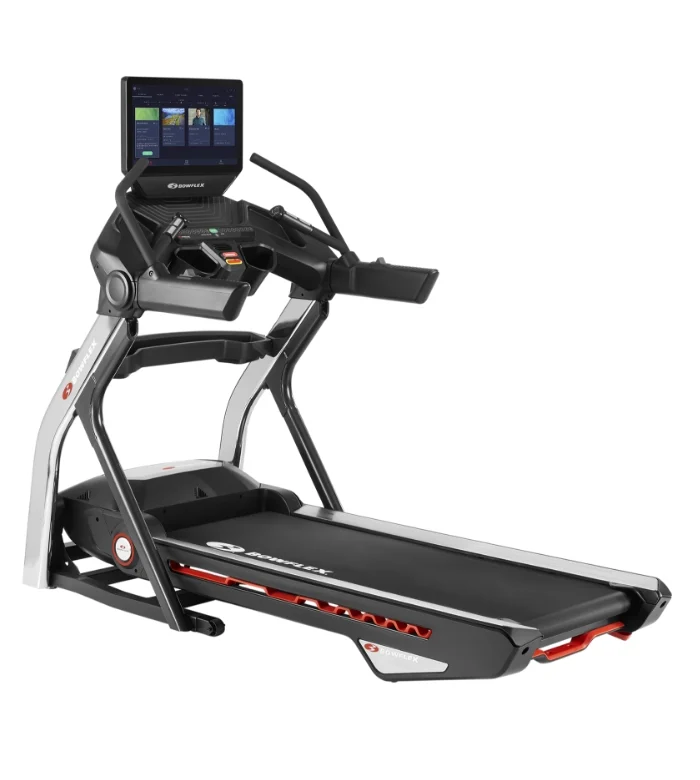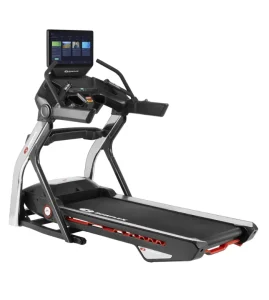 This treadmill features decline and incline. It goes from -5% decline up to 15% incline. If you already struggle with joint injury or pain, walking slow at a decline and incline is a great way to build back your strength. This will allow you to mimic walking up and down hills. 
Bowflex believes in the build quality of its parts and components. The Treadmill 10 comes with a 15-year frame and motor warranty, 5-years parts, 2-years labor, and 1-year electronics. 
Other features on the Treadmill 10 from Bowflex: 
10″ interactive HD touchscreen
Foldable: Yes
Bowflex JRNY fitness technology compatible
Bluetooth enabled
12 MPH top speed
Large 22″ x 60″ running area
Check current pricing below to get the best deal!
Shop now at DICK'S Sporting Goods
3. Horizon 7.8 AT Treadmill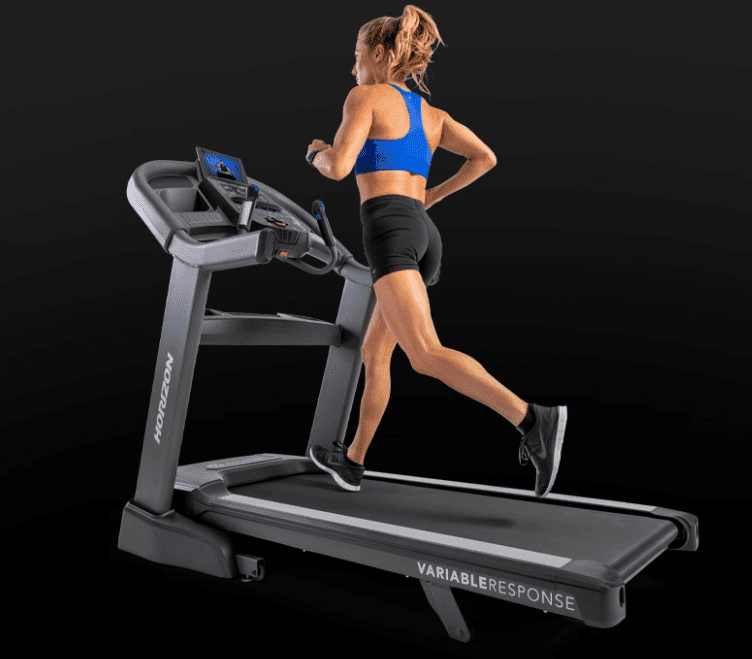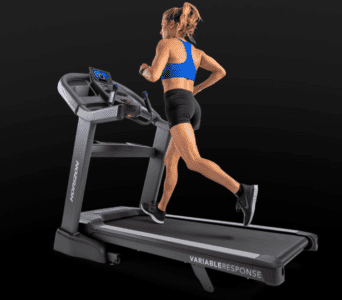 Horizon has made some major improvements to their machines in the last few years. The 7.8 AT treadmill from Horizon really stands out from the rest on the list, because the cushioning on Horizon treadmills is unlike anything else out there. Their cushioning features a three-zone variable response system. What this system provides is three different zones of cushioning on the treadmill deck. Each zone is designed to accommodate each phase of your stride during your treadmill workout.
The 7.8 AT is protected with a lifetime frame and motor warranty, 3-year parts, and 1-year labor. 
Other features on the 7.8 AT treadmill include: 
4.0 HP motor 
Foldable: Yes
22″ x 60″ deck area 
Bluetooth enabled
Good guarantee
15 incline levels 
12 MPH max speed
Check current pricing below to get the best deal!
*The 7.8 AT treadmill is available exclusively on their website. 
4. LifeSpan Fitness TR6000i Light-Commercial Treadmill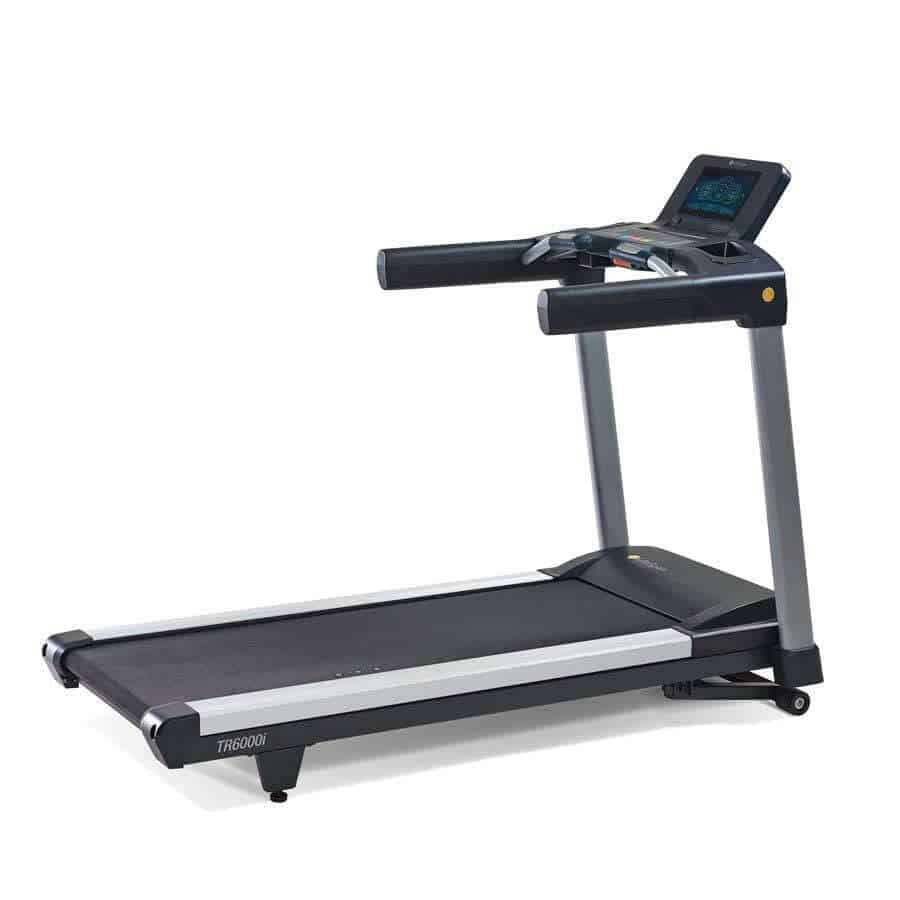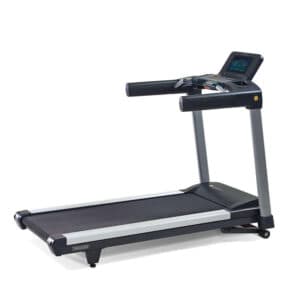 LifeSpan offers a light-commercial treadmill model that will give you commercial grade features, without the $5,000+ price tag.
The deck is composed with 8 independent compression shocks throughout. These compression shocks will reduce joint impact during exercise. 
Other features are: 
3.5 HP AC motor 
13.5 max speed, 13 levels of incline
22″ x 60″ running area
10″ full color touchscreen with tablet holder
10-year frame, 2-years parts, 1-year labor
*The TR6000i is non-folding.
Check current pricing below to get the best deal!
Shop now at LifespanFitness.com
5. NordicTrack Commercial 2450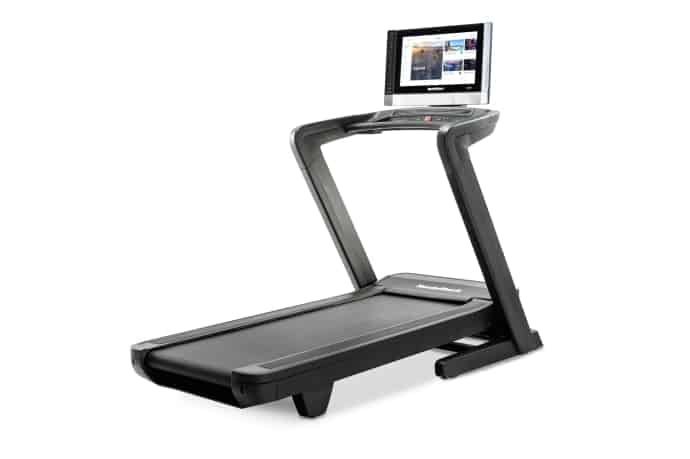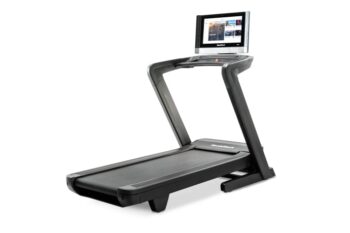 The NordicTrack 2450 treadmill is one of the best home treadmills for cushioning. NordicTrack offers Reflex Cushioning technology on their decks. The Reflex Cushioning is designed to work with your body and tailor to each movement that you make, providing optimal cushioning with each and every step. NordicTrack makes claims that this cushioning can reduce impact by up to 33%. While we're not sure on percentages, we can say with certainty that walking and running on this treadmill is very comfortable.
Other features on the 2450 include:
22″ tilt and pivot HD touchscreen 
Access to iFit technology
-3% decline to 15% incline
12 MPH max speed
22″ x 60″ treadbelt
3.6 CHP motor
Folding
10-year frame warranty, 2-year parts, 1-year labor
Compare Pricing Below to Get the Best Deal!
6. XTERRA TRX4500 Treadmill – TRR Team Member Pick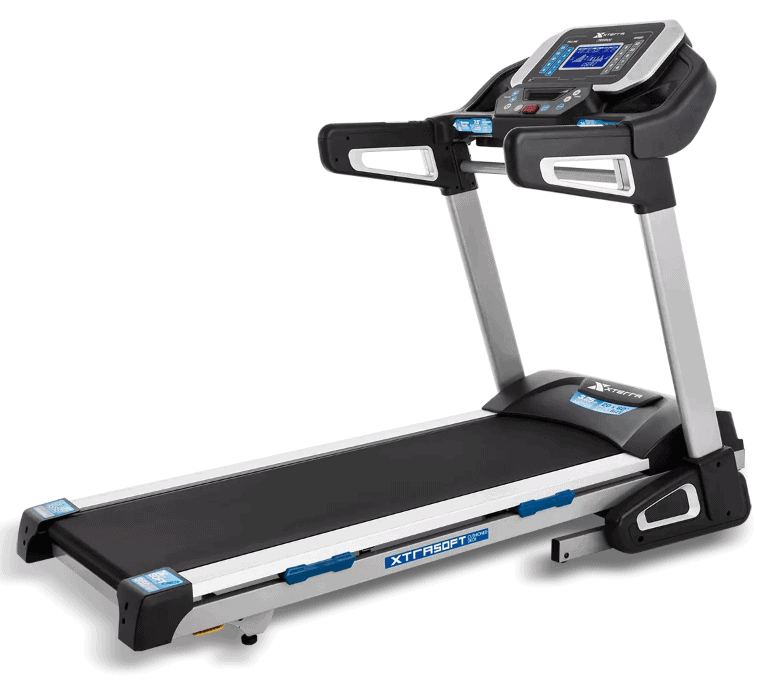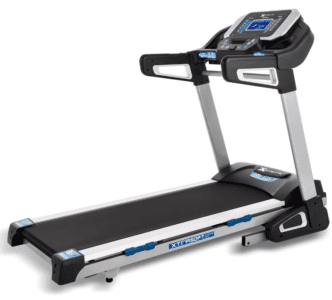 I personally own an Xterra Fitness treadmill. I am extremely prone to shin splints. I have ran miles and miles on my Xterra treadmill, and the cushioning is great.
It doesn't aggravate my knee injury, or my shin splints. Xterra offers XTRASoft deck cushioning technology.
This machine is covered by a lifetime frame and motor warranty, 5-years on the deck, 2-years parts, 1-year labor. 
Other features to note on this treadmill include:
3.25 HP motor
12 MPH max speed, 15 levels of incline
20″ x 60″ running area
Bluetooth
Foldable
7.5″ backlit display screen
Shop now at DICK'S Sporting Goods
Conclusion
If you want to work out at home, a treadmill with cushioning is a great choice. 
The above tips and recommendations will help you pick the right cushioned treadmill for your home workouts, keeping your body fit and safe.
FAQ
Can you add cushioning to a treadmill?
No, you can't add cushioning to an already-existing treadmill. Cushioning is built into the treadmill deck.
What is cushioning in a treadmill?
Another name for treadmill cushioning is shock absorption. It's essentially the padding in the treadmill deck that provides support to lessen impact while you exercise on your treadmill.
Is treadmill cushioning important? 
Without treadmill cushioning, the probability of injury or pain greatly increases. Proper cushioning will ensure that you keep your joints protected and stay injury-free.