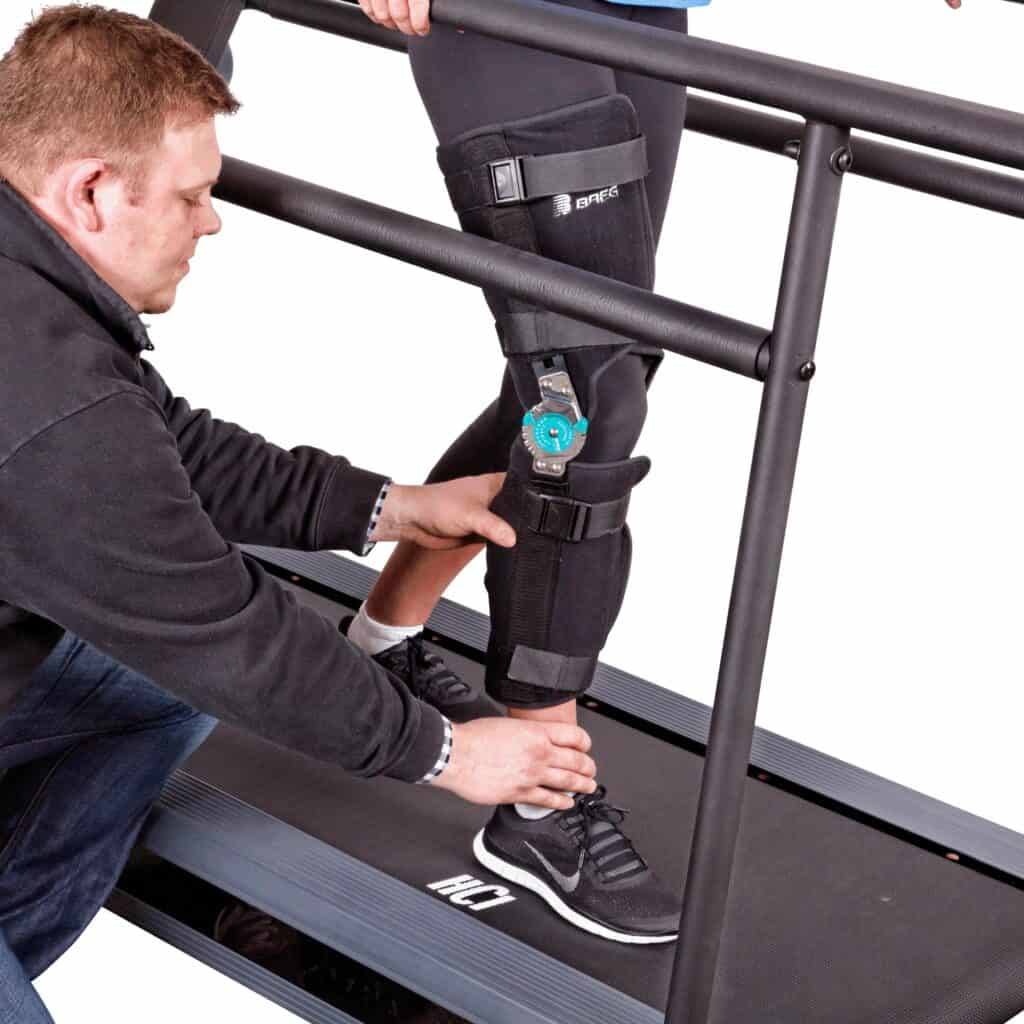 (Last Updated On: August 5, 2022)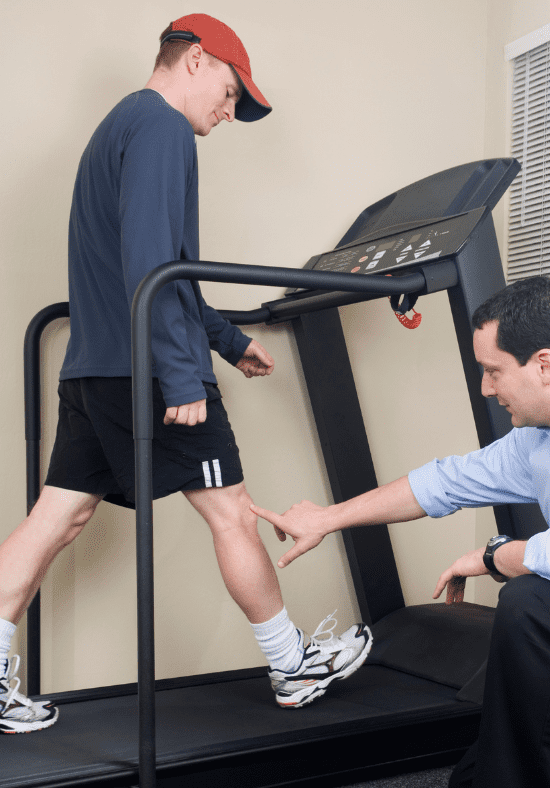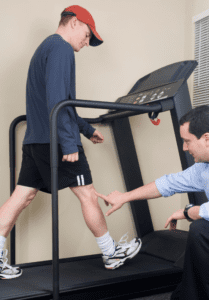 Purchasing a treadmill for rehabilitation is a great investment for anybody recovering from an injury, or simply looking to stay in shape with minimal impact.
The best ones come with the added benefit of wide speed options, maximum comfort and folding frames, for easy storage and space saving.
Treadmills for rehabilitation are also the best recovery alternative given they allow you to improve your cardio health, cut excess calories, strengthen your muscles, recover from injuries, all from the comfort of your house.
When shopping for a rehabilitation treadmill, a feature to look for is the option of customizing your workouts and tracking essential information during workouts. This is important so that you can keep track of all the data that matters to you during your rehabilitation.
These treadmills are an all-time workout option. Regardless of the weather, we can always train and recover ourselves from surgery or injury.
However, with a market that grows each and every day it's not easy to decide which would be the ideal machine to help us get through our recovery period. And enjoy long-lasting results.
To make it easier for you and facilitate decision-making, we've listed seven top treadmills for rehabilitation we consider particularly impressive.
What To Check Before Buying Your Treadmill for Rehabilitation
Treadmills are really easy and intuitive to use. Plus, an in-home treadmill is much better than navigating icy roads while avoiding cars, or jogging through heated coast trails avoiding people.
But how do you know if there is a good treadmill for you out there?
Given that studies have proven that running on a treadmill will give you the same training strength as running on the road, we decided to put this guide together to hand you the best treadmills for rehabilitation.
Before you purchase your treadmill for rehabilitation, pay special attention to the following 3 features that you will definitely need on your rehab tread:
A Powerful Engine
The power of the motor is one of the essential elements to know the most efficient treadmill.
You don't need a super powerful motor for rehab activities but the power of your engine will also condition the maximum weight your treadmill can handle without wobbling, so consider that factor.
For example, for a treadmill meant for simple training (walking or moderate jogging), 1.5 to 2 HP of power is more than enough.
Athletes users need a high power motor of over 3 HP for the heavy-duty exercise they do on it.
For users that weigh over 220 lbs., a motor of over 2 HP will be required, no matter if they just want to walk on the machine.
Additional Safety
For people looking primarily for rehabilitation and physical therapy, always look after additional features such as safety emergency pin, comfortable handrails with heart sensors on them. It's also a good idea to look for a treadmill that offers slower speeds and the ability to change the incline, so that you can adjust your settings based on where you are in your progress.
Dashboard and Ergonomics
The console helps you to focus your training towards a specific goal.
The screen shows the number of kilometers achieved, your running speed, the speed of the belt, the quantity of calories burned, the time of use of your exercise.
Try always to not opt for the cheapest option, but for the one that will support you in your rehabilitation journey with a good dashboard.
7 Best Treadmills For Rehabilitation in 2022
Best Overall Treadmill for Rehabilitation – NordicTrack Commercial X22i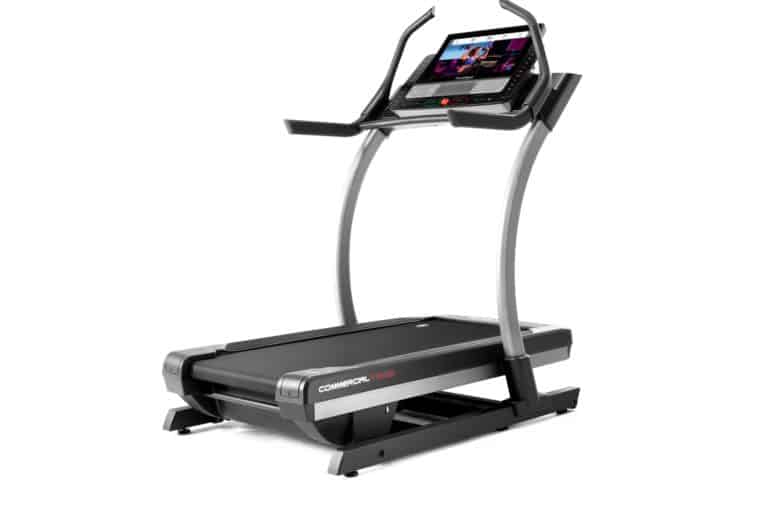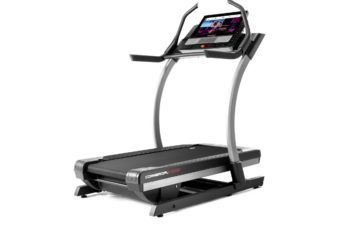 Can you imagine recovering and having rehab therapy from the peaks of New Zealand or the savannas of Africa? Everything is possible with the X22i treadmill from NordicTrack.

With lightning-fast Wi-Fi and a 22″ Smart HD Touchscreen, you can stream LIVE workouts, hosted by iFIT trainers on your treadmill.
Access studio workouts with elite trainers who use AutoAdjust™ to automatically adjust your speed, incline, and decline according to your rehabilitation needs.
Why this is one of the best treadmills for rehabilitation: One of the most amazing features is the option to do complete training with just one machine. While recovering from an injury, going through rehab has never been more fun! Hop confidently and comfortably off your treadmill to engage in workouts like yoga and HIIT, that aim to tone and strengthen your entire body. Even essential mental health exercises.
Another jaw-dropping feature is that it has a 40%… YES, 40%! incline. You can go as steep as you can as you regain the strength on those muscles or parts of your body that are recovering.
This treadmill even gives you the possibility to use a 6% decline control to target other types of muscles that might need targeting for a faster, more enhanced recovery.
Click here to read our full review of the NordicTrack X22i.
Shop the X22i Directly at NordicTrack.com

Raving Review:
EXCELLENT MACHINE. I've owned this machine for about two months and now over 300 miles and all I can say is I love it. The quality is top notch and the included iFit subscription is addictive. I can recommend it without any qualms. -Ragin
Men's Health Magazine featured the NordicTrack X22i Treadmill in their 18 best cardio machines list.
Exerpeutic TF1000 Ultra High Capacity Walk to Fitness Electric Treadmill
One of the big highlights is its great connectivity. It comes with the option of installing the FitShow app on your smartphone, allowing intelligent use of this treadmill through Bluetooth.
This comes especially handy when we need to implement specific recovery workouts with our treadmill and don't want to juggle between different devices to be able to get our workout done.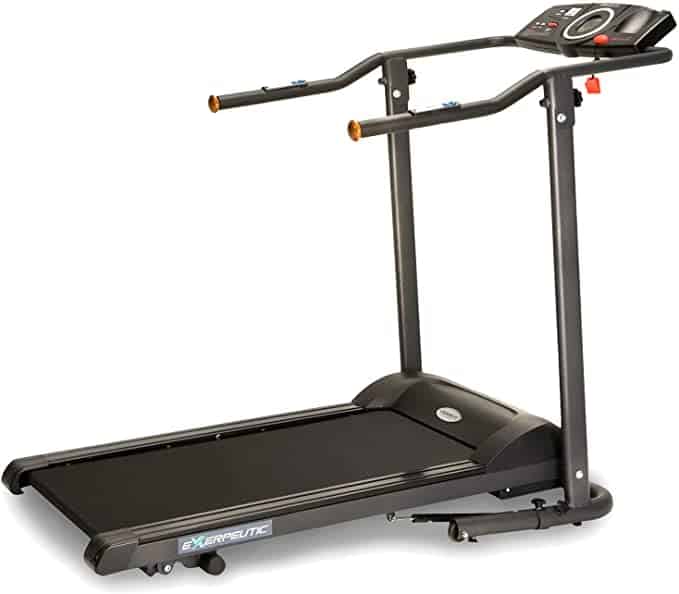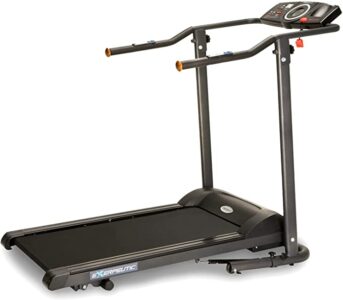 The TF1000 also comes with 16 preset programs, depending on the goals you want to achieve and the incline has 3 different levels. We always recommend not to workout on just flat surfaces to reduce stressing your joints unnecessarily, particularly during rehabilitation.
This kind of machine adapts to different styles because it's solidly built for endurance exercises, cardio, weight loss, or to regain and maintain shape. And, of course, for rehabilitation goals.
Another excellent feature, very important when working out with recovery goals in mind, is the digital LCD screen with touch-sensitive buttons that display your workout data.
Whether it's a senior using this treadmill, or someone using it during rehabilitation, the Soft Drop system allows this treadmill to easily be moved. This is great for anyone who is limited on strength, mobility, or range of motion.
Long-lasting materials: It's made of a durable material with a PVC coating and a thick running belt.
It has an incredible 400 lbs. weight capacity and its 1.5 HorsePower High Torque Motor uses "Quiet Drive" technology which greatly reduces any noise you can make when walking.
Why it's one of the best treadmills for rehabilitation: The extra long safety handles and a roomy deck area of 40″ L x 20″ W, makes it absolutely comfortable to exercise on. You can step on and off the machine feeling safe.

Also, the Heart Pulse Pads and the Speed Control Buttons are a breeze to use and at arm-reach, which is an absolute must to maximize the safeness feeling when working out on a treadmill.
A bonus is that this treadmill comes assembled! You just have to attach the LCD screen. Yay!
Raving Review:
Best. Idea. Ever. I made a custom treadmill desk, angled to be level, mounted a computer monitor in front, and game while walking. I'll walk for an hour, and not even notice the time going by. I'm around 375, and this treadmill handles my weight with ease. I've walked around 11 miles this week on my new treadmill. That is 11 more miles than I normally would walk. Am I going to win any races walking along? Yes. I'm moving faster than I would be sitting in my office chair! I'll update in a few months with my health increases (and hopefully, waistline decreases!)
Also, I'm 6'1″ with long legs. The track length is just fine, I never feel like I'm going to fall off, and only occasionally hit the front (if I get too excited and start walking faster). The extra width is really nice, I had a previous treadmill with a 16″ wide deck, and was always hitting the sides. Not had that problem yet. Also, the treadmill belt stays centered very well, took only a slight adjustment out of the box, and haven't had to readjust yet.
*2 years later update
Yup. Two years later, still have this treadmill. It still is the same as it was when I started. However. I'm around 375 again, and the treadmill is still doing fine. – Brian H.
Buy the Exerpeutic TF1000 on Amazon

Body-Solid Endurance T50 Walking Treadmill
This amazing treadmill is known as one of the best for physical therapy, rehabilitation, and senior walking. The Body-Solid Endurance T50 has an astounding system that absorbs shocks and lightens your steps.
It has the features and functions needed for safe, reliable fitness whether you are recovering from an injury, or you are looking for a workout at any age.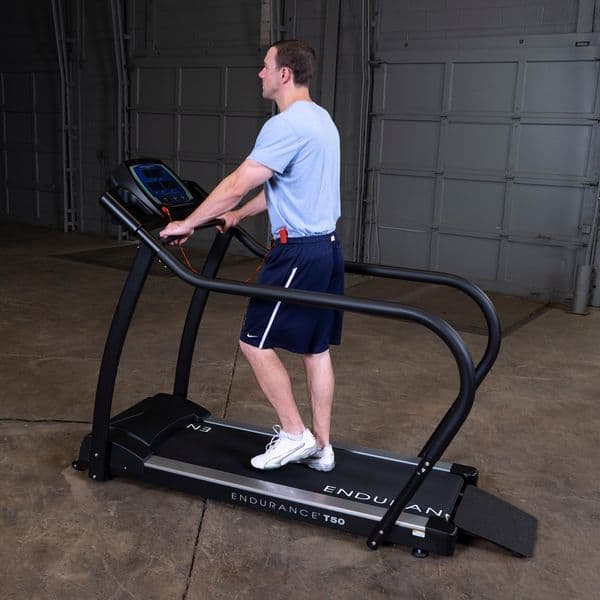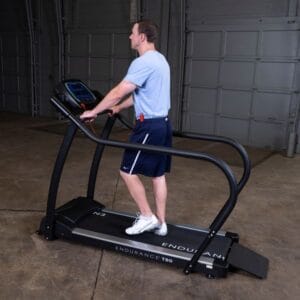 The thick 18.9" W x 53" L walking belt on the T50 provides added comfort with an ergonomically positioned contact heart rate monitor.
Three over-sized 1 ¾" information windows featuring time/distance, speed and heart rate/calories. all in an easy-to-read blue LED display for you to easily see your stats while moving. This also allows you to easily make adjustments on the move.
Additional features on the T50 Rehab/Walking Treadmill include a 1.5 HP motor, high-quality aluminum foot rails and the ability for speed adjustments from 0.1-5 mph in 0.1 mph increments. The T50 has a Limited Lifetime Warranty offering lifetime on frame, 5 years on parts, 1 year labor, and 6 months on wear items.

Why it's one of the best treadmills for rehabilitation: We absolutely love the easy access belt-wide rear entry ramp and a starting speed that increases by 0.1mph which gives total control when increasing speed.
Also, the T50 Rehab/Walking Treadmill also features a 2" thick handrail that extends the full length of the treadmill.

Raving Review:
Great treadmill for rehab. We haven't folded it up and we got free assembly so I'm unable to comment on those aspects. I got this for my husband who had just gotten his first prosthetic leg after being wheelchair bound for five months. He likes that it can be adjusted in small increments and feels very safe on it. It has helped immensely with his balance. He is 6'3 and 260lbs so sturdiness is key. I like that it's more attractive in my house than a lot of the other rehab treadmills would have been. – Jonna
Shop for the Body-Solid T50 at BodySolid.Com

Costway 800W Folding Electric Treadmill
No matter your fitness goals, or the time available you have to work out, this foldable treadmill is the way to go. Plus, it's so easy to fold or unfold, so that no matter the injury you're recovering from, it has easy accessibility.
The strong built-in wheels allow you to move it around so that you can change your workout scenario every day and the Space Save Design allows you to store it, hassle-free.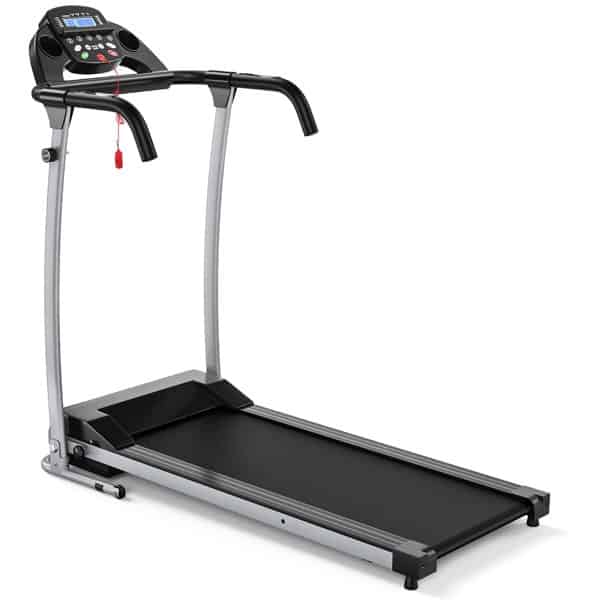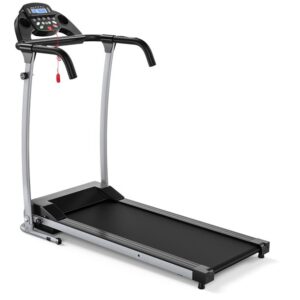 With an extremely silent motor, this sturdy treadmill comes with an LED display that will show you the most relevant metrics such as heart rate, speed, time and calories, in a readable format. The multi-function display allows you to view your progress during your recovery and rehabilitation.
And, it comes with a reachable iPad / mobile phone holder for your convenience. You can talk with your friends, or binge watch your favorite series while you recover on your treadmill.
Its frame is made of high quality steel, with a 220 lb. weight capacity. Its 39″x14″(LXW) running belt provides you a more comfortable and more sturdy workout experience.
Why is one of the best treadmills for rehabilitation: This feature becomes an absolute must when talking about rehabilitation… handrails with speed controls, with start / stop buttons and even heart rate test functions.
Depending on the injury or surgery, unexplained dizziness can sometimes happen during a rehab process. With the easy to reach emergency stop switch, your safety is guaranteed.
Raving Review:
I purchased this treadmill for my husband, he always wanted one and he's very very happy. love that is very easy to assemble, with easy instructions. Love that you can fold it and hide it in the closet if you want to. The price was excellent I will recommend it.- Leena
Shop Now at Walmart.Com for the Costway 800W

Ancheer 3.25HP Folding Treadmill
Forget about waking up somebody because you need to get in your rehab exercise. With this treadmill you'll make no noise. It's strong 3.25HP motor and sturdy construction offers a smooth, quiet experience when working out on it.
It comes with 12 pre-set programs that allow users to challenge themselves as they recover and rehabilitate from an injury or a surgery. A wide base and its tubular steel construction will offer stability through the whole workout session.
The maximum weight for this one is a surprising 330 lbs.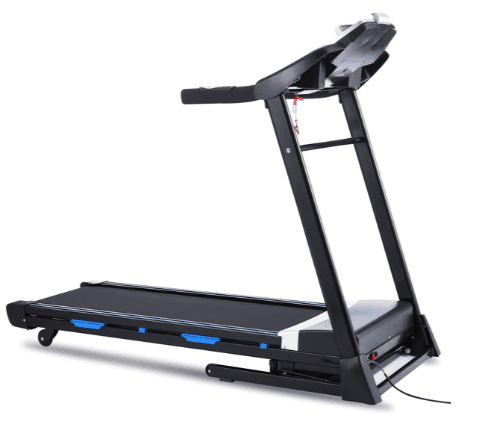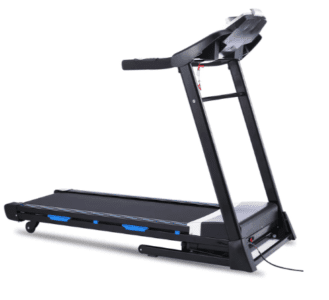 You can also experience an advanced workout by connecting to the FitShow sport app that makes every step you make on the treadmill much easier, and brings the fun in each workout. The Bluetooth-enabled app is available for both iOS and Android devices, and it makes fitness tracking more simple. There are built-in speakers to utilize the app if you choose.
The walking belt (47 x 17 inch) provides for the user to walk comfortably and freely. Designed with a soft drop system, you don't need to worry about damaging your floor or straining your muscles.
Plus, it also allows up to 15% automatic incline. The speed range goes from 0.5 to 9.0 mph, so that you can seamlessly go at your own pace in a breeze, Another great feature are its wheels at the front which allows you to move it from room to room, or store it away where it is not visible.

Why it's one of the best treadmills for rehabilitation: the multi-functional display indicates distance, calories burned, time, and speed. The built-in heart-rate sensors on the handles will display accurate heart rate tracking so that you can ensure you are in your recommended heart rate recovery range as recommended by your physician.
ProShox cushioning technology to better protect joints, muscles, knees and ankles. Also, a built-in safety key to ensure instant shut-off under emergency. So you have peace of mind no matter how strong you feel that day to work out. The heavy-duty steel frame and crank add essential quality and durability to go the distance, no matter what your fitness goals.
Raving Review:
Compact, silent and fast! love my treadmill and so does my 50lb pit gunter! This thing fits amazingly in my walk in closet out of the way and easy to pull out and the wheels help a lot. Also the speaker is way better than I had anticipated and when no music is playing the machine itself is very quiet. The only thing I didn't like after I realized was i do not know how to make the treadmill work, if I were to say break the remote. So far it hasn't happened so I'm still pretty happy, but we shall cross that bridge when we get there. Other than that it's awesome I love it, my dog loves it, my friends love it. It was worth the price. Goes fast enough to get a cramp. And I workout religiously. I do a little 10 min intervals 1 min of sprint/something fast and then 1 min fast pace walk.- Jada Turner
Buy the Ancheer Treadmill Now at Amazon.com

XTERRA Fitness TR150 Folding Treadmill
Voted one of the best for cardio rehab by multiple consumer review sites and magazines, the XTERRA Fitness TR150 Treadmill combines the quality and performance you desire with the flexibility of a machine that can be easily folded up and stored away.
Specifically designed for the home environment, the TR150 incorporates numerous thoughtful features that were developed with your performance and comfort in mind.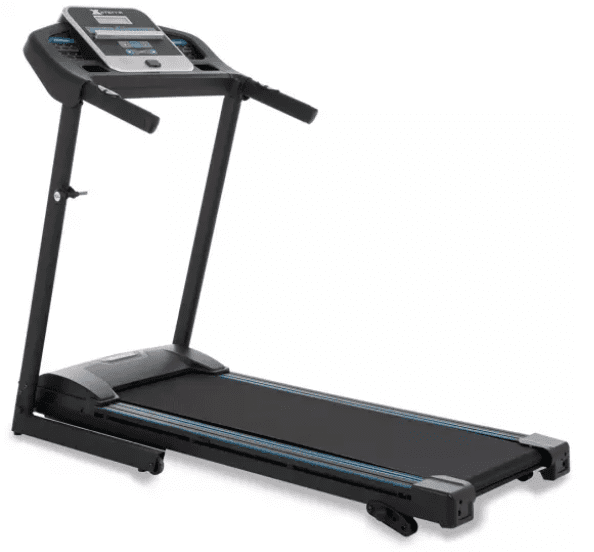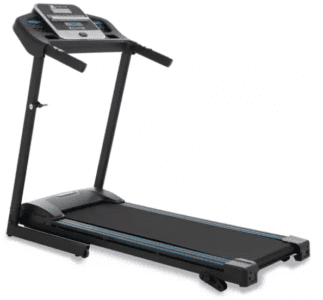 The heart pounding speed range up to 10 mph is powered by a smooth and quiet 2.25 HP motor. The 12 preset programs offer unmatched variety while the XTRASOFT Cushioned Deck technology, large 16" x 50" running surface, and 3 manual incline settings allow you to strengthen and recover your muscles.
The console was designed for ease of use while still providing you with all the features you deserve. A large 5" LCD provides you with important workout feedback while the intuitive button layout incorporates direct touch speed buttons for quick access of your favorite speeds – great for interval training.
The deck height is a low 5.5 inches, making it easy to step on and off if you are limited on mobility during your recovery. The speed starts at 0. 5 miles per hour for those at all fitness levels and stages in their recovery. And progresses all the way up to 10 mph. It's well built to support a weight up to 220 pounds.

It comes with 12 pre-programmed routines; it has an adjustable three-incline; and even a shelf where you can place your mobile phone or your iPad.
The Easy Folding Device and Soft Drop System make it simple to fold and unfold the treadmill in a secure and convenient manner. Plus, its design is both compact and lightweight.
Why it's one of the best treadmills for rehabilitation: Non-slip handlebars with grip pulse sensors conveniently placed to help you keep yourself in your rehab training zone. Through the handrail controls, you can control the start and stop of the ride, speed and even monitor your pulse rate.
Another thing we adore about this one, is It has a specially cushioned platform with XTRASoft Technology that absorbs a lot of impact; and the 2.2 horsepower motor is really quiet.
Raving Review:
I have had this treadmill for 2 months now and have used is for 45 minutes almost every day. I am a 78 year old woman whose experience with a treadmill has been limited to using the commercial grade treadmill in our community clubhouse. This treadmill, while not comparable to the $2K commercial grade treadmill, certainly does everything I need it to do. It is very quiet and does not interfere with the TV if I'm watching it. It is sturdy and well constructed. There is a ledge for an iPad or Kindle should I wish to read while walking. And at the end of my walk, I know how long I've walked, how far I've walked and how many calories I've burned. I can also monitor my heart rate as I walk. I was initially going to pay for someone to come out to assemble it, but after reading reviews, my husband and I could do it ourselves. Believe me, there is no need to pay to have it assembled. It was a breeze and took us less than an hour.- Margo
Shop the XTerra TR150 at XterraFitness.Com

HCI Fitness PhysioMill Rehabilitation Walking Treadmill
The PhysioMill by HealthCare International (HCI) is the only brand that is both CE safety certified and 510(K) registered with the FDA as class one medical devices.
It has a maximum weight capacity of 500 lbs. Wow!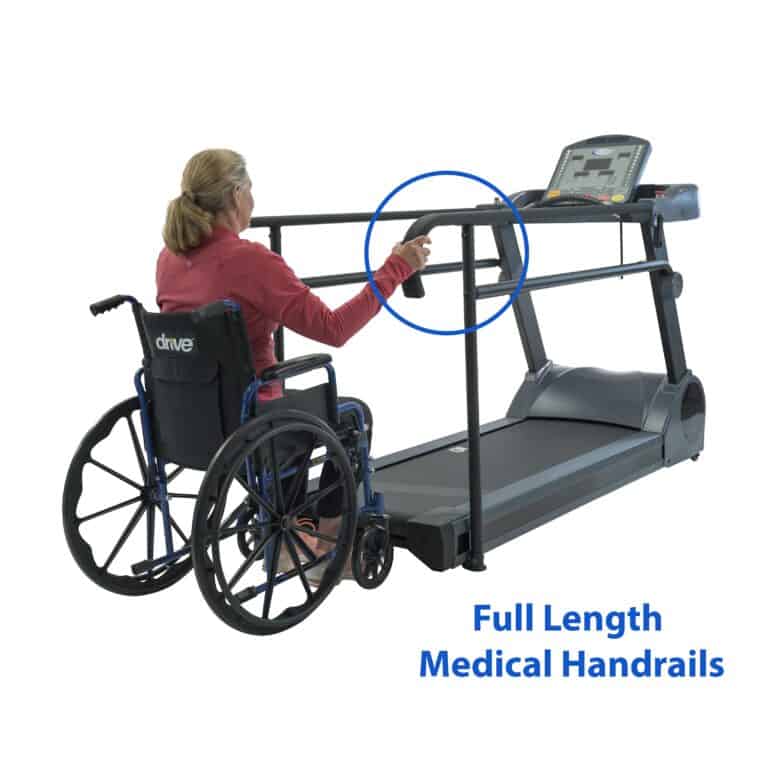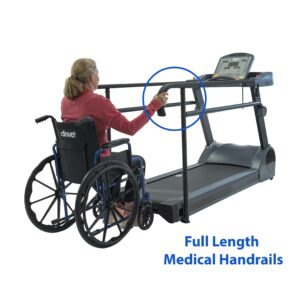 It has the most powerful motor featured on this list. The PhysioMill has a heavy duty 4 HP Hi-Torque DC Servo motor specifically designed to offer a true zero start with 0.1 mph increments for patients up to 500 lbs., with speeds up to 15 mph.
This means that you will have no jumps, therefore no future unnecessary pain or strain when you increase your treadmill speed. As it's a treadmill built specifically for rehabilitation, this is a very important feature. If you are recovering from an injury, the last thing you need is to stress it.
The heavy weight capacity and the 21" x 63" walking belt allows the PhysioMill to be used in a variety of clinical settings such as Neurological, Orthopedic, Sports Medicine, Cardiac Rehab, Bariatrics and Pediatrics.
Why is one of the best treadmills for rehabilitation: It has a reverse belt mode with 15 percent elevation allowing for downhill negative walking. This means that you can train your muscles from a totally new angle and recover even faster.
The PhysioMill rehabilitation treadmill comes standard with; short handrails, dual emergency stop buttons, hand held remote start/stop/pause, orthopedic walking belt and contact heart rate.
Raving Review:
This machine is pro-level. Not a cheap shaker you'd find in a retail sporting goods store. Serious physical therapy equipment. Built like a brick house. I totally love it. Great investment in my post-stroke recovery. – Aaron Jenkins
Buy the PhysioMill Now at HealthCare International

How to Reap the Maximum Benefits of Training on a Treadmill for Rehabilitation
First of all, you should check the best practices and exercises determined by your physician.
Then, get yourself comfortable with the device you picked.
Check the safety devices (emergency stop button, safety clip), discover and test all the features and learn how to use it fully.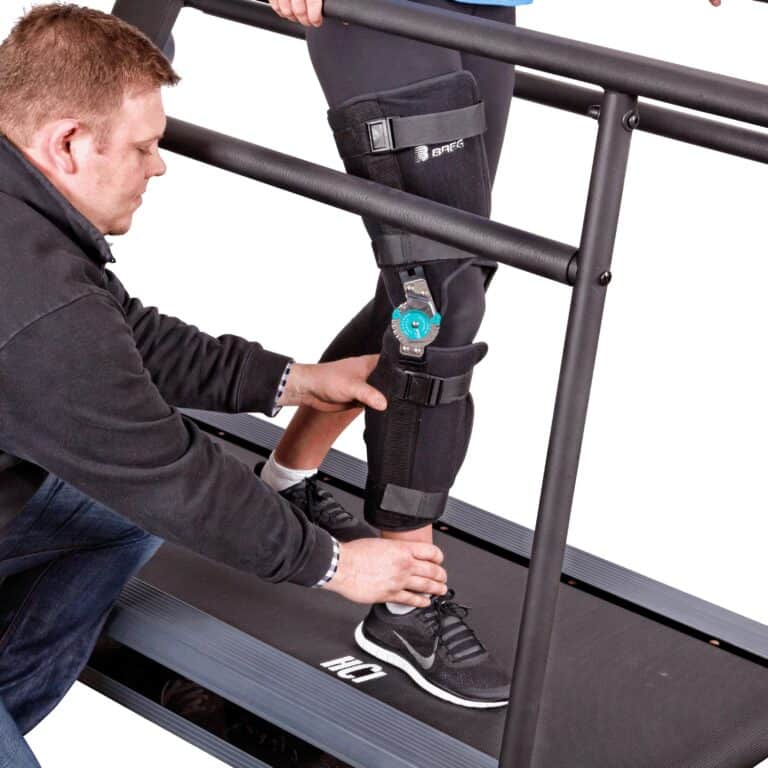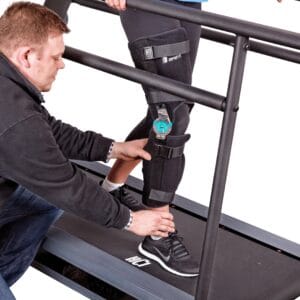 Before each session: Warm up at a moderate pace before beginning your workout session.
Keep hydrated along the whole workout and before getting off the machine, wait for it to completely stop.
Don't abruptly end your workouts. Especially when you're working out with a rehab goal, it's essential that you slow down the speed before the device comes to a halt.

Stretching: Just like warming up is necessary before you workout, stretching is as important once you end your workout session.
You can try different approaches based on the goals of recovery you have. You can try slow jogging sessions with your hands raised, by holding the handrails of the treadmill to train your upper limbs, or get a tad wild and even do backward or sideways steps. As always, make sure that your exercise efforts are approved by your physician.
Treadmills for Rehabilitation: Get Going on Your Recovery Path
There are many treadmills designed specifically for seniors and those participating in physical therapy or recovery processes, and they feature shock-absorbing characteristics and customization options that make them the go-to choice.
Given that rehab treadmills are a great investment, it is very important to make an informed decision during the purchase process.

We really hope this guide has helped you enlighten your way towards consciously picking the treadmill that will help you go that extra mile in your rehab journey.
Frequently Asked Questions
Are rehabilitation treadmills good for people with a heart condition?
Working on a treadmill as a way of cardio training has become very popular because it allows you to keep a consistent heart rate throughout the session. By walking or jogging on one of these treadmills that we've recommended, you will burn calories and build muscle. But, you will also enhance your cardiovascular health without straining the heart too much.
Exercising on a treadmill for rehabilitation can help to lose weight and reduce blood pressure, boosting your overall cardiovascular health.

A few reminders for those with heart conditions…
Keep an eye on your stats. Those who have a heart risk or heart disease should strictly follow their doctor recommendations and monitor themselves.
Look for adequate cushioning. You should always consider the influence walking or jogging on a treadmill has for your hips, knees, ankles and joints in general. Testing the surface and the rebound of your machine is essential. Excessive jumping or bouncing caused by insufficient cushioning may cause your heart rate to spike to a level that you aren't ready for in your rehabilitation process.

You can check here our ultimate guide for which are the best cushioned treadmills that could also match your rehab goals.
If I hold onto the handrails while walking on a treadmill, am I cheating?
Not at all! Especially when you are in recovery and rehab mode.
Plus, you get to activate and work other muscles of the body.
Treadmills for Seniors: Yes or No?

Treadmills are one of the best options for elderly people that want to stay active without getting exposed to the weather.
Being able to do it at any time of the day and given nowadays there is a wide range of models that are very silent and also extremely compact, seniors can reap all the advantages of starting exercising regularly without having to leave their home.
Extra Tip: How to Lubricate a Treadmill?
Your home fitness machine requires maintenance for durability and efficiency. But, don't worry. It's pretty easy, quick and you don't need any experience.
Lubrication should be done every 3 months. Another way of measuring this is every 120 miles or if you are giving it some serious heavy use, you can do it more frequently.
First, you need to know whether your treadmill needs to be lubricated or not. Make sure that your treadmill is unplugged before you begin.
Gently lift the mat and check with your hand whether the midsole surface on the belt is dry. If it is dry, lubrication needs to be done.
To lubricate your treadmill, here is the process.
1. Lift the belt slightly to spray a dedicated silicone-based lubricant (3 to 5 sprays)
2. Turn your treadmill back on and run it at slow speed (2-3 MPH) for 5 to 6 minutes
3. Unplug the equipment and wipe off any excess lubricants that overflow
4. Lower the belt back into place and plug your treadmill back in. You're good to go!

Remember, your treadmill needs to keep hydrated as much as you do.
This article was written by Victoria Franco and published on Wednesday, 4 May 2022.