Designed to Reach Your Fitness Goals!
Team members recently visited Horizon Fitness to view the equipment first hand and to talk with the management about the company's focus and goals. Visits like this are extremely valuable and allow us to gain insight beyond what you would learn by reading online or testing store models.
To give you some background on Horizon Fitness, they are owned by Johnson Fitness, which is the third largest fitness equipment manufacturer in the world.  They also produce Vision Fitness, a premium specialty brand, and Matrix treadmills, which are the fastest growing commercial brand in the world.
Recently, a leading consumer review magazine gave the Horizon 7.0 AT their highest rating. Check out the full treadmill review here.
About Our Most Recent Visit to Horizon Headquarters:
During our first full day at the facility, we were given a tour of the entire operation from the customer service call center, to the distribution warehouse, to the in-house workout facility, and finally to the engineers hard at work on the newest innovations.
We spoke with members of the upper management and product management teams to learn about the thought and care that goes into each of the elements of Horizon Fitness products.
In addition, we were presented with extensive explanations of the features on each of their various treadmill and elliptical models. Our entire day was filled with detailed information and extremely friendly staff members.
There are several things that set Johnson Fitness apart from the competition:
They Manufacturer Their Own Product Parts:  First, their company is 'vertically integrated', which means they manufacture all of the components that go into their treadmills. Using company-designed parts rather than third party components drastically cuts down on maintenance issues. This commitment to quality can be seen in their Johnson Drive System motor

which uses larger magnets to run at a lower RPM resulting in a cooler and quieter system. They also have a completely maintenance free tread belt that has been tested up to 21,000 miles. Many other companies use components designed by third parties, which results in more maintenance issues.

Excellent Customer Service:  Next, Johnson Fitness places high value on customer service. Their knowledgeable representatives are on hand to help field incoming calls from customers with questions or technical issues. This is one area with which many of the competition brands struggle.

Strong Company Culture of Wellness:  Finally, the overall culture of the company emphasizes health and well being. The staff is focused on providing the best values in cardio equipment. The Johnson headquarters had a large workout facility complete with locker rooms and showers and it is evident that the fit and trim employees take advantage. This is important to acknowledge because a company that cares about the well-being of their employees also cares about the well-being of their customers.
Check out this video of our visit to the Johnson Fitness facility:
What Sets Horizon Fitness Apart?
Competing directly with brands like ProForm and NordicTrack, Horizon creates a comprehensive line of treadmills that vary in price and features.  The prices for Horizon treadmills range from $699-$1,899. They are designed for various types of users from those who want a machine for walking and light jogging all the way up to those who want a machine for serious running.
The Horizon treadmills include some impressive features like ViaFit, an innovative fitness data tracking system, that allows you to record your workout data and integrate with other nutrition and fitness apps. The Passport and Virtual Active features enhance your running experience by allowing you to run virtual courses through scenic landscapes while viewing the path on your TV or machine console.
During our visit, we were walked through the entire design process from concept, to test models, and finally to mass production. Considerable thought and testing goes into each product. All of the Johnson Fitness products are engineered to pass European Safety Standards which are stricter than those required in the United States.
Simple 30 Minute Set Up Available – Over the years, we've put together quite a number of brand new treadmills.  And to be truthful, the process is usually long and frustrating.  Horizon offers two machines with a very quick 30 minute set up.  It saves you a ton of time and gives you more time using your treadmill so you can get in shape. Find the simple set up on the Horizon T101 and T202 machines.
Horizon Fitness Treadmills
Horizon T101 ($699) – For walkers. 55"x20" walking area. #1 selling treadmill in fitness with ½ million units produced. Three LED Windows.
Horizon T202 ($899) – For walkers and joggers, 60×20″ deck, 2.75 CHP motor, Bluetooth connectivity.
Horizon T303 ($999) – For walkers / light runners. 60″x20″ running area. 3.0 CHP Motor.
Horizon 7.0 AT ($999) – 60×20″ deck, 3.0 CHP motor, 7″ LCD Screen.
Horizon 7.4 AT ($1,599) – 60×22″ deck, 3.5 CHP motor, 8.25 LCD Screen. Built for jogging and running.
Horizon 7.8 AT ($1,999) – 60×22″ deck, 4.0 CHP powerful motor, built for runners.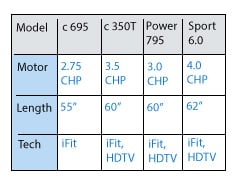 Horizon Treadmill Features
Drive Systems — Horizon treadmills manufacture their own heavy duty motors with larger than normal magnets. This allows the motor to run at lower RPMs, keeping it cool and quiet, which extends the life of the motor. All of the models except for the T101 include a digital drive system that responds smoothly and quickly to the user's commands.
Variable Response Deck — The deck is designed to simulate a running shoe with varied levels of cushioning from the front to the back. The front has increased cushioning to provide shock absorption when you take a step and the back provides a firm surface from which to push off. This helps create a very comfortable running surface.
Smart Fitness Technology —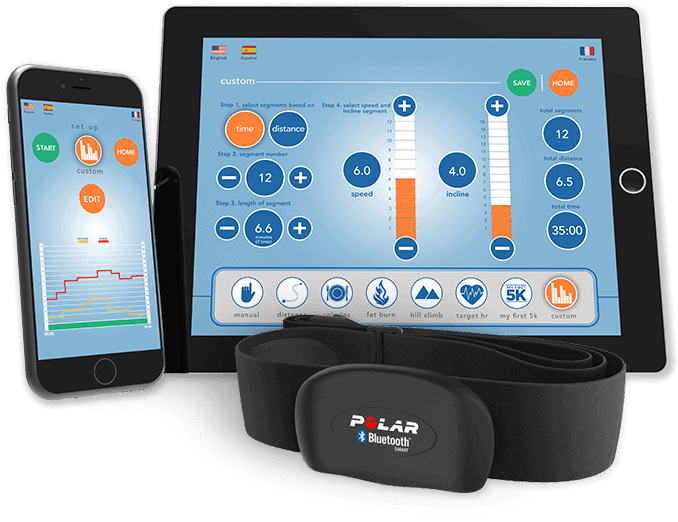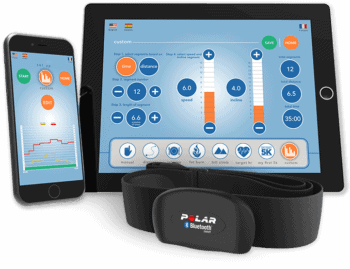 Horizon's free Pro fitness app allows you to control your workout right from the touchscreen of your device. Plus, it syncs all your workout stats to your favorite fitness app so you can keep track of all your activity data in one convenient place.
Speakers & iPod Input — Music is a great motivator and it distracts you from the monotony of running in place. All of the Horizon machines have speakers through which you can play your favorite music. The sound is not going to match your home entertainment system, but it is adequate.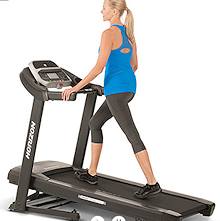 Gas Assist Folding — Makes it effortless to both raise and lower the deck. We like that the decks on these machines lower slowly without assistance to prevent any injuries.
Built-in Fan — Although this is not a costly feature, it is one of the most popular with customers.  The fan is pointed at your core, which is what you want to cool down the most.
Customer Service — During a tour of the operation, Todd Boerboom (National Sales Manager) was particular proud to show off their customer service department.  He explained the extensive training their service staff goes through.  He also mentioned that many are longtime employees.  Like other fitness equipment companies they have to take on temporary staff during the busy winter months. These temps also get extensive training.  Todd pointed out that the fitness equipment industry has a poor reputation for service. That is why Johnson Fitness uses other industries with superior service as their benchmark.
Delivery – It's always good to know your company's delivery policy before making your final purchase.  Horizon Fitness offers free shipping on every online home cardio order.  They even bring your product indoors to the first available ground-level door of the house.  This is a huge benefit because some companies will leave your (very heavy) machine sitting on the curb or doorstep unattended.
Our Review – Horizon Fitness Treadmills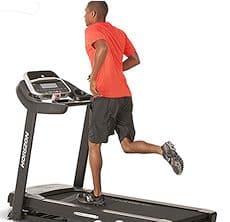 Over the last several years, Horizon treadmills have improved in both quality and available interactive technology. They are more durable, and the stability and shock absorption have improved substantially. Add to that interactive features like ViaFit, Passport, and Virtual Active, and you have some very attractive treadmills at a value price.
Horizon treadmills are built by Johnson Fitness, which also builds the high-end Vision Fitness treadmills and the commercial grade Matrix treadmills. Johnson Fitness is one of the largest fitness equipment companies in the world. Consequently they can offer more value due to economy of scale.  If you are considering getting back into shape and want to lose some extra weight, these machines will do the job.
Overall, we were thoroughly impressed with the Johnson Fitness operation and different Horizon Fitness models.  See a comparison chart of all of their treadmill models here.
Runner's World Review
Runner's World rated the Horizon 5.2T as the "most favorite" out of 8 treadmills. A panel of experts and 150 runners conducted the review. (Now the Adventure 3)
Consumer Magazine Rating
A trusted consumer magazine gave the T101 a "Very Good" rating in the categories of Ergonomics, Construction, Exercise Range, and User Safety.
Horizon Treadmill Customer Review
In essence, I would highly recommend this treadmill (Horizon T101) if you are looking for qualities similar to what I was looking for. A fairly basic, safe-feeling, folding treadmill with automatic incline that can easily support an average weight for walking and jogging. It has a lifetime frame and motor warranty which makes me feel like it will be durable over the long haul. Definitely GO to the stores and test them out and see what you feel comfortable on & won't mind looking at in your home. I would also try to find out if there are people who can service a Horizon treadmill near you, if that will ease your mind as it did mine. I am happy with my purchase, which was a large purchase for me, and I will update this review should anything go wrong. Happy treading!

---

I did a lot of research both online and in person before making this purchase. I used Consumer Reports as a source. I also went to several sporting goods stores, etc. and actually tried some out — I found this to be the most valuable information — first-hand. I was unable to try this actual model, but the T101 was available and I actually liked it even better than many of the more expensive models, so I was confident the T202 would be what I was looking for. The size is great — not too big but big enough, has the right amount of horsepower. The speakers are not great, but I use a stereo or headphones with MP3 player, so not a big deal for me. My husband had no problems putting it together — TIPS: make sure to have it in the actual room in which it will be used before putting it together — it will probably not fit through the door afterwards. Also, make sure to read the troubleshooting tips — I have found the negative reviews about being "shocked" to be from improper assembly. For the price, a very good mid-range treadmill. So far, I am very pleased. Finally, I chose this brand/model due to its cushioned deck — it was so much more comfortable that the higher-priced brands/models!
See Individual Horizon Treadmill Reviews