Solid Performance with Interactive Technology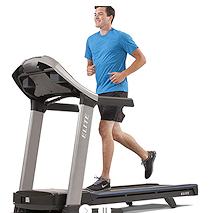 The Horizon Elite T9 treadmill is a slick machine includes several interactive features designed to motivate you towards your fitness goals. The world is becoming interconnected through technology, so why shouldn't your treadmill also be wired to the Internet?  That is exactly what Horizon Fitness did with the Elite T9.
In addition to a beautifully easy-to-use touch screen display, the Horizon Elite T9 is built to a runner's specifications.  It incorporates features that can handle the abuse that comes with constantly running on a treadmill.  You'll find that many budget brands suggest their treadmills are running compatible, but they typically lack the components that can withstand the constant impact of runners.  This is the same company that delivers Vision and Matrix Fitness products.
See below for our team member review at Horizon Fitness
Horizon Elite T9-02 Treadmill Features  |  Should You Buy the Newer Model?
The newly released Elite T9-02 has some changes from the original Elite T9.  It costs $100  more and the main draw is the wider 22×60″ deck surface.  This is a great size upgrade for taller individuals.  Another change on this machine is the display.  Instead of the 10″ color touchscreen on the original, the Elite T9-02 only has an 8.5″ blue backlit LCD.  It also does not have the integrated virtual active programming.  We were a bit disappointed to see this particular downgrade.  You may want to get the T9-02 if deck size is a concern.  Otherwise, we recommend you stick with the better display on the original model for as long as it's available.
Horizon Elite T9 Treadmill Features
2.75 CHP Johnson Drive System Motor – You will generally see treadmills in this price range with larger motors.  However, manufacturers are buying motors from third party sources, and often they fudge on the actual output.  The motors in Horizon treadmills are specifically built for Horizon machines by their parent company, Johnson Fitness.  The motors tend to have larger magnets allowing them to run efficiently at lower RPMs.  This results in the motor running cooler and quieter with a longer lifespan of operation.   The overall drive system is calibrated to track your movements and adjust the speed accordingly, which reduces stress to your joints.
Variable Response Cushioning – Although the name sounds fancy, it is basically the same kind of shock absorption you find on most treadmills.  The Horizon Elite T9 uses rubber grommets known as elastomers.  The deck is designed to absorb the shock as your foot lands at the front of the deck.  The rear of the deck is stiffer, providing a solid lift-off.
20" x 60" Running Surface – The 60" lengthy is standard at this price, although you will find some comparably priced models with a 22" wide surface.
Maintenance–Free Infinity Belt – The underside of the belt on the Elite T9 is impregnated with synthetic hard wax, which eliminates the need to lubricate…ever.  Regular maintenance and lubrication of a treadbelt can be a pain. This belt was tested up to 21,000 miles before the designers were satisfied it would last indefinitely.
10" Full Color Touch Screen Display – The full color is definitely an improvement over LCD displays and is extremely intuitive to use. The display provides feedback for time, distance, incline, speed, pace, calories burned, and heart rate. The addition of the Workout Tracking Calendar allows you to see a record of your past performances. Finally, this display will show videos from Virtual Active (See below).
232 lbs. Product Weight – The combination of the heavy weight and the extra sturdy frame guarantees that the Horizon Elite T9 will provide a solid feel even under the most intense workouts.
15% Incline and 12 mph Speed Settings – This should be plenty of incline and speed to give you a solid workout.
Heart Rate Monitoring – This machine comes with a Polar Wireless Receiver to monitor your heart rate. This is a nice $50 value that provides more accurate heart rate monitoring than the standard hand grips.
Warranty – The coverage is standard for a $2K treadmill: Lifetime motor and frame, 5 years parts, and 2 years labor
Additional features include speakers, fan, bottle holder and reading rack.
Programming and Technology Features
44 Installed Programs – You get a generous 44 installed programs that include: Manual, 9 Calorie, 13 Distance, 4 Interval, 3 Performance, 10 Step, 2 Virtual Active, and 2 Custom. Changing your workout helps to overcome fitness equipment monotony.  It also can increase your performance and calorie burn.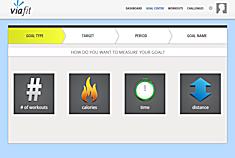 ViaFit – This interactive feature distinguishes Horizon treadmills from the competition.  The Horizon Elite T9 treadmill is equipped with Wi-Fi, and is able to communicate your stats to your ViaFit.com profile.  In addition, with your personal ViaFit account you can define fitness goals like number of workouts, calories burned, amount of time exercising, or total distance.
ViaFit also allows you to import fitness and nutritional stats from other popular apps, giving you a central resource to track data from numerous sources. Studies have shown that those individuals that track their progress are more likely to achieve their fitness goals. In fact, tracking software, particularly on smartphones, is becoming more and more popular as people look for ways to motivate themselves.
It is the ability to converge all your fitness, health and nutritional data into one source that makes ViaFit appealing. Horizon is the only company that offers this unique feature. Best of all, this system is free and does not require a monthly subscription of any kind like similar programs from some of the competitors.
Virtual Active – Obviously, exercising in place can be very boring.  That is why so many people watch TV as they workout.  Horizon offers another alternative, the ability to virtually run some of the most famous landscapes in the world.  Virtual Active was created after runners with head cameras ran through numerous famous locations. You can call up one of these videos and simulate running the very same terrain.  Your speed will trigger the speed of the video and the treadmill's incline will sync with the hills on your screen.  There are several other companies offering a similar technology and they are proving to be popular with users.
See a comparison chart of all Horizon treadmills here.
Our Review – Horizon Elite T9 Treadmill
For those that want a heavy duty running machine, the Horizon Elite T9 has the components and the engineering to handle the abuse.  The Elite T9 integrated system will offer you a rewarding workout that is also forgiving to your joints.  If you need motivation and distraction, the ViaFit and Virtual Active features along with the easy-to-us touch screen display complete the package.
Horizon is known for offering quality machines at a valued price.  With these added technological features, the Horizon Elite T9 treadmill is one of the most appealing treadmills at the $2,000 price range.  You may also want to check out the Horizon Elite T7 for $400 in savings.  You will be sacrificing the 10″ touchscreen with this lower model.
However, Johnson has some pricing challenges to overcome as currently there are better values such as the NordicTrack 1750 which is similarly equipped and sells for hundreds less. Keep in mind the NordicTrack Commercial 1750 does not offer the infinity belt.
Visit the manufacturer to learn more at HorizonFitness.com.