Horizon Elite T7-02 Treadmill Review & Rating
| | |
| --- | --- |
| Brand: | Horizon |
| Expert Rating: | |
The Horizon Elite T7-02 Treadmill is On Sale!
A Solid Record of Customer Satisfaction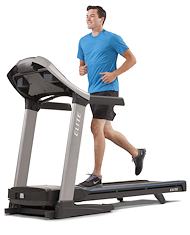 The quality that we had come to know and love from the Horizon Elite T7 has now been passed on to the upgraded Elite T7-02.  It offers some significant upgrades from its predecessor, including a larger 3.0 CHP motor. This model is designed to accommodate walkers, joggers and runners and is a great value at $1599.
Our team visited the North American headquarters of Johnson Fitness, the parent company, and were impressed with their focus on innovation, quality control and attention to their customers.  This is the same company that also makes Vision Fitness and Matrix Fitness treadmills.
Horizon Elite T7-02 Treadmill Features and Technology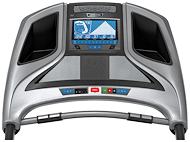 60" x 20" Running Area – The length and width is ideal for all types of users.  The deck is long enough to handle the stride lengths of a runner, particularly if you are doing interval training
3.0 CHP Johnson Drive System Motor – You may notice that motors on comparably priced treadmills are slightly larger.  However, the motor for the Horizon Elite T7-02 treadmill was built specifically by Johnson Fitness for this machine, and not purchased by a third party.   Johnson Fitness builds high-quality motors that utilize a larger magnet and run at lower RPMs, which results in the motor being cooler and making less noise.  Note:  The Horizon Elite T7-02 has a 3.0 CHP motor for $100 more.  Otherwise, the two machines are the same.
ViaFit – The Horizon Elite T7-02 treadmill is Wi-Fi ready, and is able to upload your stats to your personalized online ViaFit account. This allows you to track your progress towards goals, share results through social media, and integrate with other fitness and nutrition apps on your smart device. In addition, with the ViaFit account, you can define fitness goals like calories burned, total exercise time, total distance, and number of workouts.  In the process, you can track your overall progress towards your goals, which is a proven method in achieving success.
ViaFit can import fitness and nutritional stats from other popular apps, giving you a central resource to track data from numerous apps. The X-Capture technology allows you to take a photo and import any statistics on an unfamiliar machine or smart watch device so that all of your data is stored in one place. This entire ViaFit app and account is provided for FREE, a great value compared to similar platforms from the competition.
See below for our team member review taken at Horizon Fitness in Wisconsin
Other features on the Horizon Elite T7-02 include:
Passport – Passport lets you simulate running outdoors through interactive videos.  There are a number of courses through famous parks and city-scapes.  As you walk or run through a hilly terrain, the treadmill's speed and incline syncs with the progress of the video.  You need to buy the box and cables in order to display the videos on your TV.
236 Lbs Unit Weight – This weight is comparable to some commercial treadmills.  The result is the machine will be rock solid with even the more aggressive users.
42 Pre-Installed Programs – You get a wide variety of installed programs that are focused on different fitness goals and exercise strategies.  They include Manual, 9 Calorie, 12 Distance, 4 Interval, 3 Performance, 10 Step, and 2 Custom.  The numerous choices are for those that like variety in their exercise routine.
Display – The display on this machine is an 8.5" Extra-Wide Blue Backlit LCD.
Incline and Speed – The incline on this machine goes up to 15% for a great muscle-burning workout. The speed ranges from 0-12 mph.
Variable Response Cushioning – Horizon Fitness gives their shock absorption a fancy name for their Elite T7-02 treadmill, however, it is rather standard in the industry.  The deck is designed to absorb more impact towards the front of the deck where your foot lands.  It is more solid towards the back where you push off.  This deck surface is a vast improvement in shock absorption compared to running outdoors.
Folding Mechanism – The Elite T7-02 has hydraulics under the deck that make the lifting or dropping of the deck effortless. We like that the machine descends slowly when released to avoid any safety issues.
Maintenance Free Belt – The Infinity Belt is impregnated with synthetic hard wax making it maintenance free. Occasional lubricating is not required. The folks at Johnson Fitness shared that they tested this belt up to 21,000 miles with no issues. Eventually, they just stopped testing it for time's sake.
Heart Rate Monitoring – The Horizon Elite T7-02 comes with a Polar Wireless Receiver that can be strapped around your chest for continual heart rate monitoring. This is a nice $50 value that comes along with the machine. If you prefer, there are also standard hand grips to use.
Fan, Speakers, MP3 Input, Bottle Holder and Reading Rack – All fairly standard features on treadmills these days.
Warranty – The lifetime frame and motor and 5-year parts and cushioning is standard for this price range.  The 1-year labor is sub-par, although Horizon treadmills have a reputation for being low maintenance.
Our Review – Horizon Elite T7-02 Treadmill
The Horizon Fitness Elite T7-02 treadmills does an excellent job of combining quality components and engineering with innovative motivational technology.   The Elite T7-02 will provide a rewarding workout that will be easy on your joints.
There are three reasons why the Horizon Elite T7-02 is one of the best values in its price range.
Johnson Fitness is known for building low maintenance treadmills.
Their customer service is second to none.
Features like ViaFit and Passport will help you achieve your fitness goals and take the boredom out of running in place.
Overall, the Horizon Elite T7-02 is a sweet deal!  You may also want to check out the Horizon Elite T9-02 for around $400 more.  It comes with a 10″ touchscreen and more programming features. Or, check out the Horizon Elite T5 for one step down in specs.  Either way, you'll get a great machine from Horizon.  (Did we mention that we really like this company?)
To learn more about the Horizon Elite T7-02, check out HorizonFitness.com.