(Last Updated On: August 29, 2017)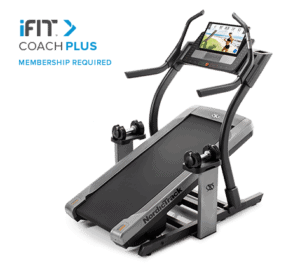 It can be hard at times to look past all of the fancy advertising and hype to decide if a treadmill model is truly a good fit.  We're going to take an up close look at the features on NordicTrack Incline Trainers to see if these machines are right for you.
NordicTrack recently released the x22i Incline Trainer, their latest model in a popular line-up of Incline Trainers.  These machines have some unique features that you may find attractive over a regular treadmill.  Let's take a look at some of the top benefits available.

Benefit #1:  You'll get an effective workout while just walking.
The incline trainers are specifically designed to provide a butt-busting workout while only walking.  By increasing the incline to 10, 20, 30, or even 40 percent, you will drastically increase the effort needed to maintain your walking speed.  This equates to an extremely effective workout without running a step.  NordicTrack advertises that you can burn 5-times the calories using their machine.  This claim is backed up by their celebrity spokesperson, Jillian Michaels.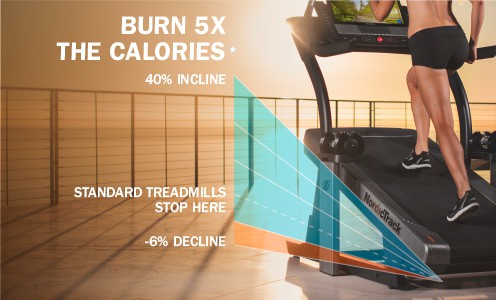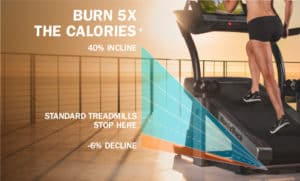 This walking workout will be especially helpful for anyone who already has or is trying to avoid knee, hip, and joint issues.  The workout will be low impact, yet work a wide variety of muscles in your lower body.  Our team has tested these machines and we can vouch for the effectiveness of the workout.  You'll be sweating bullets within minutes!
Benefit #2:  Train with Jillian Michaels.
iFit Live is a pretty amazing system available on all Icon Fitness products (including both NordicTrack and ProForm).  You will be able to choose from a variety of weight loss programs that Jillian helped create.  These programs will let you work up to a 5K, 10K, half, or even full marathon.  A different workout every day will keep your exercise sessions interesting.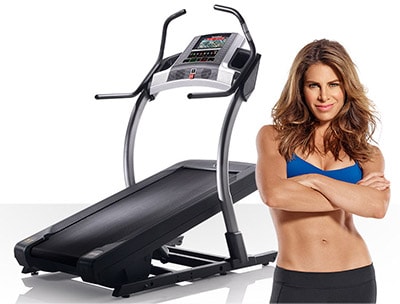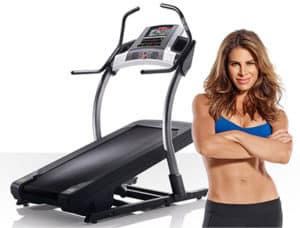 Plus, you can enter in specific routes through Google Maps and walk your way through exotic locations around the world.  Your incline trainer will sync to the terrain's actual hills.  You'll experience all of the up and down hills (because this machine declines too!)
If you are looking for some guidance and professional help in your workouts, then the iFit programs with Jillian Michaels will help guide you towards your goals.
Benefit #3:  You can run on this machine if you want to!
Oftentimes, more than one person in a home is going to use an exercise machine.  That is why it's good to know that the Incline Trainers are perfectly capable of acting like regular running treadmills.
While the Incline Trainers are focused more on walking sessions, there is absolutely no reason you couldn't run on these machines.  The decks on the Incline Trainers are a spacious 22×60 inches which will work for tall runners over 6-foot.  Reflex cushioning will protect your joints and you can exercise at a max speed of 12 MPH.  Plus, the motors all come with a lifetime warranty, so you don't need to worry about overdoing it.  The weight limit on these machines varies between 300 and 350 lbs. depending on your chosen model.

Benefit #4:  Choose the level of machine that is best for you.
As we mentioned before, the x22i is the latest model in a line-up of extremely popular machines varying in tech features and price.  Right now, the prices on these machines range from $1,499 up to $3,499.  Of course, prices change daily, so you'll need to check our reviews for the latest deals.  We like that there are so many options for people to enjoy an incline trainer workout.

If you are looking for something lower-priced, you will be happy with the basic 7" backlit display and 2.75 CHP motor on the x7i.  This machine has -3% to 40% incline, 38 built in workouts, and all iFit programs.  Take one step up to the x9i if you like the idea of a 7" Smart HD Touchscreen, 44 programs, and a 3.0 CHP motor.  Or, check out the x11i with a humongous 4.25 CHP motor and 10" Smart HD touchscreen.  Finally, get the best of them all with the x22i.  Enjoy a stunning 22" Smart HD Touchscreen mounted directly on your machine along with customized weights to use while you exercise.
Sales vary from day to day, so check out our reviews for the latest deals:
NordicTrack x7i Incline Trainer
NordicTrack x9i Incline Trainer
NordicTrack X11i Incline Trainer
NordicTrack X22i Incline Trainer
Benefit #5:  Enjoy on board entertainment!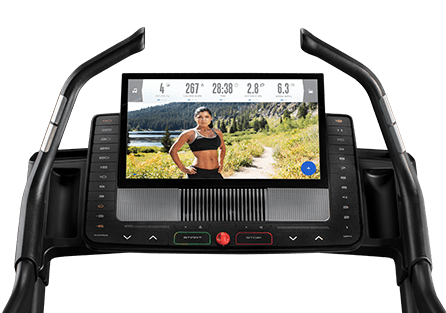 The Incline Trainers from NordicTrack all come with iPod compatibility so you can jam out to your favorite tunes while you exercise.  Three of the models come with tablet holders to link your smart device while the x22i model sports an impressive 22" smart HD screen for viewing email or Facebook.
If you want to stay more focused on your exercise, you can take full advantage of the features available from iFit.  Join online competitions and track your progress on the leaderboard rankings.  Or, study your online profile with automatic tracking to see your miles, calories burned, and more through various mobile apps.  If you have a smart TV, you can download the iFit app and view your running course on your TV's larger screen.
The NordicTrack Incline Trainers are fantastic machines that provide uniquely effective workouts.  Remember that all NordicTrack machines include free shipping, 12-month special financing, and a 30-day money back guarantee.  Each of the machines also has a lifetime warranty on frame, motor, and deck along with a 5-6 year warranty on parts and electronics and a 2-3 year warranty on labor.   This means you can purchase your incline trainer with peace of mind.
So if you are looking for a machine that provides:
A low-impact and effective workout
Professional level training programs
On board entertainment
Running options
Provides budget flexibility
…then YES, a NordicTrack Incline Trainer is right for you!