NordicTrack x7i Incline Trainer Review
| | |
| --- | --- |
| Brand: | NordicTrack |
| Expert Rating: | |
Used on TV Show "The Biggest Loser"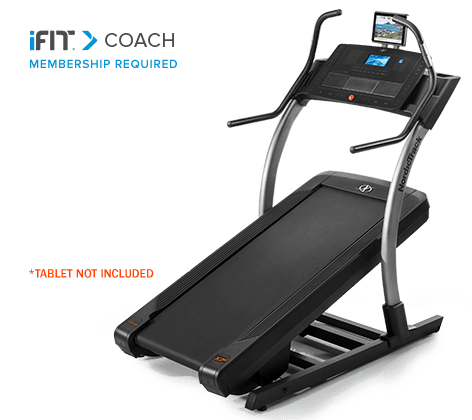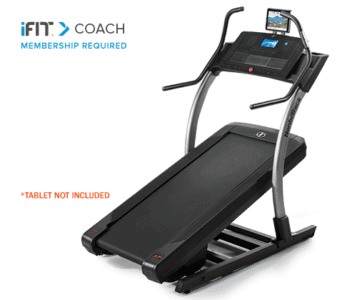 The NordicTrack X7i was the entry model of their popular incline trainer series.  This model has since been permanently discontinued.  You may want to check out the popular x22i Incline Trainer instead.  The incline trainers have received notoriety from their exposure on the realty TV show "The Biggest Loser".  Excessively overweight individuals use them to burn calories under the instructions of Jillian Michaels.
I consider the incline trainer to be primarily a walking machine.  It can be used for running, hospital but the positioning of the console and the limited length of the belt makes it better for walking.  Now you might think that jogging or running is a more efficient method for losing weight.  However, with the NordicTrack X7i you can crank the incline up to 40%, and if you have ever hiked a steep hill or mountain you know how strenuous that can be.
Below are stats that show the benefits of incline training when walking at 2 mph for 20 minutes at various degrees.
| Incline | Extra Calories Burned |
| --- | --- |
| 0 degrees | 74 Cals |
| 10 degrees | 155 Cals |
| 20 degrees | 236 Cals |
| 30 degrees | 317 Cals |
| 40 degrees | 398 Cals |
In addition to providing an intense workout, the incline trainer is less stressful to your joints since you are walking and not running.  When you run you apply as much as 2.5 times you body weight during the impact of your foot hitting the surface.  That is abusive to your joints.  With walking there is less impact, and with the incline trainer the deck is angled to meet your step and further reduce stress.
NordicTrack X7i Incline Trainer Features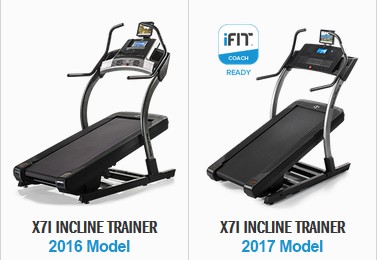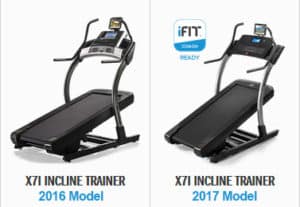 40% Incline — I'm a runner, but whenever I am on a treadmill I like to crank up the incline, walk and sweat bullets.  Treadmills max out at 15%. The NordicTrack X7i lets you increase the incline to 40%.  Most of you won't be able to sustain your workout at 40%, but even at 20% or 25% you'll feel like you are hiking up the Himalayans.
3% Decline — You can simulate going up and down hills.  The advantage is you work different lower muscles when you stride up and down inclines and declines.
22″ x 60″ Treadbelt — You get a long 60″ length that can accommodate long strides. The 22″ width provides an extra wide comfort zone when walking on the Incline Trainer.
iFit Live Compatible — At an additional cost you can make the X7i interactive with iFit.com and Google Maps.  Through iFit.com you define your profile and set your fitness goals and iFit live will download personal workout that control the speed and incline of the machine.  You also will get audio coaching from fitness professionals like Jillian Michaels. There are a number of additional interactive program through iFit.com that can assist you in reaching your fitness goals.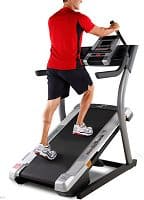 In addition to customized workouts iFit Live can interact with Google Maps.  You can defines routes on Google Maps and the NordicTrack X7i will simulate the terrain by increasing or decreasing the incline.  I have no idea how they do that, but it is a cool concept.  You can visual the route through Google Maps either by a map, street or satellite view through the use of a laptop or tablet.
Speakers and MP3 Input — If all you want to do is exercise to your favorite tunes, the Xi incline trainer has built-in speakers and the ability to plug-in your iPod or MP3 player.  The sound is not bad considering.
"Snap Assembly" —NordicTrack claims that the X7i requires half the time to assemble. I cannot confirm that, but typically it takes up to 2 hours to put together a treadmill, so any simplification will be appreciated.
2.75″ Rollers — The larger the rollers the better. Large rollers can decrease the noise level, and reduces wear and tear to the belt, motor and bearings.
Our Review – NordicTrack X7i Incline Trainer
I've been on the NordicTrack Incline Trainers and they offer a number of benefits…
They are solid and stable machines.
They provide an intense workout.
They lessen the impact to your joints.
Overall, the design is a winning concept, and that is why their various models are so popular.  Of course, their exposure on "The Biggest Loser" helps.
The additional features found on the X7i include the 3% decline, iFit Live compatibility, extra wide treadbelt and the snap assembly.  These are the features that justify the premium cost.  Is it worth it? If you feel these add-ons will further motivate you to attain your fitness goals, then it is worth every penny.
The NordicTrack X7i incline trainer offers a low impact and efficient way to burn calories and get in shape. In addition, it has some of the most intriguing motivational features found on any fitness equipment. This treadmill is one of my personal favorites.