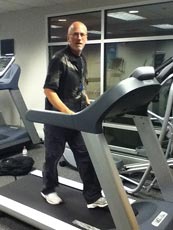 Selecting the right treadmill for your fitness goals that is within your budget can be a daunting task. Prices range from a couple of hundred to thousands of dollars. Some treadmills are built like toys, while others are commercial grade. How do you determine which is the best value?
What you need is professional advice!
I've been working in the fitness equipment industry for over 18 years and previously was VP of marketing for a fitness equipment company. Reviewing fitness equipment is my full-time job and has been for a number of years. I am known throughout the industry, and in fact my advice is often sought after by fitness equipment manufacturers.
In contrast, most treadmill rating sites are authored by individuals who have no experience in the industry and no relationship with the companies that build the products. They basically rehash the information found on the manufacturer's web sites. In fact, most have never been on the treadmills they review!!!
My reviews are based on testing the equipment, talking to fitness equipment professionals, customer feedback and visiting treadmill manufacturer. (Note: I recently visited the NordicTrack, ProForm and Sole Fitness headquarters and have updated their product reviews.)
To help you find the perfect treadmill I offer the following...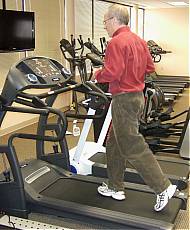 Treadmill "Best Buy" Reviews — These are the models that offer the very best value in their price range.
Over 100 Treadmills Reviewed — Each review discusses the pros and cons of a particular model. You'll not only get detailed information about the treadmill features, but you will also be able to determine if a specific model is right for your fitness goals.
Treadmill Buyer's Guide — The best kind of consumer is an educated consumer. With my Buyer's Guide you will learn about the features that comprise a treadmill and what you should consider when making a purchase.
Over the years I've helped thousands of people select the right treadmill through my reviews and recommendations. Like so many others, I hope I can assist you in your quest for a healthy and fit life.
With Regards,
Fred Waters
Readers Comments...
"THANK YOU, THANK YOU, THANK YOU for your wonderful website. I am a professional researcher, and can honestly say that I have found your site to be the best for reviews of fitness equipment. I have been researching treadmills for weeks now and would not have been able to successfully narrow my search to the extent that I have without the information you provide."

"Your insight's have been PRICELESS!"

"I find your reviews honest and right on target."

"Many thanks for your excellent reviews. My wife and I are contemplating buying some fitness equipment and your reviews are God sent. Keep doing the great job."

"As someone who works in the fitness industry, I wanted to say thanks for providing quality knowledgeable reviews about treadmills."

"Thank you for all of the wonderful information and recommendations on treadmills. It has saved us countless hours of research and trips to sporting goods stores."

"You are a rock star Fred, thanks for your incredible thoroughness and customer service. I am grateful for your website in the first place, and your extra effort on my behalf."

"Thanks for everything. Couldn't have made this decision without your site."

"What a great a web site for treadmill consumers. I have been doing research on a high quality treadmill for my home. Found your treadmill rating site to be very thorough and informative."

"I really appreciated your treadmill reviews and recommendations. It was the main basis for my decision."

"LOVE your website, a fabulous resource as we attempt to determine which treadmill to purchase for a long-term investment."

"Thanks for all you do and the very helpful information you have provided for on line reference. It was of great assistance when shopping for our new treadmill and much appreciated."

"Thank you for providing such a comprehensive site for fitness equipment reviews and recommendations.
In addition to my treadmill reviews, I also have a site devoted to elliptical trainer reviews at www.Fitness-Equipment-Source.com. If you are looking for a low impact workout that also exercises your upper body, an elliptical trainer is the ideal machine.