Treadmill Reviews

There's no reason to wait!  The best prices and deals are available now from our top recommended brands.
---
Treadmill Reviews by Industry Experts
You just decided to purchase a treadmill to improve your health and overall fitness.  The next challenge is choosing the right machine for your body and budget.
Treadmills vary in price from $500 to $6,000 with quality ranging from outstanding to near pathetic.  This site will help you navigate the many options with video reviews, feature explanations, and behind-the-scene impressions gained during our factory visits.  Our team includes industry experts who have personally tested the treadmills, visited the companies, and can help you avoid a costly bad decision.
Reader Testimonial:  "Many thanks for your excellent reviews. My wife and I are contemplating buying some fitness equipment and your reviews are God sent. Keep doing the great job.(read more testimonials below)
---
Runner-up: $1,000 - $1,499
Sole is known for producing  durable machines that are equipped with the necessities to get the job done. We recently visited Sole North American headquarters and one of the designers told us Sole invest in producing the highest quality treadmills at the lowest cost.  He indicated they tend to focus on durable belts, rollers, bearings and providing customers with an awesome workout experience.  In our opinion, their emphasis seems to be more on what a treadmill is designed for (walking and running) and less on breakable distractions such as touch screen displays.  For an in depth analysis on the
Sole F80
, click here or you may also visit
Sole's website
to learn more.
---
Price Range: $1,000 - $1,499
If you're sick of staring at blank walls during your indoor workouts, you should consider the innovative features of iFit Live available on the NordicTrack 1750. This machine allows you to download workouts from trainers like Jillian Michaels, track your progress online, and simulate exciting outdoor courses (hills and all!) using Google Maps. On top of that, the NordicTrack 1750 has some impressive specs including a 3.5 HP motor, a spacious 22"x 60" treadbelt, sound system, color touch screen display, and a 5-year parts / 2-year labor warranty. These are some pretty hefty specs considering this price range! Click the link above to read our full review or visit
www.NordicTrack.com
to learn more.
---
Runner-up: $1,500 - $1,999
The NordicTrack X9i Incline Trainer offers a unique concept for a cardio machine. Although you can run on it, it is primarily designed to walk at extreme inclines, like hiking a mountain. You can incline up to 40%, and to simulate going up and down hills you can decline to 6%. The advantages are you get an intense cardio burn, plus there is less shock and impact to your body because you are walking. The NordicTrack X9i Incline Traienr comes with an extra long 62" belt, and you get a 10" Android browser that also lets you access the Internet. Read our full
review here
as this is one of NordicTracks hottest sellers. Also visit the manufacturer site at
www.NordicTrack.com
to learn more.
---
Price Range: $1,500 - $1,999
When you step onto this machine, you will fall in love. The Sole F85 Treadmill is one of the absolute best machines you can get for under $2,000. Features include Bluetooth capability for tracking fitness stats, 22" extra wide treadbelt with super-comfy shock absorption, and one of the most impressive warranties we've seen. Sole is perhaps the ONLY company that backs their equipment with 2 years labor (most manufacturers simply mail you a replacement part and you have to figure it out, Yikes!). This is a fantastic treadmill for a serious runner...In fact, you will find Sole treadmills in most Hilton hotels which speaks of the durability. Read our complete
Review Here
and take our advice: "This treadmill is definitely the one I would buy!" Also, visit the manufacturer at
SoleTreadmills.com
to learn more.
---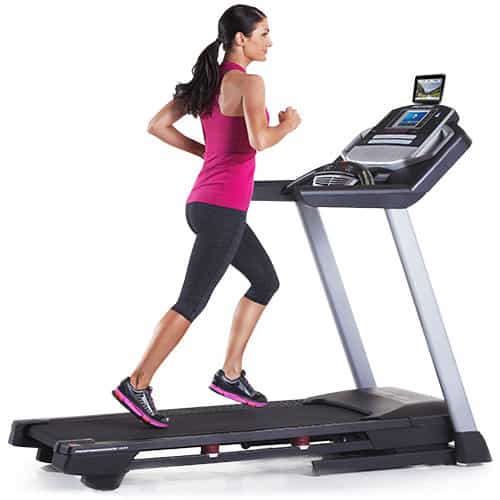 Price Range: $700 - $999
The ProForm Premier 900 is one of our newer Best Buy recommendations in the budget category. ProForm has long produced outstanding treadmills, and recent quality enhancements have elevated this budget model treadmill into the Best Buy ranks. We are still scratching our heads trying to figure out how they offer a touch screen display for less than $1,000...Awesome Value. This is a folding machine from a large company that offers personalized customer service and a strong commitment to quality. Read our full
Review here
as the ProForm Premier 900 has our "thumbs up" Best Buy rating for the budget treadmill category. Also, visit the manufacturer at
www.ProFormcom/Treadmills
 to learn more.
---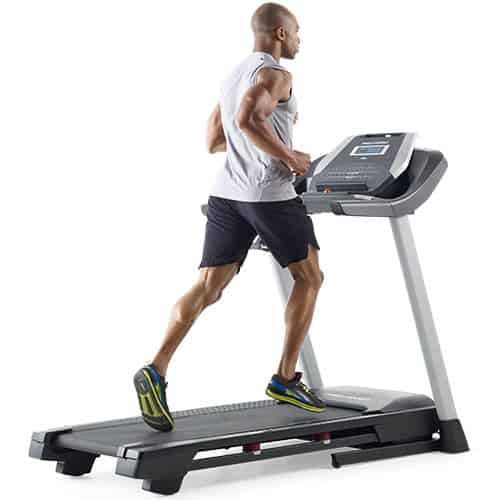 Price Range: $200 - $699
The ProForm ZT6 is our top recommendation for those on a limited budget. This machine is priced around $599 and is suitable for walkers and light joggers. ProForm is made by one of the world's largest fitness equipment manufacturers so they can offer more value for fewer bucks. This company is impressive to say the least. Read our full
Review Here
and learn how ProForm is one of the better values in the industry. They build smooth operating and low maintenance machines. Best of all, ProForm doesn't sacrifice quality with their lower-level models and provides impeccable customer service. Visit the manufacturer at
www.ProForm.com
to learn more.
---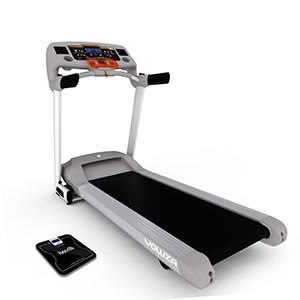 Price Range: $2,000 - $2,499
Our team recently had the chance to visit the headquarters of Yowza Fitness near Fort Myers, Florida. We spent two full days learning about the products and testing the machines and came away thoroughly impressed. Those Yowza folks know what they are doing! They create machines of the highest quality and the Daytona Plus Treadmill is the perfect example of smart design and quality that lasts. Read our complete
Review Here
as the Daytona Plus features Swing Arm Suspension which is extremely comfortable variable response cushioning, and a solid 5- year warranty. Did we mention motion control sensors, Boom! Also, visit the manufacturer at
YowzaFitness.com
to learn more!
---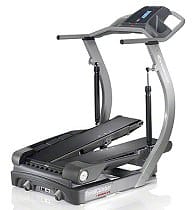 Price Range: $2,500 - $2,999
One of our team members actually has a Bowflex in her home gym and absolutely loves it. Bowflex has created a unique machine in that it's a combination of a treadmill, stair climber and an elliptical trainer. You can crank up the incline and burn more calories with less impact in comparison to a treadmill and ultimately have a workout equal to the intensity of running, all while walking. Bowflex is known for their innovative designs and high remarks in customer satisfaction and service which is why we included this machine in our "Best Buy" recommendation in this pricing category. Read our full
Review Here
or shop now using the 
Bowflex TreadClimber TC20 Bowflex Catalog
---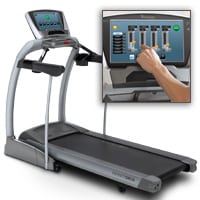 Price Range: $3,000+
If you liked the TF20, you can take the awesomeness one step further with the Vision T40. This machine is built with commercial grade components that provide incredible durability. Just look at the 7-year parts warranty to see how low maintenance this machine is expected to be. The T40 was designed with ergonomic and biomechanical features that give it one of the most rewarding treadmill workouts in the industry. Read our complete
Review Here
as after testing this machine, our team member reported, "the shock absorption is exceptional." The touch screen is a smart investment for the price range as it provides additional ease-of-use. Visit the manufacturer's website at
HorizonFitness.com 
to learn more!
---
How We Determine Our Treadmill Reviews and Ratings
It's our mission to create treadmill reviews that help YOU find the Best Treadmill.
Our site is different from other review sites because we actually visit the treadmill companies and try out the machines.  Plus, our team includes experts with over 18 years in the industry.  Most other review sites simply rehash the standard information found on company websites without ever running a step.  All of our reviews are based on the following:
Interviews with Manufacturers — We travel across the country to talk with company owners, product managers, and see customer service reps face-to-face.  We also personally test the machines!  We know details you would never find on a manufacturer's website.
Visits to Fitness Equipment Stores — We talk with the people who sell and repair treadmills. These professionals are an important resource in determining which treadmills offer the most value for your money.
Customer Reviews — We keep in regular contact with treadmill customers to learn how the machines are performing during real-life use.
It is our hope that this site helps you find the perfect treadmill to match your body and budget!
Looking for an elliptical?
Visit our elliptical site for in depth reviews at Fitness-Equipment-Source.com

Customer Testimonials:
"LOVE your website, a fabulous resource as we attempt to determine which treadmill to purchase for a long-term investment."
"THANK YOU, THANK YOU, THANK YOU for your wonderful website. I am a professional researcher, and can honestly say that I have found your site to be the best for reviews of fitness equipment. I have been researching treadmills for weeks now and would not have been able to successfully narrow my search to the extent that I have without the information you provide."
"Your insight's have been PRICELESS!"
"I find your reviews honest and right on target."
"As someone who works in the fitness industry, I wanted to say thanks for providing quality knowledgeable reviews about treadmills."
"Thank you for all of the wonderful information and recommendations on treadmills. It has saved us countless hours of research and trips to sporting goods stores."
"You are a rock star Brad, thanks for your incredible thoroughness and customer service. I am grateful for your website in the first place, and your extra effort on my behalf."
"Thanks for everything. Couldn't have made this decision without your site."
"What a great a web site for treadmill consumers. I have been doing research on a high quality treadmill for my home. Found your treadmill rating site to be very thorough and informative."
"I really appreciated your treadmill reviews and recommendations. It was the main basis for my decision."
"Thanks for all you do and the very helpful information you have provided for on line reference. It was of great assistance when shopping for our new treadmill and much appreciated."
"Thank you for providing such a comprehensive site for fitness equipment reviews and recommendations.
"Your advice and website have given me the confidence to know I am making a good decision and spending my money wisely. Again, many thanks!"
"Thank you for the quick response and for the invaluable service you provide to the exercise equipment industry. I feel more confident in making this purchase now."
"Your treadmill site is a real find on an internet increasing crowded with junk websites whose only virtue is that they are search-engine-optimized."
"What a great a web site for consumers. Have been doing research on high quality treadmills for my home. Found your site to be very thorough and informative—"
"Thank you for this site, it has saved us frustrations."
"I just wanted to let you know your website is very helpful. It's very tough to figure out the best treadmill to buy once you start searching and I was very happy to come across your site. Made the frustration go away and now I'm off to get a treadmill."
"I really appreciated your website. It was the main basis for my decision."
" I am in the market for a treadmill – and your reviews have been a great assistance in my selection process. Thanks for the great site!!! "
"I was reading your website and found it very informative."
"Thank you very much for your reviews. They helped me immensely as I narrowed down the search for a treadmill."
"I have recently started running and I am in the market for a treadmill. There are way too many choices/options for me to make an informed decision, however your web site is proving helpful in narrowing the field."