---
Treadmill Reviews
Treadmill Reviews by Industry Experts
Congratulations!  You just decided to purchase a treadmill to improve your health and overall fitness.  The next challenge is choosing the right machine for your body and budget.
Treadmills vary in price from $500 to $6,000 with quality ranging from outstanding to near pathetic.  This site will help you navigate the many options with video reviews, feature explanations, and behind-the-scene impressions gained during our factory visits.  Our team includes industry experts who have personally tested the treadmills, visited the companies, and can help you avoid a costly bad decision.
---
Price Range: $1,000 - $1,499
If you're sick of staring at blank walls during your indoor workouts, you should consider the innovative features of iFit Live available on the NordicTrack 1750. This machine allows you to download workouts from trainers like Jillian Michaels, track your progress online, and simulate exciting outdoor courses (hills and all!) using Google Maps. On top of that, the NordicTrack 1750 has some impressive specs including a 3.5 HP motor, a spacious 22"x 60" treadbelt, sound system, color touch screen display, and a 5-year parts / 2-year labor warranty. These are some pretty hefty specs considering this price range! Read our full
review here
or visit
www.NordicTrack.com
to learn more.
---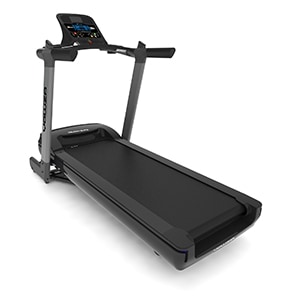 Runner-up: $1,000 - $1,499
The Yowza Delray Grande is a solid performer with an impressive service record. This machine features a hefty 260 lb overall weight that will provide stability for constant running. It also has a nicely sized 20 x 60" running surface, a 3.25 HP motor, sound system, wireless heart rate control, and a 5-year parts/2-year labor warranty. The Delray Grande comes from a company with exceptionally high ratings for customer service from Consumer Affairs. What more could you ask for? Read our full
Review Here
or visit the manufacturer at 
www.YowzaFitness.com/Treadmills
 to learn more.
---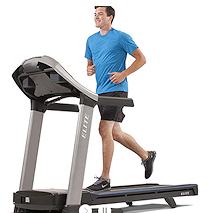 Price Range: $1,500 - $1,999
When team member Rachael stepped onto this machine, she fell in love. The Horizon Elite T9 is one of the absolute best machines you can get for under $2,000. Features include a full color touch screen, 60" long treadbelt with super-comfy variable response cushioning, ViaFit, Virtual Active, and a maintenance free 'infinity belt.' And yes, we actually said maintenance free! This belt was tested up to 21,000 miles before the testers got bored and moved on. This is a fantastic treadmill for a serious runner. It is created by Horizon Fitness, who are well known for their responsive customer service and quality machines. Take Rachael's advice: "This treadmill is definitely the one I would buy!" Read our complete
Review Here
or visit the manufacturer at
HorizonFitness.com
---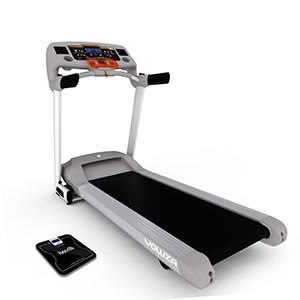 Price Range: $2,000 - $2,499
The Daytona Plus from Yowza Fitness made our Best Buy list because of its patented swing arm shock absorption and sweet motion control feature. Instead of punching buttons, this machine will speed up or down with the simple wave of your hand over a sensor on the handrail. After personally testing this machine, we feel confident in placing it on our Best Buy list for around $2,000. With the impressive Yowza Fitness customer service record, you can't go wrong with this purchase. Read our
Review Here
or visit the manufacturer at 
www.YowzaFitness.com/Treadmills
to learn more.
---
Price Range: $2,500 - $2,999
Our team recently had the chance to visit the headquarters of Vision Fitness near Madison, Wisconsin (They also make Horizon Fitness machines). We spent two full days learning about the products and testing the machines and came away thoroughly impressed. Those Johnson folks know what they are doing! They create machines of the highest quality and the Vision TF20 Folding Treadmill is the perfect example of smart design and quality that lasts. The TF20 features an 'Infinity Deck', feather-light folding, extremely comfortable variable response cushioning, and a solid 5- year warranty. This commercial-grade treadmill will last you a lifetime. Read our complete
Review Here
or visit the manufacturer at
HorizonFitness.com
---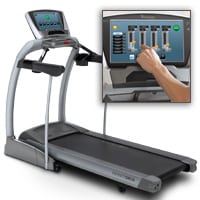 Price Range: $3,000+
If you liked the TF20, you can take the awesomeness one step further with the Vision T40. This machine is built with commercial grade components that provide incredible durability. Just look at the 7-year parts warranty to see how low maintenance this machine is expected to be. The T40 was designed with ergonomic and biomechanical features that give it one of the most rewarding treadmill workouts in the industry. After testing this machine, our team member reported, "the shock absorption is exceptional." The touch screen is a smart investment for the price range as it provides additional ease-of-use. Read our complete
Review Here
or visit the manufacturer's website at
HorizonFitness.com 
---
Price Range: $200 - $699
The Horizon T101 is our top recommendation for those on a limited budget. This machine is priced around $699 and is suitable for walkers and light joggers. Horizon is made by one of the world's largest fitness equipment manufacturers so they can offer more value for fewer bucks. This company is impressive to say the least. They manufacture all of their own parts instead of using third-party components, which result in silky smooth operation and low maintenance machines. Best of all, Horizon doesn't sacrifice quality with their lower-level models and provides impeccable customer service. Read our full
Review Here
or visit the manufacturer at
HorizonFitness.com
.
---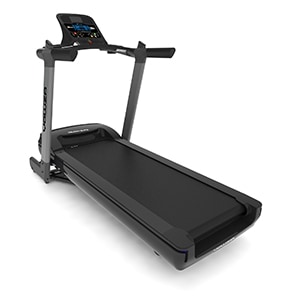 Price Range: $700 - $999
The Yowza Delray is one of our newer Best Buy recommendations in the budget category. This company has long produced outstanding ellipticals, and recent quality enhancements have elevated this budget model treadmill into the Best Buy ranks. This is a non-folding machine from a smaller company that offers personalized customer service, a strong commitment to quality, and a true price-slashing 'factory direct' selling platform. The Yowza Delray has our "thumbs up" Best Buy rating for the budget treadmill category. Read our
Review here
or Go to
www.YowzaFitness.com/Treadmills
 to learn more.
---
How We Determine Our Treadmill Reviews and Ratings
It's our mission to create treadmill reviews that help YOU find the Best Treadmill.
Our site is different from other review sites because we actually visit the treadmill companies and try out the machines.  Plus, our team includes experts with over 18 years in the industry.  Most other review sites simply rehash the standard information found on company websites without ever running a step.  All of our reviews are based on the following:
Interviews with Manufacturers — We travel across the country to talk with company owners, product managers, and see customer service reps face-to-face.  We also personally test the machines!  We know details you would never find on a manufacturer's website.
Visits to Fitness Equipment Stores — We talk with the people who sell and repair treadmills. These professionals are an important resource in determining which treadmills offer the most value for your money.
Customer Reviews — We keep in regular contact with treadmill customers to learn how the machines are performing during real-life use.
It is our hope that this site helps you find the perfect treadmill to match your body and budget!