(Last Updated On: July 1, 2023)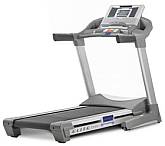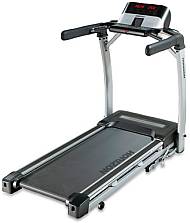 The two major players in the budget treadmill face off are ProForm and Horizon. You'll find many of their models at many of the large sporting goods stores and at the big name retailers.
ProForm is built by Icon Fitness, the largest seller of fitness equipment in the world. They also manufacture NordicTrack, Welso, Image, Epic and Reebok.
Buying treadmills is a major home fitness investment. You'll need to consider your budget and living space when choosing a model. You'll also want to determine your specific exercise plans, which will influence the levels of speed and incline you may require.
If you're shopping for a high-capacity treadmill that has all the bells and whistles, ProForm is an excellent choice. This brand's models have received excellent customer reviews and are highly regarded by treadmill experts for their quality construction and top-of-the-line specifications.
ProForm is one of the more affordable brands on the market. You can expect to pay anywhere from $500 to $1700 for a top-of-the-line ProForm treadmill. However, it's important to remember that treadmill prices vary depending on features and functionality.
Some of the highest-rated ProForm treadmills include the Pro 9000, which has a 22-inch HD touchscreen and iFit membership, which includes live-streamed workout classes and on-demand personal trainers. This model has an impressive maximum speed of 12 miles per hour, which is enough for most runners to keep up with a 10K run (6.1 miles) without straining their legs.
The ProForm Crosswalk has scissor type arms that allow users to do upper body exercises while running or walking on the treadmill. This feature is unique to this model and helps the user burn more calories and tone muscles in their arms, shoulders, and back. The Pro 9000 is also built with ReBound cushioning, which provides a softer, more comfortable landing when you walk or run on the treadmill.
Horizon treadmills are built by Johnson Health Technology, which also builds Vision Fitness and Matrix Fitness equipment. Both brands sell in the $500-$1,200 price range.
So which builds a better treadmill?
It depends on the model and the current sales? Both ProForm and Horizon price their treadmills aggressively, and you will find drastic changes in the prices from one week to the next. That said, ProForm has some advantages due to the size of their parent company. As mentioned, Icon Fitness (now referred to as IFIT) is the largest fitness equipment manufacturer in the world. They are not only #1, but are #1 by a considerable margin.
Which company builds a better treadmill
Proform and Horizon are both highly prised treadmill brands that you will find in the $500-$1,200 price range. Both treadmill brands usally change their price very frequently, it all depends on the current market conditions and their sales policy. Proform however has more advantage because of its parent company, Icon Fitness, which is the largest manufacturer of fitness equipment in the world.
Both brands offer a good variety of models that will suit almost every exerciser and budget. All of them are equipped with great motors, from the entry level Performance Series to the high-end Pro 9000, a 4.0 CHP drive. The decks are responsive, yet gentle on joints, thanks to a top-of-the-line cushioning system that reduces impact up to 28%. All of them have incline features, and if you want to take your workouts up a notch, all of them can support an iFit subscription and other tech features.
The T101 has more metal parts in its overall build, compared to the molded plastic parts that make up the other machines, which makes it feel sturdier and less likely to flex during use. This also means that the T101 has a higher maximum speed and can accommodate more weight than some other treadmills in this price range.
The Carbon T7 has a compact design and is designed for those with limited space in their homes. Its top-of-the-line cushioning will help you train without putting too much strain on your joints, while the 2.0 CHP motor is perfect for moderately intense running and walking. This model comes with a Cinematic 32" Smart HD Touchscreen, premium speakers, and hands-free speed and incline adjustments.
This affords Icon Fitness, and their brands like ProForm, some economic advantages. For example, their research and development is second to none, which has resulted in the some unique features like iFit technology. The iFit programs follow an arranged series of treadmill training routines that control the the speed and incline of your machine. They are designed by professional trainers, and include audio coaching. You'll find many ProForm treadmills have an abundance of features like fans, speakers (some with subwoofers), auxiliary inputs and large HD touchscreens.
In general, due to an economy of scale, ProForm can produce more for less. That doesn't mean that Horizon can't compete with certain models. For example, the Horizon T101 will match up well with any ProForm treadmills at the $999 price range.
So which model should you buy?
First, it depend on your fitness needs and goals. You need to determine how you will use the machine, and how many users there will be. You also have to factor your weight and height. Taller users, especially runners, will need a treadmill with a longer deck.
Once you have determined your needs you can start looking for the model that will suite your needs. Compare the features and the prices from both brands. If you plan to spend more than $1,000, also compare models from NordicTrack, Sole, and BowFlex. However, below $800, ProForm and Horizon are the major contenders.
You can check our Best Buy Treadmills for the latest prices and special offers.
To a Healthy Life,
Fred