Getting the Most Value For Your Money!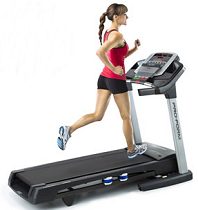 ProForm is the largest selling brand of Icon Fitness, which is the world's largest fitness equipment company. (Icon also builds NordicTrack Treadmills).We've been to the corporate and manufacturing facilities of ProForm on several occasions and have met with many of the top executives and engineers.
Years ago, ProForm primarily dominated the budget category, but now they are also a major player in the mid-range ($1,000-$2,000) market.
There are two reasons why ProForm treadmills are so popular. First, you get more for less. Second, they have the most innovative technology in the industry. Icon Fitness devotes considerable resources to cutting edge motivational technology.
Recently, one of their models received a "Best Buy" rating from a trusted consumer magazine and rated "Excellent" in the categories of Ergonomics, Construction, and Exercise Range.
Why You Should Buy a ProForm Treadmill: Value & Innovative Technology
Great Value for Your Money —ProForm has the advantage of economy of scale because they are part of the largest fitness equipment company in the world. They manufacturer large inventories of machines, which drives the unit prices down.
Consequently, most of their treadmills out-spec the competition. In general, their treadmills have larger motors, longer decks, more features and the most innovative technology in the industry. In addition, they come with generous warranties.
For example, in the budget category you have the City L6 treadmill, that usually sells for $799 with free shipping. First off, this is not a lot of money for a good cardio machine. It has a 1.6 HP motor, a 17.5" x 45" running surface, ProShox Cushioning, and it is iFit ready.
Another indication of their value are"Best Buy" ratings for the ProForm machines from a prominent consumer magazine, whose name we cannot mention. They've given the SMART Pro 2000 an "excellent" rating for exercise range and ergonomics.
Innovative Technologies — Some of the state-of-the-art features found on ProForm and NordicTrack treadmills are what really distinguishes them from the competition. They have an entire department devoted to research and development. When we go to visit the company, this area is completely off limits to visitors — they take research and development very seriously.
iFit — iFit allows your treadmill to communicate with the Internet through Wi-Fi. There are several features designed to motivate you to achieve your fitness goals and to take the boredom out of walking or running in place.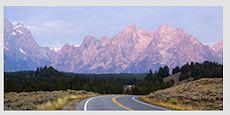 Customized Workout Routines: You go to iFit.com and define your exercise goals. An 8-week program is downloaded on your machine, which allows you to workout with Jillian Michaels, who provides audio coaching. In addition, your results are uploaded in real time to your iFit.com account, allowing you to track your progress. Studies show that individuals who track their progress are more likely to achieve their fitness goals.
Sync Virtual Routes with Google Maps: However, what makes iFit rock is the interaction with Google Maps. You can define trails or roadways that you want to walk or run on Google Maps, and iFit will simulate the terrain with the incline feature. There is also a library of pre-designated routes through national parks and famous city-scapes. Furthermore, you can place your smart device or tablet on the treadmill and see either a street, map or satellite view of the route you are running.
Some of the machines have a built in Smart HD Touchscreen display so you can view your iFit route and stats directly on the machine. For example, check out the 10″ Smart HD Display on the Pro 2000. Want something bigger? Try the 22″ Smart HD Touchscreen on the Pro 9000!
Online Competitions – Lastly, ProForm sponsors group races where you compete against others with iFit. You are able to see your position in relation to the leader and the pack. One of their last races had over 2,000 participants. (Note: There is an additional cost for the subscription.)
Other Unique Features on ProForm Treadmills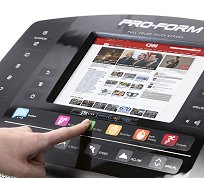 Full Color Touch Screen Display with Android Internet Browser — Several ProForm machines, including the PRO 9000, come with a display that allows you to access your email, catch up on the latest news, view your favorite web sites, listen to music online, and watch YouTube videos — all while you burn away those unwanted calories.
Superior Sound Systems with MP3 Input — Many elliptical trainers have speakers that are so poor that you wouldn't even want to listen to them. Icon Fitness equips their cardio machines with some of the best sound systems found in the industry.
Decks that Both Incline and Decline — Several of the ProForm treadmills, including the PRO 9000 and PRO 2000, have the ability to both incline and decline the deck. This allows you to simulate going up and down hills, in addition to being able to target more lower body muscles.
Built-in Fans — The fans on most ProForm treadmills actually offer relief. They are designed to point at your core, which is the most important part of your body to cool off.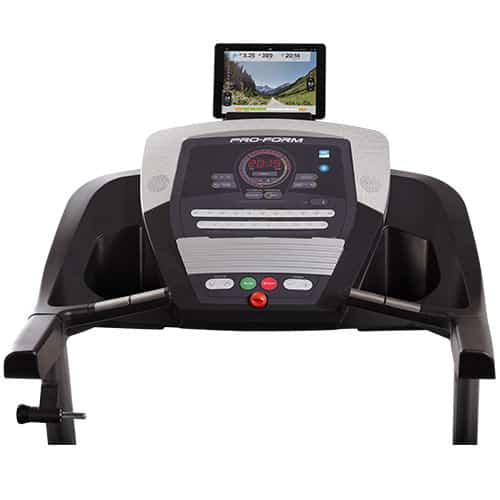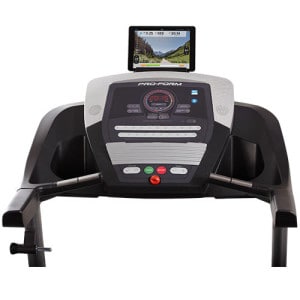 They have a couple of models where the intensity of the breeze is based on the level of your exertion.
Generous Warranties — You will find that the warranties on the ProForm treadmills are some of the most extensive in their price range. In fact, the PRO 9000 has a 10-year frame, 2-year parts, and 1-year labor warranty.
Our Review – ProForm Treadmills
ProForm treadmills are all about value, and getting the most for you money. Because they succeed so well at this proposition they sell massive amounts of treadmills per year.
If the ProForm treadmills did not have features like iFit, full color displays, and the ability to incline and decline they would still be a good value because of the upgraded components. However, when you factor in the innovative features you get an excellent value on a number of their models.
See a comparison chart of all ProForm models here.
ProForm Treadmill Reviews:
ProForm PRO 2000 – $1,499
ProForm PRO 9000 – $1,799
ProForm Carbon T10 – FREE with 3 year iFit Membership!
ProForm City L6 – $799
ProForm Carbon T7 – $999
ProForm Treadmill Customer Reviews

Unbelievable Treadmill for the Price!!!,
"I am 220 lbs and 6′ 5" – and this treadmill handles me at a full out run with no problems. It is quiet too. The 8 pre set programs are amazing, and I can't believe how fast this thing will go. WAY faster than I can run!!!!

Good Product
"Good product, works well, delivery was prompt and the price was right. Assembly was fairly easy with a little help and directions were easy to read. Fan is a little noisy though and can be slightly distracting. Other than that I would highly recommend this Treadmill."
Note: In the ProForm reviews we attempt to be as accurate as possible. Particularly with this company, they have a tendency to change features frequently.